A GoPride Interview
Colette Marino
Loud Music: DJ Colette on the musical journey reflected in her new album
...I was reflecting on my writing that I have been doing for twenty years. I put all of that into this record. The idea of friendships that I have made along the way. That is what it is all about.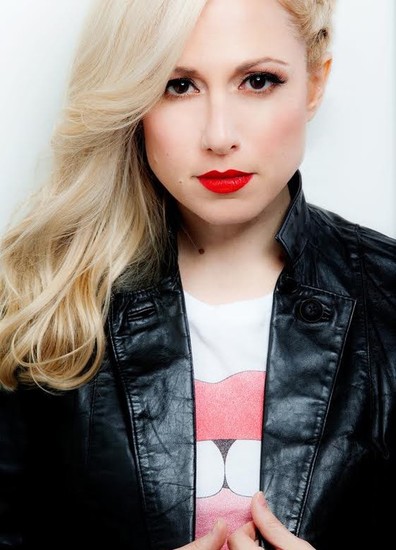 photo credit // tom casey
Chicago-native Colette Marino -- better known as DJ Colette -- is a house music DJ, producer and vocalist. DJ Colette first began cultivating loyal fan base as a resident DJ at Smart Bar, located below Metro on Clark Street.
She evolved into a songwriter/producer and formed an all girl DJ group SuperJane with DJ Heather, DJ Dayhota, and Lady D. Her album
Hypnotized
was the most downloaded dance album in 2005 on iTunes and the title track was used in the movie
The Devil Wears Prada
. DJ Colette has been compared to Kylie Minogue and Debbie Harry while performing all over the world.
Her third album
When the Music's Loud
, which was released this year and made without any live instruments, has garnered critical praise.
Billboard
just named the release one of the top twenty dance albums for 2013.
We recently met up with DJ Colette to discuss
WHen the Music's Loud
and her musical journey from then to now.
JN:
(Jerry Nunn) Hi, Colette. What part of Chicago are you from?
CM:
(Colette Marino) I grew up in Lincoln Park and right by Gramaphone Records.
JN:
Were you a big record collector growing up?
CM:
I definitely loved records as a kid. I had my Michael Jackson Thriller album that I used to bring to school with me and thought I was very cool. I didn't really start buying dance records until I was 18. That was the only place you get the music and the only format. I didn't really start learning how to DJ until I was about 20.
JN:
This was back when it was spinning records and not like it is now.
CM:
Oh yeah. I played all vinyl.
JN:
How did you get started in the biz?
CM:
It was kind of accidental. I had always wanted to be a singer since I was little. I loved Debbie Harry, Stevie Nicks, and of course Madonna. I was studying classical voice as a kid and one of my friends was DJ Lego. I met him when I was sixteen and he asked me to come sing over one of his tracks. That is when I started making the transition from classical to dance music. It felt more natural to me. I felt at home writing a song over a house beat than writing an aria.
I got a job at Shelter promoting. I just didn't think I was going to be a DJ because I felt everyone started when they were 12 and I was old!
JN:
You were washed up already [laughs]!
CM:
What could I do? I met Dayhota and we started practicing at each other's houses. We were really good friends with Heather and decided to do a night together. At the time people made such a big deal about women spinning so we thought if we did it together it would not be such a rarity. That was how SuperJane started and it was my first time playing.
JN:
I didn't realize it started with a group.
CM:
Yeah, sixteen years ago was my first party.
JN:
When did you leave the Chicago scene?
CM:
I started playing in 1997 and moved in 2000 to LA. My dad had moved there when I was really little so I spent a lot of time there growing up. I couldn't do the cold anymore. Every time I am here I want to move back but the winter just doesn't agree with me.
JN:
Isn't the scene there different than here?
CM:
You know the music scene is very similar in LA compared to Chicago in some aspects. There is an underground scene for house music that I really appreciate. When I first moved there promoters were bringing Chicago musicians there all the time. It was really nice because it felt like I didn't move.
The only difference is there are more people there so bigger crowds but the appreciation is the same.
JN:
Are you still a resident DJ at Smart Bar?
CM:
No. I was for nine years there. I stopped about three years ago but I still play there frequently.
JN:
What is a resident DJ really mean?
CM:
I played there every month and didn't play anywhere else so they had an exclusivity with me for nine years. They are still my family and one of my favorite places to play.
JN:
What is your latest single?
CM:
"Hotwire" came out for the album. On the original we sampled Adonis' "No Way Back." Sonny Fodera did two remixes of it. We just printed it on vinyl. I haven't released a single on vinyl in seven years!
JN:
I saw the "Best of Days" video.
CM:
That was all shot in Chicago at Smart Bar and at West Fest.
JN:
Seems like things keep drawing you back to Chicago.
CM:
Oh I always find an excuse to come here.
JN:
There is always a positive vibe with your music.
CM:
This record is probably the most positive one I have done. The first record had a lot of sad relationship issues, which I was experiencing at the time but it wasn't just that. I think it is easier to write a sad song than a positive one. I just don't want it to come across more cheesy than happy.
This record is not angry and I was reflecting on my writing that I have been doing for twenty years. I put all of that into this record. The idea of friendships that I have made along the way. That is what it is all about.
JN:
When did you start Candy Talk records?
CM:
In 2010 I quietly started it and only released a couple of things. I was pregnant and took a break from releasing anything. I decided to release the album on my own label.
JN:
How is that experience?
CM:
It is intense and a lot of work. It is great. I feel in this day and age that it makes sense to release things that way because you care the most and know what is going into it. You still have to hire a team and a publicist. I think that is more important sometimes than hiring a label because they hire those teams anyways.
JN:
Are there other artists you want on your label?
CM:
I haven't thought that far ahead yet because I am still in the middle of doing this. I also did a Pledge Campaign for this album. It is just like Kickstarter but it is just for musicians. I learned about it six months before I was going to release the album. You can do a pledge project for two years where people follow you while you make the record. It is really great. It invites anyone that is into your music into the process. People got to hear things before it came out and we offered special music packages such as vinyl. I am still working on it. It has been a sixth month process. I have to ship off about 500 things!
JN:
How has the community been with giving money?
CM:
People are really positive. When you are on your own people are excited to be a part of that and help you release your album. When file sharing started people didn't pay for music anymore. It wouldn't come out if all these people didn't come together and help. It changes the perspective.
JN:
What are the fans like in Europe when you perform there?
CM:
For the most part I feel the passion is the same. To me even though dance music is so huge it is a very small community. People that attach themselves to this genre are so passionate regardless of where they live. For that is really exciting. You can not even speak the same language as someone and have a connection with them.
JN:
Has there been a favorite place to travel to?
CM:
I feel so luck to have been to all of these places. I really loved Bali. It is so beautiful. I primarily play in North America but over the years I have been to all the different corners in the world. Tokyo was an amazing city and they learn all the words to the songs. One fan gave me a skirt there that had my name spelled correctly and it fit me!
JN:
You do spell your name a little differently.
CM:
There are two versions of my name and that is the one my mom picked for me.
JN:
Have played many gay venues in past?
CM:
I just played a gay wedding two weeks ago. They were so sweet and really big fans of house music. They had the OM logo on their cake. It was in Seattle when the law just passed. I don't usually play weddings but they contacted me and said they loved house music. That's what I do but didn't want to play the regular wedding music. All of their family and everybody loved house music so they all danced.
JN:
So no chicken dance?
CM:
No!
JN:
You don't usually play gay bars?
CM:
I have played at Berlin. I would definitely want to do more I just need to be invited.
JN:
Who are you listening to as far as music these days?
CM:
I really love the Disclosure album. I am excited about them because it is introducing a style that I love to a younger audience. There is room enough for everyone. I think there are deep textures to their music.
JN:
Disclosure are fans of house music.
CM:
You can hear it.
JN:
Where do people book you for future gigs?
CM:
They can hit me up on Facebook (
facebook.com/djcolette
). That's how Ian & James contacted me for their wedding in Seattle.
Interviewed by Jerry Nunn. Jerry Nunn is a contributing writer to the GoPride Network. His work is also featured in Windy City Times, Nightspots Magazine and syndicated nationally. Follow @jerrynunn