A GoPride Interview
DJ Joe Gauthreaux
Musical Journey: DJ Joe Gauthreaux returns to spin Market Days
Wed. August 7, 2013 by ChicagoPride.com
The boys of Chicago really mean a lot to me for sure.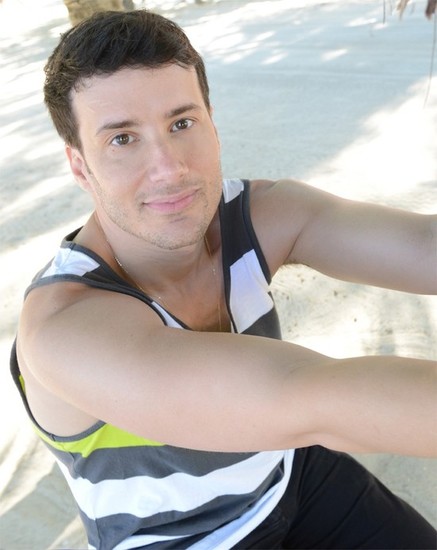 photo credit // brian m westbrook
As one of the most sought after DJs in the industry, DJ Joe Gauthreaux (pronounced GO TROW) has a resume full of club appearances and main events that spans the last 15 years. From events during Winter Party Festival, Atlantis Cruises, ALEGRIA in New York, to major clubs in Brazil and Asia, his name is synonymous with having an amazing and unique musical experience.

A New Orleans native now living in New York City, DJ Joe Gauthreaux maintains a residency at Chicago's Hydrate Nightclub, where he returns - after over a year - to provide a musical journey over Market Days Weekend.

ChicagoPride.com talked with DJ Joe Gauthreaux before he arrives in the Windy City.

CP: (ChicagoPride.com) It's great to see you returning to Chicago - is this a favorite destination for you?

JG: (DJ Joe Gauthreaux) Yes definitely. Chicago was one of the first cities that I started traveling to back when I was starting out, and I've been DJing as a resident at Hydrate for 10 years now. The boys of Chicago really mean a lot to me for sure.

CP: So how do the Chicago boys react to your music?

JG: Well, I think that's why I love coming to Chicago so much, because they understand me in the way I understand them - or at least, I think they do. So far, I've had nothing but positive reactions to my music.

CP: How do the Chicago crowds compare to other cities?

JG: The great thing about Chicago is that it's right in the center of the United States, so maybe they're not as crazy as people in New York or Miami, but they are not as laid back as you'd find on the West Coast, where it's easy living 24 hours a day. I don't know. It's a unique energy that I always look forward to. Plus you guys do have some pretty attractive Midwestern boys there, if I must say so. That always helps from a purely vapid point of view.

CP: What can we expect from you this Friday at Hydrate?

JG: A very fun, house music based set. I go all over the place over the course of the night, but it's always rooted in some kind of house music, whether it be progressive, tribal or vocal.

CP: Can you give us a hint of any of the tracks we might hear?

JG: Well, if you download my podcast on iTunes, you'll get a very good sneak preview of my sets. I feature a lot of my exclusive remixes on there.

CP: How would you describe your style?

JG: The one line that is constantly running through my head when I DJ is "you have to make this fun, you have to make this fun." If people aren't having a good time, then I'm not doing my job. Of course, there are so many way to accomplish that - a tribal set, an Anthemic set, a big room driving progressive set, or maybe a soulful house set. It's all about tapping into the crowd and taking them on a journey.

CP: What inspired you to become a DJ?

JG: Probably the number one thing is just wanting to make people happy, and to dance. From the first minute I ever walked into a nightclub, I knew that was where I felt comfortable. The music made me feel alive in a way I had never felt before.

CP: What would you consider your break-out moment as a DJ?

JG: [Pause] I don't know. That's probably a better question for someone else. But I have been lucky to play a lot of big events, like the Winter Party in Miami, or the Black Party in New York. Getting big events like that, and playing well at them, gives you a platform that you can't get on your own and can really take you to the next level in your DJ career. It's an amazing thing and I'm very thankful that people trust me enough with their events.

CP: Now a quick round of personal questions. Single, married or dating?

JG: I'm Single.

CP: The Chicago boys will be delighted to hear that! What would you say is the sexiest part of your body?

JG: Well, what I usually find most attractive in people is intelligence, and I try to offer the same to people. So hopefully my brain.

CP: Where do you call home?

JG: I was born and raised in New Orleans, so that will always be home in the back of my head. But right now, New York City is definitely the place where I feel like I'm home now. I love it.

CP: How do you spend your free time?

JG: When I do have any, I like to watch 80's movies and order Chinese Food. And sleep. Sleep is very big for me.

CP: Name three of your favorite dance tracks right now.

JG: Mariah Carey - Beautiful; Avicii - Wake Me Up; and Africanism - Together Forever


Interviewed by ChicagoPride.com
Serving the Chicago gay, lesbian, bisexual and transgender communities. ©Copyright 2019 GoPride Networks. All rights reserved.