A GoPride Interview
Ann Wilson
Heart's Ann Wilson on her sister act, interview by Jerry Nunn
Thu. July 5, 2012 by Windy City Times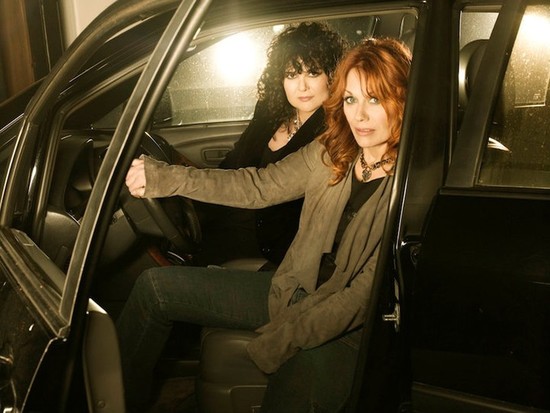 ann (left) and nancy wilson
photo credit // randee st nicholas
The rock group Heart broke out four decades ago and is still going strong. Although the line-up has changed over the years, these sisters have been doing it for themselves. Lead singer Ann and guitarist Nancy brought their mixture of rock and metal to a pop edge success that has stood the test of time. "Magic Man" and "Barracuda" from the 70s' led to more hits such as "What About Love" and "Never" in the 90s'.
Heart takes a gamble by playing at the casino. Just don't set off the sprinkles when you raise your lighters to the rock goddesses July 6!
WCT:
(Windy City Times) Hi, Ann. Last time I saw you perform was at Lilith Fair. You really sang your Heart out.
AW:
(Ann Wilson) [Laughs] Thank you. I put a lot into it.
WCT:
I have this amazing picture of you belting it out! That performance really adds to the lesbian following that the band has.
AW:
Well, that is really great. I don't even know what to say. To me, it is great to reach out to everybody. The soul connection is what matters with me. I am glad it is being received loud and clear. That is really good.
WCT:
You have worked with many gay icons on your solo project such as Elton John, k.d. lang and Rufus Wainwright.
AW:
They are all amazing people but very different. You know, Elton is so generous and funny and sweet but you don't want to cross him.
WCT:
Heart paved the way for some many women in the music business. I can't imagine it being easy.
AW:
When we first started there was no precedent to what we were doing. There were no rules where people could say to this or that. We just put ourselves out there and took the ride. It doesn't have to be rock; you can look back farther and look at people like Judy Garland and Billie Holiday. They really did some work.
Rock is so f*cking male-dominated and very patriarchal. It made it really interesting to try to break through some of that stuff. I don't think we will ever have completely changed it. But if we have made any progress at all towards things opening up a little bit I think that is good.
WCT:
Did you think you would be doing this decades later?
AW:
Naw, no way. We have never been that coldly calculating or goal oriented really. I think we just thought we had a cool song and that it would be fun to go in a recording studio. We are kind of nerdy and dorky at first then we get to go up on stages and really connect with people. So the years have led us on with their momentum and us being able to keep on connecting with people creatively and most importantly with each other. Nancy and I wouldn't be doing this with someone else. For example I wouldn't be doing this with someone else playing guitar for Heart. It has to be Nancy. The important thing is our relationship.
WCT:
How is it working with your sister all this time? Touring with my brother would drive me crazy!
AW:
We are sisters so we know each other so well and thoroughly that we know when to back off from each other and give each other space and some breathing room.
The thing about success is that it does tend to come put expectations on you. So Nancy and I tend to rebel against that all of the time. We get to be rebels against those expectations a lot!
She is just an amazing person. She is kind, beautiful, sweet, pure and real, but like what I said about Elton you just don't want to get on her bad side. She is like her mom made out of steel. When she makes up her mind about something, then get out of the f*cking way!
WCT:
Are you usually on a tour bus?
AW:
Yeah. During the '80s we used to travel around in a private jet and everything but you make a hundred bucks then you pay sixty of it on the plane. It is much cooler to be on a tour bus the way they make them now. You just make it your home. It is as good or better than a hotel room.
WCT:
That is what Dolly Parton told me. She said that's her home.
AW:
Well, she outta know. She is a tour-bus aficionado. She's had some amazing busses.
WCT:
Is this tour promoting Red Velvet Car, the last album?
AW:
Well, this year have a new box set coming out in June. This is all rare music and stuff. Then we have our first ever memoir biography coming out in September. Then we have a new record coming out in October. We are going to be playing stuff from the beginning all the way up until our new record, which is called Fanatic.
We are going to be out talking this year and doing shows. Talking because of this book and there are a lot of revelations coming out in it. They are going to be cool for people that have known us or thought they have known us all these years to read.
WCT:
Did you write it together?
AW:
Yes, we did together with a guy named Charles Cross who is from Seattle.
WCT:
It sounds juicy.
AW:
It is a good rock story. It has the highs and the lows with vulnerability, triumph, and love.
WCT:
This will be a good opportunity for fans to meet you on the book tour. Will the new album be rock and roll or are you trying different things?
AW:
This new album will be very heavy. It is heavy rock. It is ten songs and three of them are ballads and not rock. It is very down. Like I said it is called Fanatic and it has an opinion and passion. I am really happy with it. Nancy and I, as songwriters, are wide open on this one.
WCT:
Are you playing the flute on this tour?
AW:
I do play a little.
WCT:
That is not an easy instrument to play.
AW:
It is probably not as hard as a violin but yeah to have it sound good is a little tricky.
WCT:
It is about controlled breathing.
AW:
Yes, and if you are singing rock and roll and it's a hundred degrees out then all of a sudden you have to pick up the flute and be really tender can be tricky as well.
WCT:
What do you do to take care of your voice all of this time?
AW:
I have been so lucky. I knock on wood. Basically, it is about lifestyle I think. I don't smoke or drink alcohol. I haven't as yet had any serious problems but the times I have gotten sick with a cough or a bad cold nobody can do anything about that. I just try to have common sense about it. You don't go around screaming if you are doing four shows in a row in four days. You have to be careful about how much you talk between the shows just stuff like that.
WCT:
Be careful at the casino at The Venue because they do smoke in there.
AW:
Yeah I know, and that pisses me off because I have no defense against that.
WCT:
I will bring a lot of fans to the show then!
See Heart get "Crazy on You" at the Venue in Hammond Indiana, 777 Casino Center Dr., on Friday, July 6, at 8 p.m. Visit horseshoehammond.com for tickets and details.Interview by Jerry Nunn for Windy City Times
Interviewed by Windy City Times
Serving the Chicago gay, lesbian, bisexual and transgender communities. ©Copyright 2019 GoPride Networks. All rights reserved.