A GoPride Interview
St. Sukie de la Croix
St. Sukie de la Croix: Chicago has always been a city of artists and writers, I'm just pointing out that a lot of them were LGBT. I think that's important.
Chicago has always been a city of artists and writers, I'm just pointing out that a lot of them were LGBT. I think that's important.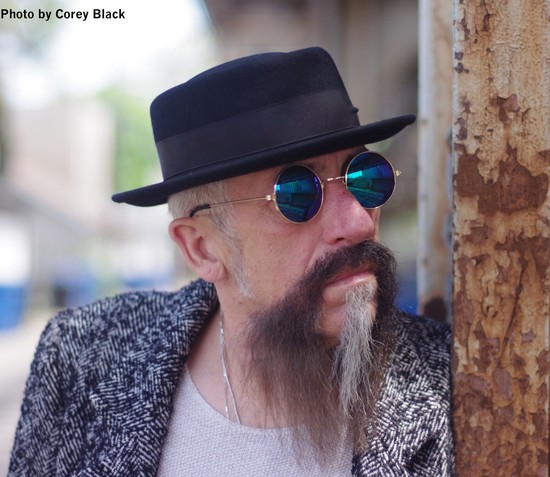 photo credit // corey black
From a "Whisper" to a Scream: an interview with St. Sukie de la Croix
Before he became a saint, Bath, England native Sukie de la Croix and I just missed crossing paths as members of Chicago's gay writers' group New Town Writers, but he joined just after I left the group. Shortly thereafter, we both found ourselves writing for what would be the first in a series of LGBT publications (some now defunct) in Chicago. Nearly 20 years later, both with new books to our names, we are about to embark on a book tour together, which will either strengthen and enrich or completely destroy our friendship. His book, "Chicago Whispers: A History of LGBT Chicago before Stonewall" (University of Wisconsin Press, 2012) covers a period of almost 300 years, and does so in a way that is as informative as it is entertaining. I spoke with St. Sukie about "Chicago Whispers" shortly before we hit the road.
GS:
(Gregg Shapiro) St. Sukie, who do you see as the target audience for your book "Chicago Whispers"?
SSdlC:
(St. Sukie de la Croix) The target audience for this book was originally me. I wrote the book I wanted to read. Outside of that, it will be of interest to anyone who has ever lived in Chicago, or been intrigued by its history. Whatever comes to mind when you hear the word "Chicago" – Al Capone and the Mafia, Chicago Blues, political shenanigans – LGBTs were sucked up into the great drama of all of them. It's a book about a metropolis, and the contribution that LGBT people made to its growth and development. But most of all it's about individuals cast out from society, who found a niche, a way to survive, sometimes against terrible odds. In the end, Chicago LGBT people said "enough is enough" and they kicked against the pricks. And there were a lot of pricks in Chicago back then [laughs].
GS:
You have said that you approached writing "Chicago Whispers" as a journalist, not as a historian. Can you say something about that distinction and about how you think that affected your writing and research process?
SSdlC:
Historians have a set way of doing things, an academic clarity. There are rules to follow, whereas a journalist will sell his own grandmother to get to the bottom of a story [laughs]. Gay history is so hidden and buried, that it sometimes requires intense detective work. For example, I lied through my teeth to get into a couple of membership-only libraries. However, in the end, if the book is to be of any use to students, all the information has to be sourced, and I'm very proud of my bibliography.
GS:
How did you go about formatting chapters?
SSdlC:
With respect to the mechanics of writing the book, this appeared at first to be the biggest problem. The book covers 300 years of history and I wanted to place it in a timeline, but some subjects, individuals, and events, overlapped into different chapters. I struggled with this and eventually gave up and kept writing with no structure whatsoever, but as it often happens in these cases, that's when it all fell into place on its own. Sometimes we over-think things.
GS:
Chicago Whispers was also the name of the LGBT history column that you wrote, which ran for six years in Outlines and the second incarnation of
Windy City Times
, beginning in 1998. Did any or all of the chapters in the "Chicago Whispers" book have their genesis in those columns?
SSdlC:
Writing the column inspired me to write the book. However, I didn't use much from the columns, as they were oral history interviews and I was writing a factual history book. I did use a few anecdotes about gay bars and raids, but only when backed up by other sources such as newspapers.
GS:
Chicago has long been considered to be a cultural mecca, and throughout "Chicago Whispers," you shine a spot on the contributions of Chicago's LGBT artistic community. Were you surprised to learn about the people about whom you wrote and do you think they will finally get their due?
SSdlC:
Chicago has always been a city of artists and writers, I'm just pointing out that a lot of them were LGBT. I think that's important. An individual's sexuality is a vital ingredient to their work, but sadly it's often ignored, denied or glossed over. Chicago should be proud of its arts community, past and present.
GS:
Was there any event or person in writing the book that you would cite as having a profound effect on you?
SSdlC:
Sitting down and talking to LGBT Chicagoans about their lives growing up in the Windy City has been the most inspiring aspect of this whole project. They were the impetus for me writing "Chicago Whispers," the column and the book, the reason I stuck with it. At least four men I interviewed, and whose stories I used in the book, have since passed away: Charles B, the Polish Princess, Tony Midnite, and Dee Lobue. Each of those beautiful gay men had a profound effect on me. It was a great honor to know them, albeit briefly.
GS:
Are there any revelations in the book of which you are especially proud to have uncovered?
SSdlC:
In 1925 Henry Gerber, who founded the first gay group in America in Chicago, was arrested, but no proof of his arrest has ever been found. Until now, that is. I did some serious sleuthing.
GS:
Is there anyone that you wrote about in the book that you wished you had met in person?
SSdlC:
All of them. I would love to have interviewed the author Henry Blake Fuller, and Margaret Anderson, although, in truth, I don't think we would have hit it off, she was terribly pretentious, ghastly but fascinating. I'd love to build a time machine and zap myself back to a club called Diamond Lil's in 1928 and to hear a sixteen-year-old Alberta Hunter singing in a brothel on Chicago's South Side. Imagine meeting Ma Rainey … Wow!
GS:
Many of the chapters have a vivid, cinematic quality to them. Is there a couple that you think might make a good movie?
SSdlC:
Somebody needs to make a documentary about Chicago cross-dressers in burlesque, both male and female. Also, there's a rich seam of history to mine on the subject of African-American pansy parlors in the early 1930s. Having said that I've seen some awful gay history documentaries, made by well-meaning people…but just dreadful.
GS:
Have you begun work on your next book project(s)?
SSdlC:
I've completed the sequel to "Chicago Whispers" and it sits with the publisher. I've almost finished writing an autobiographical novel about my childhood growing up in Post World War II Britain. After that, I'm writing a book of historical essays, followed by a book of short stories. I'm busy [laughs].
Chicago Whispers: A History of LGBT Chicago Before Stonewall
published by the University of Wisconsin Press.
Meet St. Sukie
June 14 - 7 p.m. The Book Cellar, 4736 N. Lincoln Ave.
June 20 - 6 p.m. Harold Washington Library - Cindy Pritzer Theatre, 400 S. State
June 21 - 8 p.m. Unchartered Books, 2630 N. Milwaukee Ave.
June 22 - 7 p.m. Women and Children First, 5233 N. Clark
June 27 - 5:30 to 6:30 p.m. - Harris Bank, 3601 N. Halsted (BMO Harris Bank Lion's Pride)
Interviewed by Gregg Shapiro. Gregg Shapiro is both a literary figure and a music and literary critic. As an entertainment journalist, his work appears on ChicagoPride.com and is syndicated nationally.
Serving the Chicago gay, lesbian, bisexual and transgender communities. ©Copyright 2019 GoPride Networks. All rights reserved.