A GoPride Interview
Amy Ray
Amy Ray interview with ChicagoPride.com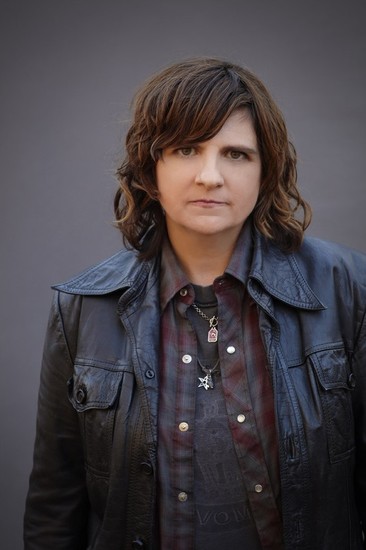 photo credit // john david raper
Amy Ray weighs in on her experience with the Indigo Girls and her solo career
Amy Ray is known for being one half of the Indigo Girls but she also has pursued a solo career of her own, even founding her own record company Daemon Records.
Born in Decatur, Georgia she met Emily Saliers when they were in school together and after their hit together "Closer to Fine" became world famous.
Amy is now on her sixth solo album entitled Lung of Love where she brings a unique sound on the tracks and heads to Chicago to play it live.
ChicagoPride.com talked to Amy about this record and life on the road.
JN:
(Jerry Nunn) Hey, Amy. It feels like I was just talking to you yesterday.
AR:
(Amy Ray) I know, doesn't it?
JN:
Before it was with the group and now the solo act. How has the tour been going?
AR:
We were out in the West in March. Right now we are doing the East. We have had four shows. It has been great, then we are going to hit the Midwest in May. A couple of the band members are sick right now. They are lying in the back, we are in a van right now. They are in the throes of a fever but we have a night off.
JN:
Oh good. So they can recover. Everyone is sick. I think it is all the weather changes.
AR:
I do too. Things are going around like crazy.
JN:
You stay well.
AR:
I'm trying, definitely.
JN:
Lung of Love is your sixth solo album. It seems very different than your Indigo Girls material. What made you go this direction with your music?
AR:
It is the second record I've done with a producer Greg Griffith, who also plays bass and guitar on it. The band I tour with is Kaia Wilson on guitar and vocals, with Melissa York on drums definitely inspire my music. When I am writing I am thinking about them.
Greg did my last record and we just worked together again. This is the batch of songs I was working on. It came from all over the place. We had a goal to make everything to be melodically really tight and work on our arrangement more, to take it one song at a time. After we started working on each song then we thought how they would be tied together but not worrying about it until that point. It was in between making Indigo Girls music with lots of different influences musically. We were just trying to have a good time really.
JN:
"Rock Is My Foundation" is very spiritual. Have you always been a fan of this type of music?
AR:
Yes. I grew up in the church with a lot of music so it is definitely part of my culture. I love mountain music with that Appalachian. Gospel sound. The songs just come out of you. It is the people's music, you know? It is a song anyone can sing. It just kind of emerged. It is very traditional. There are probably a million other traditional melodies that it's based around. I was looking at the image of the trinity being a rock band. That made me smile and I turned it into a song.
JN:
You have Brandi Carlile on four tracks. How did that come together?
AR:
She has been a friend for a long time. She started touring with the Indigo Girls six years ago. She was opening for us. When we started playing a lot together we started learning each other's songs and doing a lot of trio stuff. On my last solo record Didn't It Feel Kinder she came in and sang about five of the songs. She is a great harmony singer. She can make her voice do a lot of different things. She is the perfect person to have to sing harmony because she can blend and change with the songs. Anytime I have some difficult stuff to do I ask her to do it.
JN:
Do you have a person that sings similar to her on the tour?
AR:
We split it up between three different people that sing in the band. We make little arrangements and it works. Of course it is no Brandi but Brandi is Brandi!
JN:
You have a few live tracks on there so I look forward to hearing it live and in person.
AR:
They are a killer band so it translates very well. They do an amazing job.
JN:
You have never been to Lincoln Hall before have you?
AR:
No, I have seen it but never played there and I have wanted to. I am totally excited. I love playing Chicago.
JN:
Well, we love having you. I was at the Riv show and the opening act Mount Mariah was really good.
AR:
She sings on this record too. Heather sings on the song "I Didn't." She is great and getting ready to make a new record.
JN:
I will have to talk to her again.
AR:
She is awesome.
JN:
Can you tell me about the "Bird in the Hand" song?
AR:
It is a song about being a traveler and being afraid that you are not going to be able to do that. It is about acting out when a person tells you to do something but it is more in a melancholy mood. It was my way to talk about all of the things that I do and see when I am traveling. There are many nights when you are walking around and you stop to talk to people on the streets. I have these long bike trips that I do on my days off, especially in the Midwest where there are great bike trails. I will see hobos around a fire and sometimes I want to be lost in that place and the intimacy of that. I am trying to capture that in the song when someone is telling me I will lose all that I have if I follow that path. Why would I give up what I have at home for the intimacy of the road and the battle between those two things? They are both strong pulls.
JN:
Strong pulls in your life…
AR:
For sure.
JN:
When do you get some down time?
AR:
I don't go out for more than a few weeks at a time. I go home. I have a partner that I have been with for ten years. We definitely pay a lot of attention to that and staying connected.
JN:
I know you have tons of solo material but are you doing any Indigo Girls' songs on this tour?
AR:
I don't usually do it because we have so much solo stuff. Every once and a while I will pull something out and do it, sometimes I will do "Share the Moon" which came out on Beauty Queen Sister, our last record. I like to do that one sometimes.
It is hard for me to do Indigo Girl stuff without Emily.
JN:
It must feel weird.
AR:
It doesn't feel right because there is a hole in the song. Emily and I start back out in June. So I do this through May then go out with her in June to the West Coast then the East in July. There is lots of stuff going on.
JN:
I'm just tired thinking about it! (both laugh)
Amy arrives on May 15 at Lincoln Hall, 2424 N Lincoln Avenue. Visit www.lincolnhallchicago.com for tickets and details.
Interviewed by Jerry Nunn. Jerry Nunn is a contributing writer to the GoPride Network. His work is also featured in Windy City Times, Nightspots Magazine and syndicated nationally. Follow @jerrynunn
Serving the Chicago gay, lesbian, bisexual and transgender communities. ©Copyright 2019 GoPride Networks. All rights reserved.