A GoPride Interview
Michelle Visage
Michelle Visage: Chicago is definitely represented with Phi Phi, The Princess, and DiDa.
Chicago is definitely represented with Phi Phi, The Princess, and DiDa.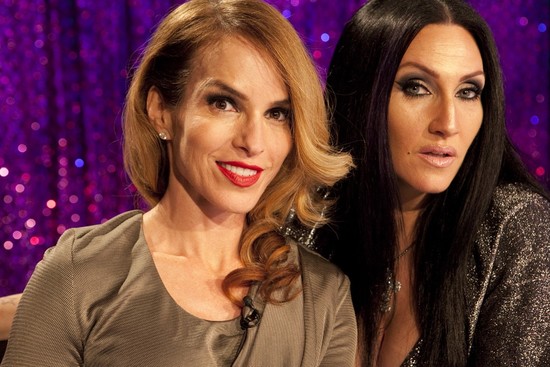 gigi levangie grazer (left) with michelle visage
photo credit // logan alexander for logo
Jerry Nunn one-on-one with Michelle Visage from RuPaul's Drag Race
RuPaul's Drag Race speeds down the runway every Monday on the Logo Channel. Sitting on the judge's panel is the one and only Michelle Visage joining the show on season two replacing Merle Ginsberg.
Originally from a girl group named Seduction, Michelle broke into the club scene with a few hits then continued hosting radio shows.
She joined RuPaul in the early days on his VH1 show The RuPaul Show and now teams with Ru again on the Race.
Find out more about the vivacious Visage in this GoPride.com exclusive interview.
JN:
(Jerry Nunn) Hi, Michelle. From where are you calling?
MV:
(Michelle Visage) I live in LA. I just moved here a month ago from South Florida. I did a radio show in West Palm for the past five years. I am from New Jersey. If you watch the show at all it is painfully obvious. I wear New Jersey on my sleeve! (laughs)
JN:
So you are all over the place.
MV:
That is the life in radio. If you are a radio DJ it is not unlike the military and that is what I have done for the past 17 years.
JN:
Do you still work with Sirius?
MV:
Sirius was only two years out of my life. I did it from my house. The last year I was actually back in New York City. They got rid of the station and wanted to make it less gay. They wanted to change from dance music. I put my foot down because I saw no point of a station called The Beat that caters to gay men and women then take out the stuff they love and put in pop. That is not going to work. I said that and they fired me.
JN:
Oh no!
MV:
I don't give a shit. That is part of what I do. If I keep shutting up then nothing is going to change.
JN:
How did you become so involved with the gay community?
MV:
Fate I guess. My first encounter was in high school with a boy named Glen. I knew he was gay. He wasn't out but not closeted. He was constantly getting picked on. These jock boys were picking on him and I went off on the head jock. I got right in his face and told him to shut the f*ck up!
It went from there that I knew I had a connection to the gay community. I moved to New York City and went to college for musical theatre, of course because I am a gay man! (laughs) That's when I got into voguing and house. That lifestyle sucked me in. They found me. Clubbing was all the rage. Jerry, there was only one night of the week that didn't have a special night. I think it was Monday. When I went in to dance I was always in the middle of the circle. My mother got me a fake ID. I never drank a day in my life and I still do not. My mother knew I was moving to New York to become a star. One of the biggest ways besides honing your craft was networking. The minute I started going out the gays were so loving and welcoming. No matter my hair or what I wore, they didn't care! People were always judging me for being a white girl dancing to hip-hop but they didn't.
JN:
Now you are judge!
MV:
It's ironic. That is why I want to teach my children about equality. It is a passion of mine.
JN:
How did you meet Robert Clivilles and David Cole of C&C Music Factory?
MV:
I was a secretary at the time in the Garden District. My best friend was a girl named Idalis. She said she had just auditioned for a girl group and got in. I said, "Bitch, give me the number!" I went in and sang Teen Marie. I sang a Jennifer Holiday song as well and they said, "Pack your panties." We went to Virginia Beach.
Seduction was made into a group and recorded an album in six weeks. This all happened through Idalis and we are still friends today.
JN:
I noticed you were on The Bodyguard Soundtrack.
MV:
Yes! That was with them as well and after Seduction fell apart. We did an entire album that was never delivered to Arista. Clive actually signed me but it didn't happen. I never met Whitney but I did interview her on the radio show. That was ridiculously tragic.
JN:
How did you meet RuPaul?
MV:
Just going out in the clubs. Ru was a staple in the club life in the '80s. I ran a voguing troop. It was me and my favorite queens. So we would see RuPaul out at the clubs.
We wound up doing a radio show together for about three years after we auditioned. Then when The RuPaul Show on VH1 was being made into more of a variety show he brought me in to be his co-host. He said, "You are there to make look good." He is right. We finish each other sentences. Don't ever put us on a charades team together because people won't play against us. We are each other and I can't explain it any better than that.
JN:
Now you get to work with him again.
MV:
It is just amazing.
JN:
I was with Mike Ruiz at a club and he told me that I had to interview you sometime.
MV:
I love Mike and not too bad on the eyes!
JN:
What is going on with Santino on the show? He pops in and out.
MV:
Honestly, I don't know. He is constantly working on his clothing. So maybe he has deadlines with his work. I adore him. Billie B has also been judging. We go back to my Seduction days. He was my very first makeup artist.
JN:
Well, you are very committed. We see you every week.
MV:
Oh, I am not going anywhere. It took me two years to get here because I had a boss that didn't want to let me go. I was supposed to be here from the very beginning. Now that I am here that seat is stuck to my ass!
JN:
This season has been a lot of fun with three Chicago girls representing.
MV:
Yes, you do! I am in Chicago quite a bit. My in-laws own a bed and breakfast in Lake Geneva. It's called Case's Turn of the Century.
Chicago is definitely represented with Phi Phi, The Princess, and DiDa. Princess is gone but the other two are showing up!
JN:
Everyone is talking about the lotion last night…
MV:
Look I have been getting some flack for being a woman and judging. But I was literally raised by drag queens. So I have to call somebody out on the basics. My whole job, Jerry, is not to be a shady reading queen. It doesn't benefit me to be a bitch just to be a bitch. I am there to help the queens perfect their drag to go on to the next level.
All I see is what is on the main stage. They don't give us behind the scenes. DiDa came out and all I saw were ashy knees. I did see Untucked where she said it was bronzer but I saw ashy knees.
JN:
Well, I have seen DiDa perform for years and she is really growing on the show.
MV:
She is growing, isn't she?
JN:
People in the community tell me how she is more polished now.
MV:
Yes and that takes time. But there is such a thing as too polished and I tell Chad Michaels that all the time. I have seen RuPaul through some really fucked up drag, trust me Ru can be real. Not everything is prim and proper. Sharon Needles is a perfect example, Phi Phi, too. They have shown me other sides. It is not just one thing.
DiDa has stepped it up every week and I am very proud of her.
JN:
Sharon seemed quiet last weekend when I met her.
MV:
She is kind of quiet but I am not allowed to spend time with them until the show is over. I became very good friends with Manila, Raja, Raven, and Delta. They normally don't let me talk to them because it is not right.
JN:
That would mess up being impartial.
MV:
Right. It makes complete sense.
JN:
Are there guest judges that you particularly liked?
MV:
I loved Rose McGowan and Ross Matthews.
JN:
He is next week.
MV:
Kelly Osbourne, the list keeps getting longer.
JN:
I just talked to George from the Fashion Police and he wants to get on there since Kelly was on there.
MV:
Tell him to Tweet me. I will get their ear. I love it. I hit it off with Johnny Weir from last season and we went out to dinner after.
JN:
He's a sweetie.
MV:
Amber Riley was a doll.
JN:
Well, that Glee gig must keep her happy. What do you work on with your downtime?
MV:
I am a mommy first and foremost. I have two daughters. I am working on other projects and moved to LA to make it happen. We will see what I do on my own, never leaving Ru. We might have some stuff in the cooker together as well.
People can follow me on Twitter, or Facebook. I am a very open book.
Check out her website at www.michellevisage.com. Follow the Race at www.logotv.com to see the dolls "lip sync for their life!"
Interviewed by Jerry Nunn. Jerry Nunn is a contributing writer to the GoPride Network. His work is also featured in Windy City Times, Nightspots Magazine and syndicated nationally. Follow @jerrynunn