A GoPride Interview
DiDa Ritz
DiDa Ritz interview with ChicagoPride.com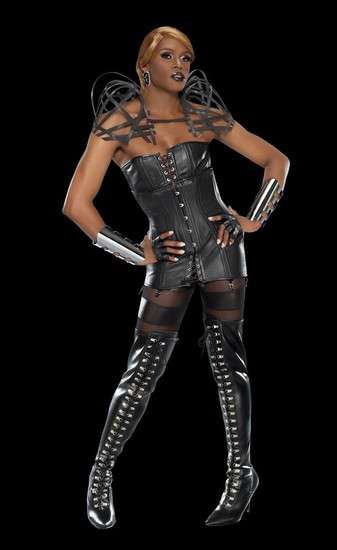 photo credit // mathu andersen/logo
From RuPaul's Drag Race, DiDa Ritz is putting on the hits at Hydrate Nightclub in Boystown
Since appearing on RuPaul's Drag Race, DiDa Ritz is putting on the hits lip-syncing for her life these days in front of crowds that grow each week. Ritz's life has changed since appearing on season four of Race and things are about to change even more in 2012. We talked to DiDa, who is about to run the world.
JN:
(Jerry Nunn) Hey, DiDa. I wanted to say Happy Birthday to you recently.
DR:
(DiDa Ritz) Thank you. The 20th of December is my birthday but I celebrate the entire month!
JN:
I went to the party at Hydrate Nightclub for that.
DR:
It was so exciting. You only have one birthday out of the entire year so I make sure and celebrate very well.
JN:
I have known you for a long time since the About Face Theatre days. How did you get involved with them
DR:
I got involved through a friend of mine. At the time he needed dancers and performers for a play they were working on. I had met a lady named Paula Gilovich who was the youth director at the time. I went to a meeting and was stuck at that moment. I kept coming back.
JN:
So you were able to do some acting.
DR:
Yes, I was able to do some acting in a show and learn how theatre was formed in a big production. It was fun and exciting. About Face Theatre was like my pre-step I like to think.
JN:
Where did your drag name come from?
DR:
The drag name came from me being a big fan of Dita Von Teese. I wanted something different and I know everyone uses their own names but this was something I have never heard before in drag. I picked DiDa with a D because Dita spells her name with a T. My favorite hotel is the Ritz Carlton.
JN:
Where are you originally from?
DR:
I am from Lansing, Michigan.
JN:
You have been doing drag for about four years?
DR:
For just about four years. In April it will be five years.
JN:
Was it hard to keep the secret that you were on RuPaul's Drag Race this season?
DR:
It was very, very hard because you can't tell anyone and you have this huge achievement to not talk about. It is like winning the lottery and not telling anyone because they might use you for your money. I couldn't tell a soul! It sucked when I was hanging out with my friends when I would leave for week and they would make plans with me. I couldn't tell them why I couldn't go and had this commitment. I felt so bad!
JN:
Was it difficult to get on the show?
DR:
The audition process is very time consuming. It is a lot of talking on the phone and you have to make an audition video. You have to talk about yourself a lot. The process is a lot about you. "When did you start drag? How long have you been doing it? What makes you qualified to be on the show?" You, you, you is what it is.
JN:
They don't do the online voting like they used to back when Jade did the show correct?
DR:
That was in season one. They used have to earn votes to get on the show. I kind of wished that they would have done that because ever since Drag Race has started people have told me to be on it. I never thought about it until season three.
JN:
Was Santino a judge this season? Because he was in and out for last season…
DR:
You will have to take a look but he is there as a normal judge.
JN:
There were several celebrity judges such as Kelly Osbourne.
DR:
Yes she was. I am a big fan of hers. It is interesting because you grow up looking at someone like her and developing my own personal style. People like her teach you that with her rocker strong style that has evolved. It was cool to see her sitting there after watching her for so many years with pink hair and being the daughter of Ozzy Osbourne. I kept thinking she is the daughter of a rock legend. This is crazy!
JN:
I am excited to see RuPaul's Untucked will be back on Logo. Many fans like seeing behind the scenes after the show and how everyone interacts with each other.
DR:
Yeah, they do. I think they love it for that exact reason. The best thing about it is the true form of a drag show is always in the dressing room. Untucked gives a very good look at what it is like in a dressing room at a show. You see it in the workroom on Drag Race but on Untucked you see some backstage moments. There is T exposed, reading going down, and tears. It is a mixture of everything.
JN:
How was it being on The Rosie Show recently?
DR:
It was really cool. I have never been to Harpo Studios before. I have lived in Chicago for nine years now. I have never even drove past it. It was an out of body moment for me to be there. We had watched Oprah before and seen her behind the scenes episodes. We walked down those marble stairs and iconic places in that building like other celebrities.
JN:
Speaking of celebrities, have you met Beyonce yet? I know you are a huge fan!
DR:
I have not met Beyonce yet. I would love to see her. I have always said that I am scared to meet her but I still want to because I am that big of a fan. I would be jumping around so much inside but I would love to meet her.
JN:
I can't believe she was eating at a pizza place down the street from my house with Jay-Z last week!
DR:
I know. I heard she was in town last week and then a friend of mine showed me a picture of her shopping on Michigan Avenue. I almost fainted I was so mad! I was this close to her and breathing the same air as her and I still didn't meet her!!! I don't understand it but I know I will meet her one day. I would love to tell her thank you for inspiring me.
JN:
You turned it out performing "Run the World (Girls)" at Pridefest over the summer.
DR:
Oh, thank you.
JN:
See you on this season and out at the clubs.
To catch DiDa's regular appearances at Hydrate, including Hydrag Revue on Wednesday, visit www.hydratechicago.com. Look for a suburban show at Hunters Nightclub, 1932 East Higgins Road, on Jan 29 huntersnightclubs.com/chicago. The Race begins on Monday January 30. For more on season four visit www.logotv.com.
Interviewed by Jerry Nunn. Jerry Nunn is a contributing writer to the GoPride Network. His work is also featured in Windy City Times, Nightspots Magazine and syndicated nationally. Follow @jerrynunn