A GoPride Interview
Liz Shivener
Liz Shivener: Everybody wants to be part of the Disney thing. Girls think they are Belle and every girl wants to be Belle.
Everybody wants to be part of the Disney thing. Girls think they are Belle and every girl wants to be Belle.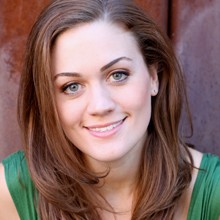 Michael J. Roberts interviews Liz Shivener, who brings Princess Fiona to life on stage
Hide the leftovers as our favorite ogre is coming back to Chicago for one weekend only in SHREK THE MUSICAL. Just off the national tour as Belle in 'Beauty and The Beast', Liz Shivener fills the shoes of another animated icon, Princess Fiona, and talks about her road to the swamp and the risks and rewards of bringing these animated icons to life.
MJR:
How did you know you wanted to be involved in musical theatre?
LS:
Growing up I was around music all the time. My father was a singer and so there was always music on the radio or the record player. I also used to watch all the old movie musicals and burned out all the VHS' that we had. I grew up in Renoyldsburg, Ohio just outside Columbus, so whenever shows came through that we were really, really aching to go see my parents would take the family.
MJR:
What was the first show that you saw that made you say to yourself, "I want to do this"?
LS:
As a very little girl I remember seeing a touring version of 'The Wizard of Oz' which I was obsessed with but it wasn't until high school and I saw my friends show 'Once Upon A Mattress' and I said now that would be fun to do.
MJR:
What was your first professional job?
LS:
I graduated college in June 2009 and within the first two weeks of moving to New York that September I booked Belle in 'Beauty and The Beast'.
MJR:
What was the audition process like for 'Beauty and The Beast'?
LS:
Horrifying! Seeing all these girls in blue jumpers and white shirts just praying to be noticed. Everybody wants to be part of the Disney thing. Girls think they are Belle and every girl wants to be Belle. I was seen by the casting reps 10 or 11 times over the course of a few days. Everybody shows up for those cattle calls. I was lucky enough to have an appointment because a casting director saw me do my school showcase so I was really lucky to get in that way.
MJR:
With leading roles like Belle and Princess Fiona, a great responsibility must come in playing these roles. Does it limit you as an actress at all in how you approach these roles?
LS:
I think it can limit you if you let it. But what is great these shows and these roles is that people come to see you because they know they like these characters. So, yes you have to respect all the work that has been done before because that is what people are expecting to see but then it is the fun of the challenge of adding your own spin to it. You have to respect the work done then add your own take. That is especially true with Fiona because the movies are such a huge franchise. I saw Sutton (Foster) do it on Broadway and I think more about that portrayal then Cameron Diaz in the animated film. So they are big shoes to fill. The material also lends itself to the comedy of the specific actress playing the role at the time and that helps me create my own Fiona.
MJR:
How much leeway does your director give you during rehearsals of SHREK THE MUSICAL?
LS:
Well, there are certain gags that always work and that are not questionable. But what makes that ok is that there are other parts where we have complete freedom. I am doing stuff that none of the other Fiona's has done. The other thing is that I am only the fourth person to every play Fiona so there is not too much of a permanent stamp on it. Stephen Sposito, who is our director is a younger guy and has a really fresh take on everything. It is a delicate balance of what will work and what we can bring in new to it.
MJR:
How has your relationship changed from rehearsals to actual performances with your Shrek, Lucas Poost?
LS:
We only had three weeks of rehearsal then we moved right into tech so it was a lot of intensive, long days. We had a lot of time together. I love Mr. Poost. He is young and is the youngest Shrek. They snagged him right out of college and he is just open and fun to play with on stage. There is a great amount of trust between us and it is an absolute pleasure to be working with him. He and I are both mid-west folks. We get along very well. It is also very fun to see someone at their first job because that was me last year. My heart swells every time he gets standing ovation.
MJR:
What do you want the audience to take out of your performance as Princess Fiona?
LS:
I hope that I make her real. She is very eccentric. Because she comes from the world of animation, there is a high probability that she can read false, being too stagey and too gimmicky. I hope the audience takes away Fiona as a real person. What is fun about Fiona is the conflict inside her because of how she was raised and what was expected of her, being the perfect Princess. That is what she should be but that is not who she is. To a degree everybody struggles with conflict of what they think they are and who they really are. It is a real life struggle only theatricalized and made more dramatic.
SHREK THE MUSICAL will play the Rosemont Theatre, 5400 N. River Road for one weekend only, Nov. 25 - 27, 2011. Tickets, which range in price from $22.50 - $87.50, are now on sale. Performances are Friday, Nov. 25 at 2 and 7:30 p.m.; Saturday, Nov. 26 at 10 a.m., 3 p.m. and 8 p.m. and Sunday, Nov. 27 at 1 p.m. Tickets can be purchased online at
www.rosemonttheatre.com
or by calling Ticketmaster at 800-745-3000. Tickets are also available for purchase at the Rosemont Theatre box office and at all Ticketmaster outlets. Groups of 10 or more, call GroupTix at 877-447-7849.
Interviewed by Michael J. Roberts. Michael J. Roberts is theatre editor for the ChicagoPride.com covering Chicago's diverse arts and entertainment scene.