A GoPride Interview
Joanne Catherall
Joanne Catherall: ...when grunge music was around and no one wanted to know our sort of music, the gay crowd saved us because they still wanted us to play their clubs.
Wed. September 14, 2011 by Windy City Times
...when grunge music was around and no one wanted to know our sort of music, the gay crowd saved us because they still wanted us to play their clubs.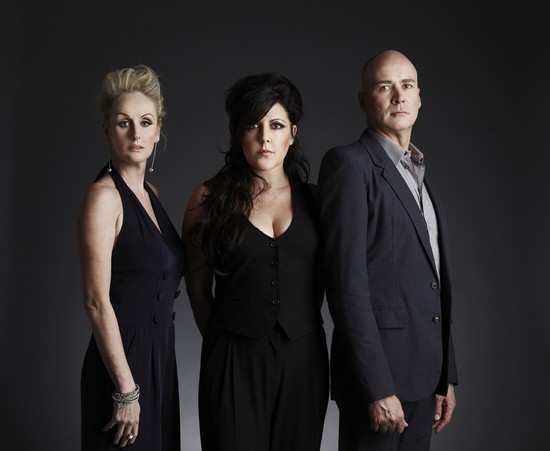 l to r: susan ann, joanne catherall and philip oakey
Windy City Times talks to the Human League's Joanne Catherall about their new musical evolution
When the Human League dared to ask the question "Don't You Want Me" in 1981, the public responded by taking that song to the top of the charts. Thirty years later the synth-pop group—Phil Oakey, Joanne Catherall and Susan Sulley—are back with, Credo, their first CD in ten years. I talked to Catherall about their musical evolution, being fashion icons and the road ahead.
WCT:
(Windy City Times) How has the tour been going so far?
JC:
(Joanne Catherall) It's been going very well and we've had a good response.
WCT:
Your new CD, Credo, is the first record from the Human League in 10 years. Why was now the right time to release it?
JC:
After we released Secrets in 2001 and the record label went bust when it came out, that's when we decided to concentrate on the live work. We did that without going into the studio for seven years and then we all just felt that we needed something new and Philip was itching to start writing songs again and our drummer said that he would like to try writing with Philip. So we were still working live and we started going into the studio in the times in-between the live work and started writing and recording songs.
We really didn't intend to make an album, we were thinking more along the lines of doing some 12-inch tracks and giving them to DJ's and get an interest going in the clubs. And Mark Jones from Wall of Sound, our record label in the UK, had been a big fan and he heard that we had been in the studio and he came to us and he said, "I'd like to sign you up and make an album with you."
WCT:
The word "credo" means a statement of beliefs. How does that translate into who the Human League are as a group?
JC:
What we're saying is, we've been going for 30 years now in this formation and we started out with the belief of using synthesizers, drum machines and vocals. We still believe in that and what we wanted to do with this record is say: this is what our true roots are, this is our belief and we don't want to be anything else.
WCT:
How has your sound evolved since your early days?
JC:
On Credo we did use some of the same instruments because we have a studio in Sheffield (England) and we've never thrown away any of our synths and we got some of the old ones out again. But what makes it easier now is the recording technology. Things were much more difficult to work when we started out with the instruments that we were using.
WCT:
A lot of artists say that their gay fan base has always been there for them during the ups and downs of their career. Is that true for the Human League?
JC:
We've always played gay clubs and when we were going through the worst patch of our careers in the early '90s, when grunge music was around and no one wanted to know our sort of music, the gay crowd saved us because they still wanted us to play their clubs.
WCT:
How has the group managed to stay together for three decades?
JC:
I don't think we considered giving up because we're all quite stubborn and we still want to have a number-one album here in America. We're not expecting that to happen with Credo, but what we're trying to do is get back into the market here and hopefully build it up, and have a number one album.
WCT:
In 1979 David Bowie called the Human League "the sound of the future" and, at one point, the group called itself The Future. Was Bowie correct in his prediction?
JC:
Certainly speaking music-wise, in the way we were making music, because it has taken 25 years for the synthesizer to become really as acceptable as it is now.
WCT:
You and Susan were known for your fashion sense and bold makeup choices. Did your label at the time try to change you?
JC:
There had been talk of us having a stylist but it's just not us, that's not why people like us. Certainly they like Susan and I because they could buy the kind of clothes that we wore. Now it's into labels and designers but it was not that sort of thing to have when we started out and most of our clothes came from thrift stores and we altered it ourselves. We always had that appeal with our look: it might look aloof, but it also looked like you can do it if you wanted to.
WCT:
Are looking forward to the next 20 years?
JC:
Yes, I think so. We've all intentions of making another record and we're talking about that already, but it is the Human League so that could be another 10 years before that happens. [Laughs]
The Human League will play at The Guinness Oyster Fest in Chicago Saturday, Sept. 17. For more information visit http://www.chicagoevents.com/event.cfm?eid=119. Find out more about the Human League at http://www.facebook.com/thehumanleague
.
Interviewed by Windy City Times
Serving the Chicago gay, lesbian, bisexual and transgender communities. ©Copyright 2019 GoPride Networks. All rights reserved.