A GoPride Interview
Andy Bell
Andy Bell: You don't really always stay relevant. It is like anything bend like fashion and you go in and out.
You don't really always stay relevant. It is like anything bend like fashion and you go in and out.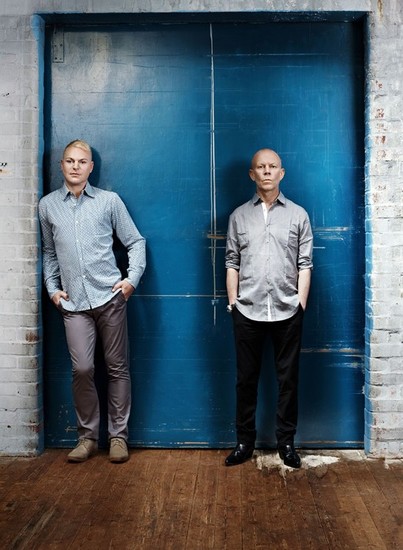 andy bell (left) and vince clarke of erasure
Jerry Nunn talks to Erasure's Andy Bell about the bands first tour in five years
The electronic pop group Erasure consists of Andy Bell and Vince Clarke. This duo is hitting the road on their first tour in five years in support of their new album Tomorrow's World. The new single "When I Start To (Break It All Down) was just released. We caught up to Andy while he was down in South America recently.
JN:
(Jerry Nunn) Hi, Andy. I am calling from Chicago.
AB:
(Andy Bell) Fantastic. How is it?
JN:
It is beautiful today.
AB:
Oh, lovely, good.
JN:
You are in Brazil?
AB:
Yeah, we are in Sao Paolo. It has been cloudy all day, just starting to break through now.
JN:
What are the fans like there?
AB:
So far they have been very sweet, kind of quiet and not very loud in the audience. They have been singing along to all the words, especially the younger ones. They have been generous with their gifts and things. We have gotten a load of t-shirts, great big cuddly toy things. Of course you can't carry them around because it is too much so we have to give them away to people. People have been really, really sweet.
JN:
What has been the craziest thing a fan has ever given you?
AB:
The craziest thing was a fairy made out of an old rubber condom that put inside a little box. I think it was one of those rib tickler condoms that had ears on it and stuff. They made it a face and put little legs on it.
JN:
That is very creative!
AB:
Yeah, it was very creative and looked realistic.
JN:
Last time we talked was about the Erasure box set.
AB:
Right
JN:
I wanted to ask how your solo album Non-Stop influenced the new Erasure album Tomorrow's World in some ways?
AB:
I think it did but I don't know whether Frankmusik heard it or not. I know Vince heard it. I think all of these things work subconsciously. I think just by the very fact of doing it you set the bar up a bit. You put more energy into it. That definitely has happened on some subliminal level. Whether people are aware of it I don't know. I think definitely with the synth programming with Vince's and Frank's work it has given it an energetic input.
JN:
How did you meet Frankmusik?
AB:
We didn't really meet. He did a remix for us for The Innocents reissue of Phantom Bride, which I really loved. I loved some of his own stuff. He's a real synth fanatic. He loves Vince's work. He just wanted to work with us and it was very encouraged by the fans.
It just worked out that Frank was the one we wound up working with. I wanted to work with him as well instinctively.
JN:
He's up and coming.
AB:
He's great, fantastic.
JN:
Right now you are currently on a Total Pop! Tour.
AB:
Yes, we have finished the first half so the next bit will be Tomorrow's World.
JN:
Do you get a break?
AB:
We don't really get a break but we get to turn it around in Tampa. We have all our new production stuff there coming in. We have to reinvent a whole new show in six days.
JN:
Wow. Is there a theme like space?
AB:
We are doing six tracks from the new album so they are quite difficult performing wise. Then there will be songs from this part of the tour so still singles and stuff people know. There is a whole big set that looks very Tomorrow's World-ish. It is quite Dune-ish with our stained glass window motif. Hopefully it will be really nice.
JN:
Light visuals I am sure…
AB:
Yeah, a whole lot!
JN:
What is the song "Then I Go Twisting" about?
AB:
Someone said that it sounds like a song written to an Erasure fan but to me it is song written about the monotony of life in small town Britain. You can see that people are so bored and there is nothing to do there. The music is all the same on the radio. This song is saying "I Go Twisting" or I go insane and that is it.
JN:
I remember from the last time we chatted that you are from a smaller town correct?
AB:
Yeah, I am. Peterborough it is called.
JN:
You don't use many guest stars on your music.
AB:
No, not really.
JN:
How does Erasure stay relevant to new fans?
AB:
It is one of those things. You don't really always stay relevant. It is like anything bend like fashion and you go in and out. I think we have had a large elliptical parth and it takes us ages to when we come back in again. Now we feel like we are coming in again. There is not that many people that understand us on a really fundamental level I think. Although we do great shows I think underneath it all we are not really rock stars. We don't take it too seriously really. We love doing music and writing songs. In the end it is just me and Vince. We are not on MTV and all those things so we are pretty much out of it.
JN:
You have quite a variety of fans. I remember on the Cowboy Tour it was gay, '80s and a lot of Asians.
AB:
I think that is all the techno people or geeky people I am not sure. We are grateful to all of our fans.
JN:
Are you going out while you are in town?
AB:
I know I am DJing after the first gig, so keep an eye out!
JN:
Well, get back to the states safe and we will see you there.
Give "A Little Respect" for the two playing two nights Sept. 16 and 17 at the Congress Theatre, 2135 N Milwaukee Avenue. For information and tickets visit

www.erasureinfo.com.

Andy will do a live DJ set after the Sept. 16 show at Spin Nightclub, 800 West Belmont with more information at

www.spin-nightclub.com
Interviewed by Jerry Nunn. Jerry Nunn is a contributing writer to the GoPride Network. His work is also featured in Windy City Times, Nightspots Magazine and syndicated nationally. Follow @jerrynunn
Serving the Chicago gay, lesbian, bisexual and transgender communities. ©Copyright 2019 GoPride Networks. All rights reserved.