A GoPride Interview
Ramona Singer and Sonja Morgan
Ramona Singer and Sonja Morgan: I didn't come on the show to be famous. I don't like being recognized.
I didn't come on the show to be famous. I don't like being recognized.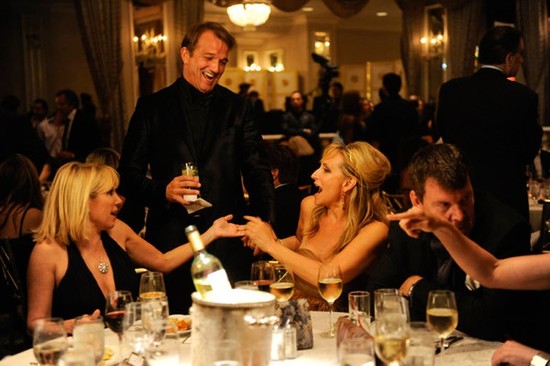 ramona singer and sonja morgan
Jerry Nunn talks to these 'housewives' about keeping it real for the season finale
Bravo has never quite been the same since 'The Real Housewives' first opened their homes to viewers in 2008. In the case of New York, the second city in the popular television franchise, the term "housewife"doesn't necessarily pertain to these ladies, who have plenty of projects of their own outside the home. Ramona Singer and Sonja Morgan sat down with GoPride.com recently to discuss their current endeavors and how they manage to keep it "real."
JN:
(Jerry Nunn) Hello, ladies!
A:
(Ramona Singer) Great to meet you. Would you like some wine?
(Sonja Morgan) It's from her line of Pinot Grigio.
JN:
In that case, I will take a sip.
A:
(Ramona) I am doing a wine tasting tonight at Uncorked.
(Sonja) And I am showing off my toaster oven cooking, so Frick and Frack here. I am working on the accessories and a cookbook.
(Ramona) I am donating a dollar per person for local domestic violence shelters from the event tonight.
(Sonja) One of her charities is domestic abuse.
(Ramona) It is something I really believe in because I was a victim of violence in my family. There were no shelters for me to go to. They would have to drive us to grandmother's house in Brooklyn and hide for a week. People don't talk about domestic violence. I didn't talk about it until my father passed away. People are embarrassed about it the same way that they used to not want to talk about alcoholism. Now going to AA is Chic and people even get married from that. It is a tough thing.
JN:
You are bringing attention to the problem so that is good.
A:
(Sonja) Ramona is all about empowering women. My charities are animals, children, LGBT and artists.
JN:
Tell me how you are involved with the LGBT community.
A:
(Sonja) I work with Jeffrey Fashion Cares. I recently got involved with Marriage Equality New York. On the show they asked me to be the grand marshal. Alex McCord and I had a big tiff because there were outside influences that muddied the waters during the march that she was marching at and I was speaking at. Because we are good friends though we got through it. We agreed to disagree and moved on without trying to figure out every bit and piece because we do care about each other. Ramona, Alex and I are really good friends on the show and we are just getting closer and closer.
(Ramona) And we are friends off the show…
(Sonja) We like to have a nice time and we are not critical of each other. All three of us are completely different. We enjoy and embrace the differences in each other. For example our Morocco trip…
JN:
I saw that!
A:
(Sonja) The other housewives have been picking on us for our manners and the fact that we like to party when we are in a private home.
(Ramona) They are just negative energy.
(Sonja) LuAnn was pretending it was her trip!
(Ramona) We are the fun girls. I like to have fun! I work my ass off and I want to play hard, too. What's wrong with having a little "turtle time?"
(Sonja) Over a month of time they were using Ramona as the whipping boy. I wanted to keep everything calm but Alex blew up. She had hives on her neck.
JN:
The Moroccan trip seemed pretty wild.
A:
(Ramona) It was intense. I almost wanted to go home in the middle of it. Now that I see what they were saying behind my back, no wonder I was getting those vibes!
(Sonja) That's the part I don't like is the behind the back stuff.
JN:
Then you find out later about it when the show airs.
A:
(Ramona) It is upsetting to find out months later. Then there are all these lies when LuAnn and Jill insinuating that I have a drinking problem. I absolutely have no drinking problem but for whatever reasons, last it was Bethany for Jill, now it's me. It is very sad.
JN:
You packed a lot of clothes on that trip to Morocco didn't you?
A:
(Ramona) I packed a ton!
(Sonja) Ramona did, I packed light.
(Ramona) I packed enough for ten people!
(Sonja) The girls made a big deal about what you pack so Ramona wanted to be covered so she brought everything.
(Ramona) I brought my sexy dresses, open shoes, flats, pants, and shorts. You got it!
(Sonja) I bring one carryon bag for ten days anywhere in the world.
(Ramona) I always think about what I should have brought, so why not? I am not carrying it myself. They made a big deal about me asking some help to unpack. When I go on a yacht people unpack for you. I was actually helping them.
(Sonja) That was not fair. They made it into a big deal. I can tell you from years of experience of having people on my yacht. When guests come my help unpacks the guests, packs the guests, draw their baths, and bring them their drink of choice. Some people like a diet coke by their beside or red rose leaves on the beds at night. When you are paying a hundred thousand dollars for a house rental a night you get whatever you want. The servants are there not to judge you, they are there to serve you and get a big fat tip! I will tell you that the staff was not offended by anything that Ramona said. They tried to insinuate that Ramona was rude to the help or the designer was upset. The designer that did those dresses loved us. We paid the most attention to those dresses.
(Ramona) LuAnn came the first day with Cindy and Kelly. They took the downstairs bedroom and we got the upstairs room that was all bright and sunny.
(Sonja) That was very nice of LuAnn to do that. We arrived a day late so they got an extra day of relaxation before. We were filming the minute we got off the plane. The girls wanted us to sit right down and be picked on. "Where's my hangers?"
JN:
How long have you both been on the show?
A:
(Ramona) This has been my fourth season and I am one of the originals.
(Sonja) I have done one and a half.
(Ramona) She's a newbie. She came in the middle of season three. Thank god for her because I only do the show if I enjoy it and she makes me enjoy being on it.
(Sonja) I don't know what I would do if she wasn't on it either. I would be picked on all by myself I am sure. They did come to me originally to do the show but I was freshly divorced with a five year old and I was just chicken. These girls really paved the way for me and I am so gracious to that fact. We have our drama on camera but they have been very nice to me.
JN:
How do they find people to cast on the show?
A:
(Ramona) I have a good girlfriend Dr. Sharon Giese from Park Avenue. They cold called her and asked if she knew of people that would be on a show called Manhattan Moms. They wanted someone involved in charities that has kids.
(Sonja) You can't just be glamorous and have a few dollars. You have to have personality. It is hard to find it all and be willing to share their life with the world. To find a couple is even harder.
(Ramona) It was a family decision for us. I did the show as long as they promote the business that my husband and I were doing called True Faith. I told my daughter she would be in the public eye. The economy was tough and this was a creative way to do it. We all voted yes.
After the first season I admit I pushed the envelope a bit. My daughter was mortified when I showed my crazy side.
(Sonja) I didn't come on the show to be famous. I don't like being recognized. They found me through the glossies, all the magazines and all the events I go to for charity.
JN:
After the show would you do more reality shows like Celebrity Apprentice?
A:
(Ramona) I don't know. Every week I am going on a book and wine tour. I have enough on my plate.
(Sonja) She is a great mom and wife. I have a daughter and running a townhouse in New York, settling up on divorce and finances. I went through two crashes so it has been a steep learning curve for me. I have been in the movie business with a slate of five pictures. I came out with my toaster oven.
JN:
Tell me about that.
A:
(Sonja) I am cooking in the toaster oven. The reason I took the show was because I was writing a sexy novel about sex behind closed doors. That is on the shelf because all of my fans wanted recipes with a toaster oven. They wanted to know about the crock-ware and accessories.
(Ramona) Doing the show gets you creatively going.
(Sonja) We are very fortunate to have Bravo and share what we want with the world.
Watch what happens as The Real Housewives of New York have their season finale on July 21. Check out
www.bravotv.com
for listings and details.
Interviewed by Jerry Nunn. Jerry Nunn is a contributing writer to the GoPride Network. His work is also featured in Windy City Times, Nightspots Magazine and syndicated nationally. Follow @jerrynunn