A GoPride Interview
Jessie Malakouti
Jessie Malakouti: Toy Boys or mannequins are plastic and fantastic. They know when to shut up.
Wed. June 29, 2011 by Windy City Times
Toy Boys or mannequins are plastic and fantastic. They know when to shut up.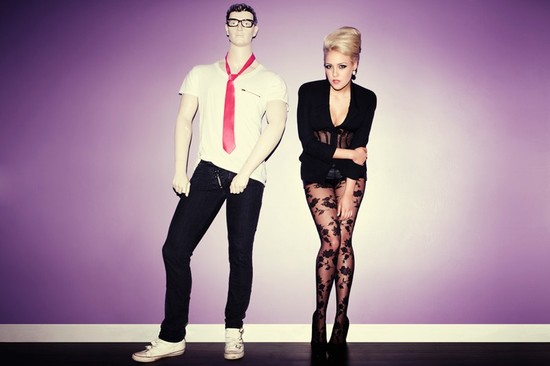 photo credit // maria carmel
Jessie (minus her Toy Boys) on Britney, Ke$ha and more, interview by the Windy City Times
Jessie Malakouti has been hitting the road, playing gay bars and the White Party; now, she is opening for Britney Spears this summer. Watch Jessie and the Toy Boys' video for "Push It" to see why she was picked to represent a revamped Brit. Armed with a handful of songs this new pop princess plans to "Push It" and take over the world.
WCT:
(Jerry Nunn for Windy City Times) Hi, Jessie. You are not out on tour yet, correct?
JM:
Jessie Malakouti: No, the tour starts June 16. Right now I am driving to the studio to find out what songs I am going to play on the tour.
WCT:
Nice! Where exactly are you?
JM:
I am in Long Beach but driving to Los Angeles right now.
WCT:
You just have a few songs out currently?
JM:
I have a few mixes with "Push It" and I also have a song called "We Own the Night" which is the theme song for the CW network. Then I have a song called "Valentine" that came out on Valentine's Day.
WCT:
You will have a full album at some point?
JM:
Yes, that's the plan!
WCT:
So tell our readers about yourself. You are from California?
JM:
I was born and raised in Southern California's Inland Empire, so about an hour east of LA, 60 miles east. It was a whole different world. I always wanted to move to Hollywood. Basically, as soon as I got my drivers license, I graduated high school early at 16 years old, then ran away. I have been living in Los Angeles ever since, minus a two-year stint in London. I always wanted to be a star and an artist to work in Hollywood. I came to L.A. and started a punk rock band. We played up and down the strip. We were signed and that was the beginning of everything for me.
WCT:
Was it fun making the video for "Push It?"
JM:
It was fun. I wrote the treatment and I am very involved in everything that I do visually. It was very fun to see the ideas involved in my brain come to life. The not so fun part was that I had pneumonia believe it or not.
WCT:
Oh, no!
JM:
Good thing you can't tell but literally between each take I was dying in a corner.
WCT:
You had soap suds all over you and you were sick!
JM:
I know! But honestly we had a really good time.
WCT:
What is with all the mannequins around you all the time?
JM:
Every rock band I started we broke up because I am a control freak. I write all the music and handle all the artistic vision. When my third band broke up I started writing dance music. I went back to my roots as a dancer and a fan of pop music. I moved to the UK and started collaborating with some really awesome people and amazing artists. I missed the feeling of being in a band but I didn't want people that could talk back. I started Jessie and the Toy Boys because Toy Boys or mannequins are plastic and fantastic. They know when to shut up. [Both laugh.] I call them Toy Boys and so will the world soon enough!
WCT:
Do you currently have a boy toy or are you single?
JM:
Okay, a boy toy is different than a Toy Boy. A boy toy has the ability to break your heart and has flesh and blood. A Toy Boy, as I just said before, is plastic. And, no, I don't have any boy toys in my life at the moment. I have lots of Toy Boys, though.
WCT:
How are you connected with Ke$ha?
JM:
I collaborate a lot with David Gamson, who is her producer, He worked with her on both of her albums.
WCT:
Did he do "Push It?"
JM:
No, on "Push It" I wrote with Jimmy Harry and Tony Canal from No Doubt. They collaborated on the side on it with Jean Baptiste. It was really random with a lot of different sides of the music scene coming together for one track.
WCT:
I have never heard of the rapper Yelawolf, who is on the song.
JM:
He's really cool. I am always looking for new artists to collaborate with and I found Yelawolf. I thought he was amazing. Shortly after we collaborated he got signed by Eminem.
WCT:
That's a big deal. Are you a Britney Spears fan?
JM:
Huge! I am obsessed with her actually. She's an icon especially for my generation. I did my fifth grade talent show to "Hit Me Baby One More Time." So I am a Britney fan and used to put posters on my wall. I used to watch all of her music videos. I tried to learn the songs and choreography.
WCT:
You must be thrilled to be opening for her.
JM:
I am really thrilled, grateful and humbled. I am beyond excited.
WCT:
Where do you see yourself going in the future?
JM:
Everywhere, I really do feel like Jessie and the Toy Boys are the future of pop. The world better get ready!
Jessie—along with the toy girls, Britney Spears and Nicki Minaj—will all be at the United Center, July 8. Also, Jessie is slated to perform at Roscoe's, 3356 N. Halsted, after the show. Jump over to www.jessieandthetoyboys.com for more Jessie.Interview by Jerry Nunn for Windy City Times
Interviewed by Windy City Times
Serving the Chicago gay, lesbian, bisexual and transgender communities. ©Copyright 2019 GoPride Networks. All rights reserved.