A GoPride Interview
Manila Luzon
Manila Luzon: I could have used the money but if I need a tiara, honey, I can fashion myself up one with paperclips and some silver rhinestones.
I could have used the money but if I need a tiara, honey, I can fashion myself up one with paperclips and some silver rhinestones.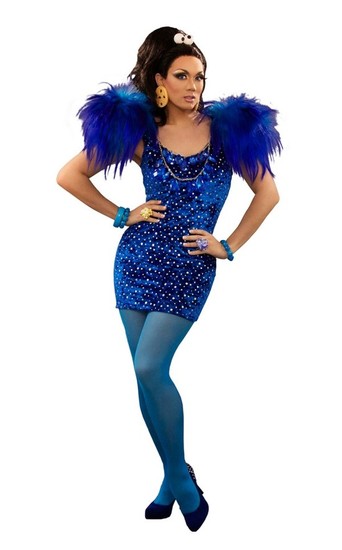 photo credit // aaron young for logo
Jerry Nunn chats the Asian Glamasaurus, now a professor at Drag U
Busy bee Manila Luzon is flying into town at Spin Nightclub this week and into our television sets once again on Logo. Being the runner up for season three of RuPaul's Drag Race was not enough as this disco queen is once more in the spotlight.
JN:
(Jerry Nunn) Hey, Manila. What are you up to?
ML: (Manila Luzon) I am actually at the office. I work during the day.
JN:
So you have a full time job working 9 to 5?
ML: Yes, on top of everything, I have a full time job. Isn't that crazy?
JN:
I don't know how you do it!
ML: I honestly don't know either. It is a lot of coffee.
JN:
What do you do?
ML: I am a graphic designer.
JN:
Well, you can get away from it all and come to Chicago.
ML: I am super excited to come there.
JN:
Have you been here before?
ML: I am originally from the Midwest. I was born and raised in Minneapolis. I have family out in the suburbs of Chicago. I have been to Chicago several times. It is the land of Oprah, come on!
JN:
She is gone now though, she flew the coup…
ML: I heard that Chicago might get scooped off of the face of the earth without her.
JN:
Well, Rosie O'Donnell is taking over the Oprah headquarters now. Did you know that?
ML: Oh no, gorgeous, well, Koosh ball stocks just went up there!
JN:
So you will be at Spin Nightclub and other stars from your season will be down the street at Hydrate.
ML: Yeah, but who wants to see them? It is going to be a little Drag Race war over there to see who gets the bigger crowd.
JN:
You came so close to winning your season.
ML: I actually did win. What you didn't see was that we filmed an alternate ending. I am actually the UK's next drag superstar. I have to tell you that 75,000 pounds is a lot more than 75,000 dollars. That is just how it works out.
JN:
Sure. You were very good friends with Raja right?
ML: Yes, of course. If I was going to lose to anyone I am just happy that it was Raja. I would have been happier losing to any of the Heathers. I love them so I want the best for everyone.
JN:
That's a good attitude.
ML: I didn't go on the show with intentions of having to win. I just wanted to make it until the end and I accomplished that. I ended up so close that the coins were just dangling there in my face. I could have used the money but if I need a tiara, honey, I can fashion myself up one with paperclips and some silver rhinestones. You saw that on the show.
JN:
You brought a lot of style to the show.
ML: Thank you. I always came with a look.
JN:
I watched the first episode of Drag U.
ML: You did? I haven't seen it. I need to watch an episode so I know what I am talking about.
JN:
I loved the Cookie Monster outfit.
ML: It was an homage to my Big Bird dress that I lipsynced for my life against Heather Delta. That was in the comedy challenge episode that I failed at so badly. I kept it in the Sesame Street family.
JN:
Are you a Sesame Street fan?
ML: Sure, isn't everyone? We all grew up on Sesame Street.
JN:
Did you feel good being asked back to be on Logo?
ML: Yes, I would consider it a huge honor that RuPaul thought that the world is not done with watching me on TV. It was a lot of fun to get to work with RuPual again. This time it was a more casual setting because when I arrived I was no longer a contestant I was talent, which meant that I didn't need to be escorted to the bathroom or people actually told me what was going to happen during the day. There were no surprises.
JN:
What was the best part?
ML: The best part of doing the show was that I got to sit down with Lady Bunny and RuPaul at lunchtime and talk about laser hair removal. We were kept in separate rooms while filming Drag Race because RuPaul was very good at keeping her distance and not making any personal connections with the contestants to keep things subjective and have an open point of view during the contest. So one of the coolest things was to hang out with RuPaul in a casual setting.
JN:
Its fun to see how they pick the colorful contestants to help these ladies become fabulous.
ML: We are personalities and the bigger the personality that you have the easier it is to get your point across to the person. You are out there and forcing it down their throat. Sometimes these women were very resistant.
JN:
It had to be challenging.
ML: It was a lot of fun, though. I am not a stranger to putting someone in drag. I used to get my roommates, that were women, put them in drag and we would go out together, just because I needed someone to hang out with that night. I didn't want to go to the clubs by myself. Also, you might remember that on the episode where we had to put straight jocks in drag I won that challenge.
JN:
Yes, you know what you are doing.
ML: I am kind of an expert and I have a gay cruise to prove it, thank you very much!
JN:
Where did your drag name come from?
ML: I am named after Manila the capitol of the Philippines where my mother was born. So it is an homage to my heritage. I grew up in the Midwest so most of the people that I knew were white and most of the drag queens I knew were either white or black so I wanted to do something that was Asian. From watching Drag Race you knew I was Asian everything. I couldn't think of a last name so Luzon is named after the island that Manila is on in the Philippines.
JN:
Neat!
ML: It is kind of naming yourself Albany New York or Chicago, Illinois.
JN:
Got it. So your mom is from the Philippines and where is your dad from?
ML: My father is a good old American red headed boy scout from Minnesota. He is German and Swedish. I am a lovely little mix, me and my sister. We make a beautiful combo!
JN:
How is it going with Sahara Davenport? You have been together for a while.
ML: We have been together for five whole years. It is kind of crazy. Sometimes I look at it and think five years is so long but then sometimes it feels like just yesterday.
JN:
How did you meet?
ML: Well, we didn't meet in drag. It wasn't until a few days later that we discovered that we were both drag queens. We picked each other up as boys. We were the one night stand that turned into a five year stand, honey, in heels!
JN:
That is wild.
ML: The funny thing is that the minute I met Sahara I felt like I had known him forever. We clicked really early. It was fate. Do you believe in that kind of stuff?
JN:
Why not? Did he get you to do the show?
ML: No, I have always loved drag and when I saw the first season I thought it was very interesting. When Sahara was on the second season I thought it would be fun for me to go. She didn't do as well as I know she could have done when she was on the show. I said, "I am going to redeem ourselves and make it to the end for both of our sakes!" I picked up where she left off. I think I did pretty well.
JN:
You did. I watched the "It Gets Better" video that you did together.
ML: We were doing a college show back in October when that was the hottest thing to do and for some reason everyone's was so damn serious so when we did ours it was kind of goofy. We are two drag queens. You can't take anything too serious when you get information from a drag queen. That is why drag queens don't usually deliver the news or presidential speeches.
JN:
Good point. Talking about big news, in Illinois we are finally getting civil unions this week.
ML: Oh, really? Congratulations!
JN:
Is marriage in the future for you?
ML: I have absolutely no idea. I am not driving up to Connecticut to get a piece of paper that says I am married. I will have to think about it.
JN:
There should be a huge crowd when you arrive in Chicago.
ML: The funny thing is that when the cast was announced back in November I remember Spin being one of the first people to contact me to get me booked out there. For some reason my schedule never permitted it, I was filming Drag U, I got busy and I was not able to come there. I am very excited to come out to Chicago. My sorority sister from season one will be there, Jade.
JN:
Will Sahara be coming with you?
ML: No, she has her own gig. It is part of the hardships of two drag superstars running around the country. Our schedules are always interweaving. We are swamped now that it is Pride month. We've got to make our coins, darling!
Want more Manila? Visit www.manilaluzon.com and www.logotv.com for information about Drag U debuting on June 20. For ticket information for the three shows at Spin on June 3 visit spin-nightclub.tix.com.
Interviewed by Jerry Nunn. Jerry Nunn is a contributing writer to the GoPride Network. His work is also featured in Windy City Times, Nightspots Magazine and syndicated nationally. Follow @jerrynunn