A GoPride Interview
Shane Talbott
Shane Talbott interview with ChicagoPride.com
Wed. January 12, 2011 by Terrence Chappell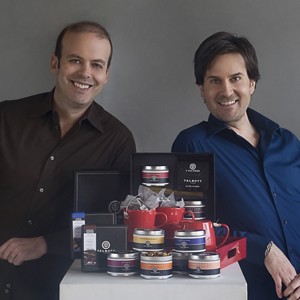 steven nakisher and shane talbott
There's something to be said about a self-made man. Whether it's his struggle, his success, or his overall story, praise and honor are bestowed on those that have built businesses from the ground up. Shane Talbott, founder of Talbott Teas is that self-made man. The first time I heard Shane Talbott's name beyond receiving his carefully crafted, customized teas as a gift was during my nonprofit, P.Y.G.'s board meeting. My board and I were brainstorming special guest speakers in the LGBT business community and of course Shane's name was on the list.

His risk-taking approach to starting a business matched with his growing success made for a sexy story. Not to mention, it doesn't hurt to have your teas listed as one of Oprah's favorite things.

So again, whether it's his risk-taking attitude, his teas, or his passion, Shane Talbott of Talbott Teas is certainly one of my favorite things.

TC: (Terrence Chappell) So, how did you get started in the tea business?

ST: (Shane Talbott) I actually started off as a color specialist in a salon. I skipped college to go to hair school. My first job was working at a hair salon in downtown Chicago. After about ten years working there, I decided to open up my own salon. It was there that I decided to offer tea to guests.

TC: So, a customer could get their hair done as well as consume a tasty cup of tea.

ST: At the time I saw how much everybody was into Starbucks. I've always been tea crazy, so decided to have a tea bar in my salon.

TC: Did your customers go tea crazy?

ST: People were skeptical at first. Back then, nobody really drank tea. The 1st year was really spent convincing people.

I also felt that this will be a part of a fun experience in coming to our salon. It definitely got people's attention.

TC: What is the inspiration behind your tea creations?

ST: I tend to aim to indulge instead of being overly healthy. I'm inspired by pampering yourself.

TC: How did you go from having a tea bar in a salon to a fully-functional business that Oprah Winfrey is even high-fiving?

ST: Well over the years I was just friends with Oprah's stylist and we would talk back and forth. He wanted me to make a tea inspired by Oprah. After I created the tea, he shared it with her. So, when she opened her store, we started off with a couple of teas in her store.

TC: Congratulations on being added to one of Oprah's Favorite Things.

ST: Thanks. It was surreal. It didn't truly sink in until two or three days later when we had to order more supplies because of the demand.

I was so shocked when we got the notice to that we would be a part of her show.

TC: You make it sound so easy.

ST: We definitely had our struggles.

They were mainly financial struggles. So, we would have to sit and decide on rather or not to spend our vacation money on this. Back then, it was a side business, so we had to pace ourselves.

TC: We? I'm sensing a love story.

ST: Steven Nakisher is my business partner. We are also together.

TC: In business and in love; how does that work out?

ST: Steven brings the business side to the company. I'm more creative and tactile. Steven also loves social media. He keeps up with Facebook and Twitter. We've been working together for 14 years. We definitely had to take some time to balance it out. It's a treat to do the business together. I don't feel alone.

TC: So, where can GoPride.com readers and I find their Steven Nakisher?

ST: We met at Big Chicks, which is a great place to go around the holidays. I could see how much the life of the party he was and I liked that. So, I introduced myself to him.

TC: Nice. Successful business, check, life partner, check. Any future checks or goals on your list?

ST: I would like to see and create our Talbott Tea members as the Sex and the City tea drinkers. My vision is to grow what it means to be a Talbott Tea drinker. It doesn't have to be a multi-million dollar company. But, I'm really focused on the experience of our customers and Talbott Tea fans.

TC: Well I think you're succeeding in that. What lasting advice would you like to leave aspiring entrepreneurs?

ST: You have to start somewhere. Take the first step on a small scale or whatever level you can manage. People are going to share that drive and passion that you have for it. If you are passionate about it, then it will grow.
Interviewed by Terrence Chappell. Terrence Chappell serves as editor-at-large for ChicagoPride.com where he writes Chappell Confidential, a social and nightlife column. He grew up and still resides in Chicago's Auburn Gresham neighborhood and remains active in the LGBT community. Chappell founded Professional Young Gays (P.Y.G.), a social and business networking initiative designed to connect young, business-minded gay men and women. Follow @tc_confidential