A GoPride Interview
Mario Cantone
Mario Cantone interview with ChicagoPride.com
Wed. April 21, 2010 by Windy City Times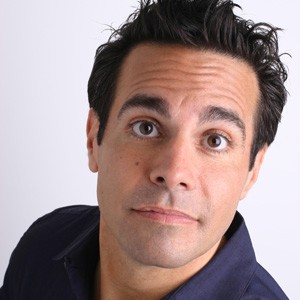 photo credit // peter lau
Mario Cantone, along with a variety of performers, will be reciting excerpts from celebrity autobiographies at the Royal George Theatre this month. This Sex and the City star spoke with Windy City Times.
WCT:
(Windy City Times) Hi, Mario. You are coming to Chicago soon!
MC:
(Mario Cantone) Yes, I am doing Celebrity Autobiographies, which is not really my show. It is much easier. With my standup I have not been to Chicago. I regret it. It is the one city that I want to play.
WCT:
Well, you have to come back with your own show.
MC:
Yeah, I have to find the right theater for it.
WCT:
Who came up with the idea for Celebrity Autobiography?
MC:
Eugene Pack. [He suddenly notices action near where he lives.] What the fuck is going on down here? Jesus Christ, this city is so crazy. I am on my roof and I am looking down and there are cops. There is always someone getting hit by a car down here or a murder. I live in the projects, I do. I have lived here for 26 years because I don't like change. I don't like to put things in boxes and move. I have moved around in the building like three times because I don't want to leave. [Laughs]
WCT:
You live in New York?
MC:
Yes, I had a studio in this building one time and now I have a corner duplex with an outdoor deck that is all mine.
WCT:
Your partner's named Jerry also?
MC:
Yes; Jerry Dixon. I don't talk about it and celebrate it because once you do then they leave you for tattooed hookers. They have asked me how long I have been with him on The View many times and I say, "Shut up! I do not celebrate it." Once you thank them in speeches or talk about how great the relationship is, it's over.
WCT:
It's a jinx.
MC:
It's a sure nail in the coffin of the relationship. It really is.
WCT:
You are the only male to actually do the round table at the View, correct?
MC:
I believe I was the first male co-host. Joy [Behar], who is my buddy, says it's Tom Selleck, but I don't think so! I have done it three times as a co-host. I have been a guest about 50 times.
WCT:
You are so funny on the show.
MC:
I love it on there. I enjoy it and have a good time.
WCT:
Do you have any behind-the-scenes stories about The View?
MC:
I have been there through all of it, from the beginning. I have seen all the changes. I have never had a problem with anybody. It started with Joy because she always comes to get me no matter what show she is on with her career. Barbara Walters and Bill Geddie really really like me, and that's why I have been on so many times. If they didn't like me it wouldn't happen.
WCT:
How do you get along with Elizabeth Hasselbeck?
MC:
She will come over to the dark side soon enough. She railed on the Republicans the other day, I heard. She went off on what she thought about them leaving coffins on people's lawns.
WCT:
Really?
MC:
Good for her. She is not a stupid girl. I think she is idealistic and, for some reason, conservative. When you are young like that I think you eventually see the truth. I believe it will happen sometime. Well, then again I could be wrong. She might end up like [gay-rights opponent] Anita Bryant, you never know.
WCT:
Speaking of celebrities, what do you think of Ricky Martin coming out?
MC:
He is still at the height of his beauty. He is the first American sex symbol—I know he is Puerto Rican—to come out of the closet. He came out at the peak of his beauty. That is major. His music career is not what it once was but this is going to kill it. This will cut it in half. That is the way of the world, unfortunately. We knew he was gay but Middle America didn't know, I am telling you. There are a lot of people surprised by this. His Puerto Rican fan base did not know and did not want to know. This is not good for him but great for him. Do you know what I mean?
WCT:
Kind of.
MC:
It is not great for his career. It is great what he did. He sacrificed a lot more work and good for him. He had people around him saying don't do it. He didn't lie about it. He was not lying like a lot of leading men in Hollywood are. When Barbara Walters asked him about it, he never said no. You gotta give him credit for that, too. You have to look at the whole picture. This boy is okay.
WCT:
Well, Sean Hayes came out a few weeks ago, too.
MC:
That was really not a surprise. Even Middle America knew about that one. They can take it much more because he was playing gay. He was also never in the closet with his friends and people. In the press though he would not talk about it.
WCT:
I am going to see Promises, Promises [a musical that Hayes and Kristin Chenoweth are in] while in New York.
MC:
You are? I did that musical in high school.
WCT:
Do you want to do more Broadway?
MC:
Yes, I do. I did five of them. I was supposed to costar in a show with Harry Connick, Jr., but unfortunately it fell apart. There have been a few things that haven't happened but it is one of my favorite things to do. I am very picky about it because once you are in it then you are in it for eight shows a week.
WCT:
It is a big commitment.
MC:
Yeah, and you better love it. Even if it is a great piece you are going to get bored now and again.
WCT:
Are you excited about Sex and the City 2, which comes out next month?
MC:
Yes, I am. I am very thrilled to be in it and looking forward to it.
WCT:
How did you get involved in Sex and the City, the series?
MC:
Michael Patrick King I have known since I was 23 years old—since I was doing comedy clubs. He was a stand-up and we became friendly. He always loved what I did and was always the director. He went off to Hollywood and worked for Murphy Brown and a few other shows. After the third year of Sex and the City, he said he had written a part for me. It was just one scene—a wedding thing to help [Kristin Davis' character, Charlotte] pick out her dress. They got a lot of calls and then they brought me back again and again. But I only did 12 episodes.
WCT:
I loved the storyline with the straight people trying to set up the two gay guys. It was so true because I hate when the straights try to set me up with someone.
MC:
Oh, I know. It's ridiculous. That's what so great about that. That all is changing now.
WCT:
Can you tell us which celebrity autobiography you will be reading or is it excerpts from different ones?
MC:
I will tell you the ones that I read in the past but I don't know which ones I am going to be doing. I have read Zsa Zsa Gabor, Carrie Prejean, the former Miss California, Melissa Gilbert, Faye Dunaway, I have also read one of the Jonas Brothers, Loni Anderson. Yeah. I have read some fun stuff.
WCT:
Do you do them in your funny voices?
MC:
No, I don't. Well, Faye Dunaway I kinda do. I don't even know what Carrie Prejean sounds like. I just kind of imagine what she is like. I try to stay on the book and not comment on it.
WCT:
It is funny on its own, right?
MC:
Yeah, I try to keep it pure. When you are doing the group ones like the Jonas Bothers, or Loni Anderson and Burt Reynolds, if someone goes off book then I am ready to go toe to toe with them. If I am alone I stay on book. I think that is the way it should be, actually.
WCT:
Would you write a book about your life?
MC:
No, God, no. It would just be pissed off and angry. People don't want to hear that. I complain a lot.
WCT:
Well, I am excited about seeing your show.
MC:
I love your city and Jerry, my partner, is from there. I asked him, "Why don't we come there more?" It is my favorite place in the world next to New York. We are going to make a nice weekend of it when we come up there.
Celebrity Autobiography is slated for two shows at The Royal George Theatre, 1641 N. Halsted, Friday-Saturday, April 30-May 1, at 8 p.m. A limited amount of meet-and greet-tickets is available at www.ticketmaster.com.

Interview by Jerry Nunn for Windy City Times
Interviewed by Windy City Times
Serving the Chicago gay, lesbian, bisexual and transgender communities. ©Copyright 2019 GoPride Networks. All rights reserved.