A GoPride Interview
Suzanne Westenhoefer
Suzanne Westenhoefer interview with ChicagoPride.com
Wed. March 10, 2010 by Windy City Times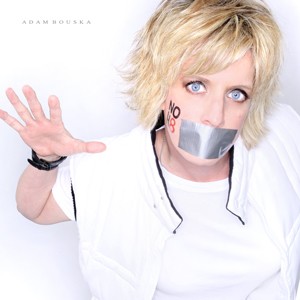 suzanne westenhoefer as photographed for the noh8 campaign
photo credit // adam bouska
Suzanne Westenhoefer is a woman who refuses to mince words when discussing LGBTQ rights and inequalities. She was out in the public eye before Ellen's famous airport loudspeaker "I'm Gay" declaration that touched the lives of millions. Her charm and zest is matched only by her humor and candor.
Currently, Westenhoefer can be seen on the second season of We Have to Stop Now, co-starring out lesbians Cathy DeBuono and Jill Bennett. Meredith Baxter guest-stars in the second season as well. Westenhoefer will be present at the 20th anniversary of Club Skirts The Dinah in Palm Springs, Calif., in April, and has a few little surprises in her back pocket for fans across the globe.
I caught up with Westenhoefer to chat about Mariah Hanson's Club Skirts The Dinah, posing for the NO H8 Campaign, Sweet Cruise, Rosie O'Donnell and really, really wanting to do a certain scene with a certain someone in season three of We Have to Stop Now.
WCT:
(Windy City Times) So, how did you get involved with The Dinah?
SW:
(Suzanne Westenhoefer) Oh, my God. I've been doing The Dinah Shore for so long! I've probably been doing a show there for the past 12 years. This year I've been working with Mariah to host her comedy night instead of doing my own show.
WCT:
That's right, and then Rosie O'Donnell will be doing a show on Saturday night.
SW:
Because it's all about the comediennes!
WCT:
You have to balance out all of the bikinis, you know!
SW:
Right, exactly!
WCT:
How did you get involved with the NO H8 Campaign?
SW:
Obviously, you know, my partner and I are married so getting involved with it was a no-brainer. Then when Adam was asking for people to be "Celesbians" and get painted up I was like, "totally, of course!" The photoshoot was fabulous except that I did not know until they put the duct tape over my mouth that I would freak out! They put that duct tape over my mouth and I went, "Oh, my God—I can't talk!" and I talk all of the time. So, I was completely horrified. He took the pictures so fast and he was so sweet.
WCT:
I am actually going down to L.A. this weekend to meet with Adam [Bouska] and Jeff [Parshley] to do a photo and chat with them about the NO H8 Campaign.
SW:
Adam is pretty fabulous. Please tell him I said hi!
WCT:
How did you get involved with the Sweet Cruise?
SW:
The women who started Sweet, Jen Rainin and Shannon Wentworth, I've known since probably 2002. When they decided to start the cruise company, they went to my girlfriend and asked her to get involved and be on the board to help them. I guess it was just a natural thing. I wanted to do the first cruise because I like what they are doing. I like how they are making it more affordable for the younger lesbians so that they can go, too. All of the volunteerism and giving back and reducing our carbon footprint stuff—we all have to start doing that. You know, we all have to do our own part. If you're going to go on vacation anyway, go on vacation with lesbians and go on vacation with lesbians who are trying to do something for the environment. It's awesome. It's a win-win.
WCT:
It's great that you're so vocal about all of this because it definitely helps the community and it's very inspiring so thank you for being out and doing all that you do.
SW:
It's what I do!
WCT:
You are also co-starring in a web series called We Have to Stop Now. Jill Bennett and Cathy DeBuono are your counterparts, and Meredith Baxter has a supporting role in season two.
SW:
Oh, now this is exciting! You know, last year we taped about six or seven episodes and they are only about seven minutes long. It's kind of a comedy/drama about two women who write a bestseller about how to stay in relationships and you hear that they are going to break up. So they have to go to a therapist and I am their therapist. So, I am like the comedy relief.
The first season was so much fun to do but we had about eight dollars to do it and we put it out there, but it got such great reviews and people were so into it. This year, we got some more money and we got Meredith Baxter to come in and do a part. We went on the Sweet Cruise and we taped with some other celebrities. The second season is done now and they are editing it and it'll be up soon on www.wehavetostopnow.tv/wehavetostopnow/Home.html. We need everyone to subscribe so that we can keep it going. It's, like, $24 to subscribe. If you don't, we can't do another season. We don't have a studio behind us or sponsors or anything. It's all grassroots. If you can subscribe for the year for the season, then we can do another season. Plus, I'm just saying, there's a really good chance that I'll be kissing someone really hot in the third season and there are clues about it in the second season. I really want to do that scene so everyone please subscribe.
WCT:
That is hilarious!
SW:
I really would like to do that scene.
WCT:
Any final words for your readers?
SW:
Right now, people need to get their tickets to The Dinah before it sells out. Go get your tickets now and subscribe to We Have to Stop Now.
Club Skirts Presents The Dinah celebrates its 20th anniversary March 31-April 4; see
www.thedinah.com
.
Interview conducted by Sarah Toce for the Windy City Times. Follow Sarah on Twitter at www.twitter.com/sarahtoce; she is also at Lezzbook at www.lezzbook.com.
Interviewed by Windy City Times