A GoPride Interview
Shirely Jones
Shirely Jones interview with ChicagoPride.com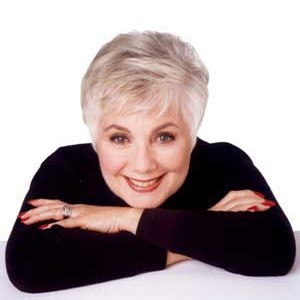 Veteran songstress Shirley Jones knows a bit about the Academy Awards. Known for her signature leading roles in the multi-nominated film versions of "Oklahoma!," "Carousel" and "The Music Man," she collected her own Best Supporting Actress win for the unforgettable performance as the fallen Lulu Baines in "Elmer Gantry."
Born near Pittsburgh, Pennsylvania, Shirley Mae Jones advanced her love of musical theater and natural singing talent into a direct audition for Richard Rodgers and Oscar Hammerstein, The famous songwriters were so taken with her innocence and voice, that they signed her to an exclusive contract.
What followed was a string of lead roles in the film versions of Rodgers and Hammerstein's most popular musicals. Throw in Marian the Librarian and her Oscar winning dramatic turn, and it is surprising that Ms. Jones had her highest profile in television, as the matriarch of a certain pop group that took its name from a bird in a pear tree. ShowBizQ got the honor of interviewing Shirley Jones, in anticipation of her performance in the revue "A Night at the Oscars" on March 4th at the Paramount Theater in Aurora, Illinois.
ShowBizQ:
What specific film song standards can audiences expect from your show?
SJ:
(Shirley Jones) I'm doing three or four songs from "Oklahoma!" and three or four songs from "The Music Man.'' I have a series of film clips that show everything I've ever done, which is fun. We have an incredible orchestra who play the Oscar winning scores and songs. Plus we have two beautiful singers, a gal and a guy, who do some wonderful duets. It's a great show.
ShowBizQ:
What were the songs that first wowed you as a girl growing up in the Pittsburgh area? Was there any particular song or musical moment that made you think, 'This is exactly what I want to do'?
SJ:
All the MGM musical stars – Judy Garland, Gene Kelly and Fred Astaire – I would sit in the front row as a kid and watch all those movies. Everything they ever did, they were my heroes. And I was able to sing, which was a gift, I was singing at six years old. I sang everywhere, every song I ever heard. I remember one of the first ones [singing] 'Frankie and Johnny were sweethearts…' [laughs]
ShowBizQ:
Of all the movie musicals you did in that period from "Oklahoma!" to "The Music Man", what particular song or screen moment do you think resonates with people the most?
SJ:
There are several. But first I think "Carousel" has some of the most beautiful music ever written. I open this show with 'If I Loved You' and I close with 'You'll Never Walk Alone' when I do my own act. That music is spectacular. There are many moments in that film and in that score where people connect emotionally. I'm a Rodgers and Hammerstein fan, and they were my mentors. Everything they wrote I love. And I still love singing it, which is amazing.
ShowBizQ:
Well, besides your sheer talent, why do you think you made such a strong connection to Richard Rodgers and Oscar Hammerstein II when you first collaborated with them?
SJ:
I think for them, when they first auditioned me, I was Laurey Williams [Jones' character in "Oklahoma!"]. I was a little girl from a 'farm community,' I was young, naive and I could sing. They saw that immediately. They had screen tested every young girl singers on both coasts for the role, and came back to me. That is why initially they put me under a personal contract.
ShowBizQ:
Could you talk about the relationship between the two famed writers?
SJ:
They loved it. They got along very well. Oscar Hammerstein was the partner that made most of the decisions, because writers had great respect for him.
ShowBizQ:
There is an interesting connection between the film versions of "Carousel" and "The Music Man'' as Frank Sinatra was cast in both of them initially. Were you instrumental in getting Gordon MacRae into "Carousel" after Frank dropped out?
SJ:
Frank and I had done all the rehearsals and the pre-recordings before filming. We had done everything, Frank was thrilled to be playing Billy Bigelow. To this day, nobody knows why he backed out. No one knows the real reason, but I was told that Ava Gardner was on location on a film and see said, 'Get your ass down here or I'm leaving you.' That's what I heard, but I don't know if it's the truth or not. [laughs]
Actually what happened was we were in Bristol Harbor, Maine, ready to shoot the first scene. Frank arrived, saw the two cameras [the filmmakers needed to shoot two versions of each scene for Cinemascope technology] and said he signed on to do one movie not two, and left. There was a pay phone on the dock, and a producer came to me with tears running down his cheeks and asked, 'Where's Gordon MacRae'? I said he was in Lake Tahoe doing an act with his wife. He asked me then if I could get him on the phone. I put some money in the pay phone, and managed to reach him. I said, 'Gordon, how would you like to play Billy Bigelow in "Carousel"?' He replied, 'Give me three days, I have to lose ten pounds.' [laughs] That's how he got the part.
ShowBizQ:
In the case of the film version of "The Music Man", you were playing opposite Robert Preston, who had originated the role on Broadway. How did he help you develop the great chemistry you had on screen, as if you had played your role as long as he had?
SJ:
The wonderful thing about Robert is that usually when someone had done the show on Broadway as long as he had and knew the character so well, everyone on the film set was waiting for when he would come in and say, 'No, we did it this way.' He did none of that. It was as though he were playing Harold Hill for the first time. And it was so great, and gave us the great chemistry, because it just happened. And it worked very well for both of us, he was wonderful.
ShowBizQ:
How did the opportunity to portray Lulu Baines in the film "Elmer Gantry'' come up? Did you have to audition against any other known actresses at the time?
SJ:
Oh no, Burt Lancaster saw me in a "Playhouse 90? that I did, which was an hour and a half of live television. It was called 'The Big Slide,' and I played an alcoholic 'Sunshine Girl' during the Mack Sennett era, co-starring Red Skelton. Burt saw the production and was convinced that I was Lulu Baines. Richard Brooks [the writer/director] was not, but Burt fought for me to get that role.
ShowBizQ:
And as a result, you had your own Oscar moment on April 17th, 1961, winning Best Supporting Actress for that role in "Elmer Gantry". Who presented the Oscar trophy to you and what do you remember about that night?
SJ:
The presenter was the English actor Hugh Griffith [Best Supporting Actor Winner for ''Ben-Hur'' the previous year]. I was the dark horse, I had no idea I was going to win. Janet Leigh had won all the other basic awards for ''Psycho''. I was thrilled to be nominated, but it was a shock when I won.
ShowBizQ:
I don't want to mention the 'P-word' [Partridge Family] but I was also a big fan of that as well, and I love you for doing it.
SJ:
[Laughs] You are a sweetheart.
Shirley Jones will appear in "A Night at the Oscars" at the Paramount Theater, Aurora, Illinois, on Thursday, March 4th. Visit

www.ParamountArts.com for tickets and more information.Interview by Patrick McDonald, Special to ShowBiz Chicago
Interviewed by Michael J. Roberts. Michael J. Roberts is theatre editor for the ChicagoPride.com covering Chicago's diverse arts and entertainment scene.
Serving the Chicago gay, lesbian, bisexual and transgender communities. ©Copyright 2019 GoPride Networks. All rights reserved.