A GoPride Interview
Patti LuPone
Patti LuPone interview with ChicagoPride.com
Wed. February 17, 2010 by Windy City Times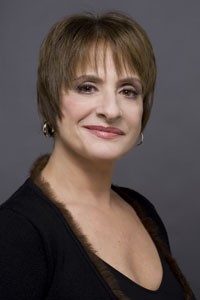 photo credit // ethan hill
Patti LuPone has played such classic roles as Mrs. Lovett in Sweeney Todd to Rose in Gypsy. On her way back to the Windy City it was time to talk to the "doll" herself.
WCT:
(Windy City Times) Hi, Patti. What an honor to speak with a Broadway legend such as yourself.
PL:
(Patti LuPone) [Laughs] Oh my pleasure.
WCT:
Tell our readers about what you are singing in your show with Mandy Patinkin.
PL:
There is a lot of Sondheim, Hammerstein and there are two scenes that bookend the show. The first one is from South Pacific and the last one is Carousel. Mandy and I tell a story between the two scenes. I love being on stage with him. I looove it!
WCT:
You have been doing a show with him on and off for about four years, correct?
PL:
Yes. Somebody was very smart, a booker in Texas called my agent and said, "I have Mandy. How about Patti?" They put it together. It has been a long time.
WCT:
You have a great chemistry together.
PL:
Exactly.
WCT:
You originally played in Evita with him playing Che back in the day.
PL:
Yes, a very long relationship—30 years, oh my God.
WCT:
I have heard you actually have done more plays than musicals.
PL:
Yes, that is true.
WCT:
My gay neighbor has playbills of you all over his house!
PL:
Oh, God bless him.
WCT:
Did you always want to be an actress and singer?
PL:
I was "born to the boards," as they put it.
WCT:
Is there a part you have always wanted to play but haven't?
PL:
There's a ton of them. I wanted to play Adele in Guys and Dolls, Ado Annie in Oklahoma, Desiree in a Little Night Music, which I did play in Chicago. It was at the Ravinia Festival but that was only two performances. I wanted to play it longer. What else? Ruth in a Wonderful Town, there are a lot of roles that kind of went their way but what can you do?
WCT:
You have done an incredible amount. You have even done opera now.
PL:
Yes, what about that? How shocking is that? It was a big challenge. It was with the Baroque Philharmonia Orchestra of San Francisco. That was interesting because they all played Baroque instruments. I don't know how different it sounds but the instruments looked pretty wild. That sort of led to Mahagonny for the L.A. opera. I am a two-fisted Grammy winner and the irony does not escape me. I won for opera and classical music. I was nominated for Gypsy and lost! I won the same year for classical opera.
WCT:
How did that happen?
PL:
Like I said, the irony is not lost on me.
WCT:
Well, you tried something different and it paid off.
PL:
Who knows?
WCT:
Where does your expression, "dolls," come from?
PL:
That is a New York thing. I have been saying it all my life. I have had neighbors that said it a lot. My next-door neighbors were actually from Canada and were imitating New Yorkers and say "doll face."
WCT:
You are going to publish a book this year.
PL:
I am. It is about my life in the theater.
WCT:
I just watched your Will & Grace episode again and you were on Life Goes On. Would you want to be on television again?
PL:
Oh yes, absolutely. I will never ever give up the stage but I would do television again, if it was a good show.
WCT:
We are looking forward to seeing your live show here in the Windy City.
PL:
Thank you very much. I am very looking forward to being in Chicago, even in the dead of winter. I can't wait. I love being in Chicago!
"An Evening with Patti Lupone and Mandy Patinkin" will be at the Cadillac Palace Theatre, 151 W. Randolph, for six performances March 2-7. Visit BroadwayInChicago.com for more information.Interview by Jerry Nunn
Interviewed by Windy City Times
Serving the Chicago gay, lesbian, bisexual and transgender communities. ©Copyright 2019 GoPride Networks. All rights reserved.