A GoPride Interview
Scott Neesham
Scott Neesham interview with ChicagoPride.com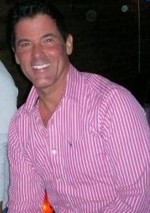 scott neesham, owner of chicago male salon
In the second part of ChicagoPride.com's feature on the Bravo hit 'Tabatha's Salon Takeover', Chicago Male Salon owner Scott Neesham discusses how our favorite hair guru, Tabatha Coffey, gave his salon an new lease on life. Chicago Male Salon is located in the heart of Boystown and was an instant success was it opened several years ago but lately has seen its clientele greatly decline, until the arrival of Tabatha!
'Tabatha's Salon Takeover' featuring the Chicago Male Salon airs December 29 on Bravo Television.
MR:
Congratulations on the revitalized Chicago Male Salon! How did you get Tabatha to come and "takeover" your salon?
SN:
To be honest, it was quite a surprise. I had never seen 'Tabatha's Salon Takeover' prior to this. It turns out the Bravo Television was scouting salons in the Chicago area and asked if we would be interested. It also turns out that one of our employees posted a message on Tabatha's Facebook to get the show to come in.
MR:
Prior to opening Chicago Male you ran a successful nightclub. How do the two business compare and is owning a salon more of a difficult business model.
SN:
Good business is good business. The key to both is having good people around you. For the bar business you need bartenders you trust and with a salon you need stylists who both trust in the salon owner and their own expertise. After owning The Garden for eleven years in Des Moines, Iowa, I needed a change a moved to Chicago. After being here for a few months, I became very frustrated that in the middle of 'Boystown' there was no salon that catered primarily to guys. There wasn't a place where guys to go and be around other guys in a nice environment. So after some research I found a spot for rent right on Roscoe and Halsted and kind of plunged into it blindly.
MR:
One of the biggest struggles between yourself and Tabatha was that she wanted to do away with the 30 minute haircut and also introduce women's styling to Chicago Male, which was exclusively for men. How did you overcome the reluctance and how has the change helped your salon?
SN:
Well, I was reluctant (laughing) to change that because that was the concept of Chicago Male, again, being in a neighborhood of 55,000 guys and catering to their needs and I wanted to stay true to that identity. What Tabatha did was challenge my principles. For example, we had the drag queen challenge which changed my perspective in the sense that here were men basically with women's wigs on. Just watching my employees enjoy that experience began to make me think that Tabatha was on to something.
MR:
One thing I like about the show, but doesn't get a lot of attention is the time Tabatha spends going through the books of the business and figuring out the financials and putting a better model into place. Was that an eye opener for you?
SN:
Your right, that is the one thing that doesn't get much attention but it is what in the end, turns a business around. I was taking a huge loss at the salon. Remember, my business model was something I thought up in my kitchen and didn't really know how to implement it. Tabatha is absolutely brilliant at the financial aspect of salon ownership. From how to schedule appointments to how to order product and even employee's time spent on the floor, she spends days with me teaching and actually balancing our books.
MR:
How has your relationship with our staff changed since the 'takeover'?
SN:
We were a fairly close staff before and now we are like a family. We love each other sometimes and get on each other's nerves sometimes. But the one major difference is there is a mutual respect between owner and staff that didn't exist before Tabatha came in.
MR:
How has your role changed?
SN:
I have definitely taken on more responsibility. Before I was not at the salon very often, now I am there quite a bit. I really want to be there now, before that wasn't really the case. I treat it more as a business and from that aspect the roles of owner and stylists have been redefined and made stronger.
MR:
I can't wait to come in and see the reborn Chicago Male Salon.
SN:
Well, we can't wait to see you again.
Watch the Chicago Male Salon episode of 'Tabitha Takes Over' on Bravo, Tuesday, December 29 at 9 p.m.Join ChicagoPride.com at Spin Nightclub for the 'Tabitha Takes Over' viewing party.

The staff of Chicago Male Salon will watch the show at Halsted's Bar and Grill.
Interviewed by Michael J. Roberts. Michael J. Roberts is theatre editor for the ChicagoPride.com covering Chicago's diverse arts and entertainment scene.