A GoPride Interview
Cunio
Cunio chats about Teatro Zinzanni's return to Chicago theater scene
The show is happening above you, on top of you, next to you, behind you, below you and it never stops.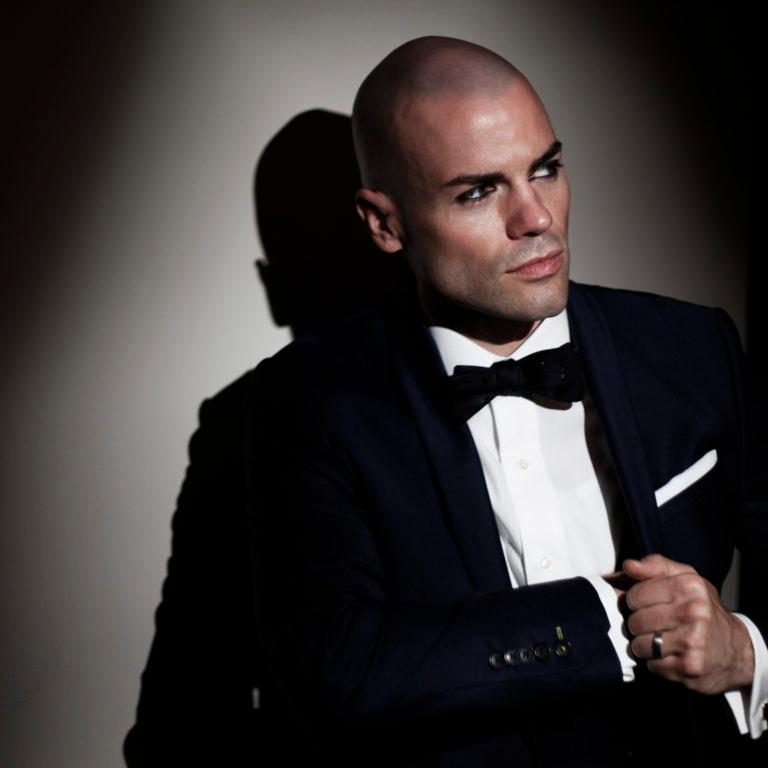 photo credit // teatro zinzanni website
As Chicago craves bold and innovative theatrical entertainment after dealing with Covid-19 this past year, the triumphant return of Teatro Zinzanni at the Cambria Hotel in the Theatre District is one show that won't disappoint whether you're an avid fan of theater or not!
The show is masterpiece blending of intimate, innovative and awesome that was founded as an original form of entertainment combining a unique fusion of cirque, comedy, cabaret, spectacle, and live music while serving up a multi-course feast. Inspired by the great cabarets of Europe, Zinzanni has featured celebrated artists from the worlds of cirque, clowning, cabaret, music, aerial arts, magic, and illusion. And the Chicago engagement has re-opened in the Spiegeltent ZaZou at the Cambria hotel in the heart of the Chicago Theatre District, 32 W. Randolph.
"The audience is the most important cast member," says Zinzanni Chicago cast lead and featured vocalist Cunio. "The show changes every night because a different group of people fill in those seats every night, but there's no separation between us."
"The show is happening above you, on top of you, next to you, behind you, below you and it never stops. And that sounds like it could be chaotic; for all intents and purposes it should be, but it's not," Cunion adds. "It just weaves this womb of joy and celebration around every person that comes into the room that, unless you're just completely dead inside, I don't think you can help but get swept away by it and have the time of your life!"
We talked with Cunio, who gained national attention as the "electrifying wailer" in the PBS retro-rock group Under the Streetlamp and his "gloriously gritty" solo album Back Alley Soul debuted at #6 on iTunes R&B/Soul charts. He's featured vocalist & MC for Scott Bradlee's Postmodern Jukebox and his debut video "Video Killed the Radio Star" has received nearly a million views on YouTube.
In addition to critically acclaimed run as the White Rabbit in Company XIV's Queen of Hearts, some of Cunio's stage roles include Corny Collins/Hairspray (Broadway) Tommy DeVito/Jersey Boys (Nat'l Tour) Pilate/Jesus Christ Superstar (Lyric Opera of Chicago) and he is an Ovation Award winner for Reefer Madness (world premiere). 
We chatted with Cunio about Teatro Zinzanni's return to Chicago theater where he takes on a role that has been held previously by many female musical icons in various productions of the show, including Ann Wilson, Liv Warfield, Joan Baez and Thelma Houston.
MI: (Matt Inawat, GoPride) Congratulations on the success of Teatro ZinZanni and its return - especially with your amazing gifted vocals, my friend! How excited are you for the show and joining the cast?
Cunio: I'm thrilled and super excited. This is only my second return at a ZinZanni show. I made Zinzanni debut in 2019 in Seattle, right before the pandemic happened. And the plan was that the show in Seattle, when it closed, we were going to, a month later, be in Chicago opening up. And so of course, just super devastated at the way everything happened in the world. It certainly wasn't sure or clear if Chicago would happen again or how the reopening would happen and all that kind of stuff. 
It's truly ecstatic to have gotten the call and asked to come back and then to also be able to do it at a time when so many things are still being figured out, when things are still essentially just taking baby steps back to regular operation for any live entertainer right now. To have a gig at all is just extraordinary.
I'm just so just overwhelmed with gratitude for the opportunity to roll up our sleeves and get back to work and do the things that we love and that we've been deprived of for so freaking long. I think anybody in the live arts and anybody in the industries that are ancillary or supportive to the live mark, certainly understands just how devastating the past 15 months has been. So not only just to have a job and how wonderful that is, but for it be this job in this city, is just the bonus, icing on the cake because I have a fairly deep history with Chicago and it's a city that has been very, very generous to me.
And one that I'm always thrilled to get to return to and especially to be able to come back for a significant length of time is just super exciting. I think everybody is ready to just go out and have a blast and it couldn't be a better show to be a part of when that seems to be at the forefront of everybody's minds. The show itself is just absolutely wild and hysterical and unique as a show can be. So it's just confluence of all the greatest things and it just feels very synchronous that I get to be a part of it right now.
MI: I'm glad you brought that up! I have seen ZinZanni here in Chicago a few times; and it is such a beautiful and intimate and unique show. What fun and oddities will attendees get to experience this go around? What do you love most about it?
Cunio: Well, I think it's the variety itself that I love. I have a pretty long history working in nightlife and burlesque and things like that and that's in cities like Chicago or New York, where there's a large enough population where that style of entertainment can find an audience and thrive. It's really special, but it's not something I think a ton of people have a lot of access with. 
We see a play or we see a musical or we see a concert and we have these very specific ideas of what an evening of entertainment is supposed to look like. And ZinZanni just kind of takes everything you've ever imagined and throws it into like a big Yahtzee box and just scrambles it up like an omelet and it's just everywhere you look, there's something wild to see there's a feast for your ears and a feast for your eyes, there's literally a feast to eat.
And I said this, I was having this conversation with a buddy of mine, but it's like, all of the things that we have been missing out on during the pandemic for the last 15 months, partying, going out to dinners, going out to bars, going dancing, seeing a show, seeing a concert. You're literally going to have every single one of those experiences in one room at this show!
And it sometimes amazes me that there isn't a ZinZanni in every single city because it is so unique.
MI: Wouldn't that be amazing if it were?
Cunio: It's such a singular experience and for all of my time as an entertainer for all of my work in various different aspects of this industry, I've never experienced a performance or a show that really does such an incredible job of bringing all of these different pieces and elements together and not just delivering to an audience, but to bring them together in such a fun and chaotic and joyful, unique way, so yeah. 
And then as far as ZinZanni itself though, obviously you know the food is going to be incredible. Obviously, the quality of talent, we have the most incredible Chicago musicians, you have this incredible international cast with artists from literally all over the world.
People like to use the term world-class entertainment, rarely do they actually mean a cast of people from all over the f*cking world!
MI: Right!
Cunio: So, it's really, really special and for me. I've done film and television; I've done Broadway; I've done concert singing and touring with bands and it's just such a fun, fun place to have sort of ended up at this moment because it also just is one of the few environments where all the different skillsets that I've learned from doing all the different kinds of gigs throughout the years, they're all necessary and you have to lean on all of them in some way in a show like this.
So, as an artist, as somebody that's constantly wanting to evolve and to grow and to get better, it's just such a tremendous opportunity to do that. It's definitely more fun, it's challenging and it's an education, but at the end of it, because you get to use so much of your information, you use so many of the tools that you've developed over a career.
It makes it the most fun you can have under a roof or a tent, I guess, I should say.
MI: Had you seen Teatro ZinZanni before you took on the role and joined the cast in Seattle?
Cunio: No, it's funny you ask that because I grew up and was born and raised in Seattle, that was my hometown where I grew up and I was able to graduate high school a year early and got a headstart on my career. So, the year that I left Seattle was the year that ZinZanni opened. Now, obviously my family is still there and I visit, I go home as often as I can and so I've been familiar with their marketing, like Frank Ferantte, who is, of course, the hysterical Caesar in our show. I've grown up seeing that face on the side of buses and billboards for the last 20 years. So, it really is a full circle moment and really fun to finally get to be in a room with the guy and meet this wacky character and get to work with him, as well as all the other tremendous entertainers.
But no, the first ZinZanni show I ever saw was when I joined the company. There was a show that was in production while we were in rehearsals and obviously I got to see the show, but that was my first real experience.
It was just mind blowing and the funny thing is, I completely, I immediately understood why the show had been running for 20 years. You know what I mean?
MI: Absolutely!
Cunio: I was like, "Oh shit, this is truly a singular experience." You say it so much that it sort of loses its impact, but it's just so freaking unique. There's really nothing. It's cirque, but more, it's Broadway, but more, it's concert, but more, it's magic and comedy, but more and not to repeat myself, but again, 
I think on the heels of 15 months of being starved for affection, entertainment and socializing, all of the things that we've struggled through; I can't think of a better way to check off all the things on the person's have lists that they've missed out on than this show because it really, genuinely does.
MI: So, take us back a little bit. How did you find your passion for both music and performance and what do you love most about performing?
Cunio: That's a really good question and let's see, I started when I was six years old, having not really had any at six, I didn't know that this would be my career. I was I think in grade school and had a music teacher who was like, "Oh, this kid has an instrument, he's got something." And referred my mom to this just truly, truly outstanding organization called the Northwest Boychoir, which is a professional boy choir in Seattle and toured all over the world, sung with all sorts of operas and films and all that stuff; somewhat like Vienna Boys' Choir, just to put it in context or Harlem Boys Choir. 
And the funny thing is, I certainly had the instrument, but I had no innate ability to use it. I had a terrible ear. I could sing an entire song in the wrong key and not even know anything was amiss.
And [my brother] started doing community theater plays and I saw him getting all these laughs and having it up on stage and having this great time. And I think - kind of like little brothers who idolize their big brothers do - I was like, "well, if he's doing it and thinks it's cool, that's what I want to do." 
And so when I was 12, I did my very first musical, my first play and from then on, it was there was just no going back. I was completely hooked and I think it was as much just the comradery, the socializing, obviously the joy of being on stage, performing and all that stuff, but it really just was a world, it opened up a world to me.
The likes of which I'd never known and from then on, I was hooked from then on there was just absolutely completely with, I absolutely knew what I was going to do with the rest of my life. And very lucky to say that held true to this day. So, yeah. As I get older things the things that I do, the pleasure that I derive from performing evolves. 
At first of course, it's the attention, of course, it's the applause. You want to feel special. You want to, and for me, as a fat overweight gay kid at a time when there was no such thing as Will and Grace, there was no such thing as Lady Gaga, the peak of the AIDS epidemic, this was early mid nineties or whatever. It was a terrifying and not having internet, not having, I was definitely an indoor kid and I read a lot of Stephen King and went to the library.
The library was my thing. But there just wasn't representation, there wasn't anything in my life, I grew up in a very blue collar working class and there was nothing in my life that indicated that there was a life and joy to be had as somebody who felt so completely other, growing up. And in the theater, of course it was the first time I felt like I had a community, it was the first time I discovered like the difference between the family you're born in and the family you choose. So I think that was important for me just as a developmental step, as a human being. Theater has been very good to me, but I would say, of my passions of the things that I choose to pursue the most, it's kind of lower down on the list.
I love singing in front of a band. I'm frustrated rockstar. My favorite place in the world is to be on a bus and wake up in a different city every day. Like that's truly where I'm the happiest and again, ZinZanni is really fun because it gets to serve a lot of these appetites that I have for different kinds of entertainment.
For now as an adult, it's not so much about the attention. Obviously, the world has come a long way and I'm very, very comfortable in my life and very proud of the things I've managed to accomplish without being related to anybody in the industry and not having any money to lean to make things easier, but the more I get to sing, the more I get to play with music as a career and passion, the more interested I become in getting better at it, the more I want to evolve, the more I want to challenge myself and grow. And I think particularly on the heels of this pandemic, the thing that I really I think took for granted for so long was I feel the most free, I feel the most whole, I feel the most authentic when I'm singing a song.
Even if you're singing the same song every night, you never really sing it the same way. I've been singing for 20 years. I can, at last, do something of a signature song of mine. 
And I still do those songs and I don't feel like I've ever quite gotten them right. And I love that. I love that there's so much incredible music that as a singer, I get to continue to find and continue to grow into. And we were having a conversation yesterday with some folks in show and talking about this concept of retirement, stuff like that. And the people that I really admire the most and really look to and hope to be just like, are these people in their third and fourth acts.
Mavis Staples, Bettye LaVette and these tremendous soul singers, Sharon Jones, before she passed, whose career have really had these second and third life in their sixties and seventies and eighties and Lee Fields. I truly hope to be somebody that if I don't die on a stage, I better be die warming up for a show or on my way to one, you know what I mean? Like I truly hope to be singing until I'm gone. I look at Tony Bennett as a great example. It's yeah, it's my life's track. It's the thing that keeps me connected to the world we live in. That's the thing that I just will never feel like I'm done with, I think. As long as whatever your passion is, whatever your purpose is, as long as you have one, I think that really is not just the key to a happy life, I think it's the key to a long life.
MI: Can you share some of your highlights or favorite achievements so far?
Cunio: Without a doubt, hands down, one of my all time favorite, most cherished beloved ultimate creative experience was getting to do the production of Superstar that we did at the Lyric Opera in 2018. And that was just astounding on a level that it's quite likely that I'll never get to be in a production with that kind of scope and size. 40 piece orchestra, 12 piece rock band, 47 or 37 opera chorus, plus the entire dancing and singing cast of actors. And then all of us who were in the lead roles who are very legitimate and talented the pop and rock music singers. That was just a perfect confluence of just all the right things firing on all the right cylinders.
That was truly, truly spectacular. I sang with a couple of bands that were on and off, there was a band that was based out of Chicago, a local band called Under the Street Lamp. I remember to this day, probably my favorite experience with them was the season that we got to open the season at the Greek Theater and just walking, having lived in LA for a number of years, having seen some of my favorite artists perform at that venue and just always going, "God that wasn't, that could never happen," like, not even having the audacity to dream of getting to be on that stage as a headliner and then actually being there, getting that experience and just seeing Robert Plant and James Brown and the Aretha Franklin and the pictures of all these people that have so thoroughly shaped who I am as a vocalist.
And to know that I'm walking on the same hallowed ground, I've shared the same stage, if not with them, that their spirits have graced. So, that's truly one of a kind. Similarly, with Postmodern Jukebox, not only just getting to tour the world over, which is just so much fun, but like in playing at the Beacon Theater had a very similar energy for me having seen my idols like Sharon Jones and Charles Bradley and there's so many shows there that was really, really special. I'm trying to think what my third would be because I just know that there's something I'm missing out on. I know that there, I'll plug myself, I'll be a little selfish, but I think my debut on my solo album Back Alley Soul.
Getting to be at a place in life where I've earned the trust and respect of musicians, that I was hugely, hugely fond of, to have them willing and excited and able to play with me to make this album in this style, this very classic, vintage, old school way. We recorded everything live in a room. Every tape was live, we recorded the tape, there was no auto tune, there was no, nothing contemporary to, because for me, it was a love letter to the Stax Records of the sixties, the Fame Studios with Aretha Franklin and Etta James and Wilson Pickett and the staple singers. This incredible wealth of just iconic music that is so shaped me as an individual that was such a specific moment in time.
And until I had discovered that Daptone Records, until I discovered Sharon Jones and the Dap-Kings, I'd never heard a contemporary artist achieve sonically or get as close to that grittiness that those records have that technology wasn't where it is today, so you could only do it, we call it old school now, but that was a school then. So, not only to just make a record that I was so passionate and so proud of, but to do it with people that I was the biggest fans of, you know what I mean? Like the people that played with me are people that I couldn't believe I got to be in a room with. And so, that's something that really is exciting about being in Chicago, is having worked here over the years with so many wonderful musicians, I really am excited to have access to some of these incredible musicians again and one of my hopes is to be able to work on a follow-up while I'm here.
Because I'm going to be here for awhile. We're going to be, the show was running for six months. So there's going to be plenty of time to get creative again and have some fun. So, I'm really hoping to have another experience like that. Yeah. I don't know. I mean, I will say one of the things that tickles me the most about my random career, is one of my claim to fames, particularly, if you're at a certain age is a Disney Channel movie called Motocrossed. And to this day, it's the thing that I get recognized for more than anything and it's terrible movie, I'm terrible in it, but there was a generation of folks that do you remember the Disney Channel, original movies, like that was such a part of our childhood.
So, for me to get to be in one, first of all and then I'm playing this French motocross rider and of course I'm the villain because my eyebrows, that's the only roles I every play and I'm just f*cking terrible in it. It's the worst accent you've ever heard. I could barely act my way out of a paper sack, but I just adore it. I have such a fondness for how much people love that stupid little movie and how much I still get like comments or somebody will like put the connection together and be like, "Oh my god! I was obsessed with that movie. I hated your guts. You were such a dick" or "Ooh, I thought you were so cute when I was growing up like, oh, I always went for the bad guy."
But that's something that, to this day, I just get such a kick out of the fact that of all the things that I've done that have gravitas, Hairspray, working with Jack O'Brien, Jersey Boys; the thing people give a shit about is you are that asshole French guy in a Disney Channel movie.
MI: Who would you want to play you if your life story were made into a movie?
Cunio: I just don't know. I've never even, first of all, I don't think my life is interesting enough to be made into a movie yet, but fortunately it's not over yet.
Adam Lambert could do the vocals. Adam's actually an old friend of mine. We started up around the same time and I'm a couple of years older than him and I used to sneak him into the karaoke bars in West Hollywood when he was 19. And I'd be singing Queen and he'd be singing Whitney Houston and it's just now he's actually singing with Queen and I hate his fucking guts. So jealous.
MI: Hahaha!
Cunio: He's the sweetest guy in the world. So, I don't care who plays me as long as Adam does my vocal.
MI: Is there anything else you want to share? Any other projects that you want to mention?
Cunio: Not that I can speak of at the moment. I guess, it just goes back to the way we opened, to have a job at all right now, while people are even brought up with not really going to be back until late 2021, early 2022. So, to have a gig at all is just truly, truly amazing. And I eagerly await to see how things continue to unfold, also to sidetrack a little bit, we were first day of rehearsal yesterday and afterwards the whole cast got together and had dinner and Norm our artistic director, our shows leader, he gave us, he proposed a toast and he talked a little bit about how people keep wanting to use this phrase, the new normal, and I think and he rightly said that we have been through so much, not just the last year, but the last five years. That we were so removed from what our ideas of normal even are.
I think he's like, I think the way we want to be thinking about it is the next normal, how do we all get to reinvent ourselves and reprioritize things and really move forward in our lives with intention and purpose and the title of this particular show, is called The Next Life. And so I'm as open and as excited and as curious to see what the next life brings as anything else. I think everything's sort of up for grabs now and everything's open for interpretation is not the right turn of phrase, but everything is, it's things are getting better, but it's all still unknown.
And I think because of that, we have tremendous possibility. We have tremendous opportunity and we have the freedom to be endlessly creative with how we decide to move ahead and I think having the opportunity to cherish in a different way, what normal looks like, given what we've all been through is really exciting. So I don't know what's next, I just can't wait to see what it is.
MI: Yeah. I love that! Thank you so much for taking the time to chat.
Cunio: [The show is] going to be spectacular. If there's one thing I can't overstate, it's get your tickets, get vaccinated and come and have the time of your life!
MI: It's difficult to explain how amazing, intimate and awesome the show is!
Cunio: Yeah. And that's the thing I think that it's so special about it. I think that's what people respond to it. So, in such a specific way, nobody sees the show once. You either come 15 times or you don't come at all, you know what I mean? And I think part of that is because it's so rare that you get to be, I was talking about this the other day with somebody, the audiences is the most important cast member.
The show changes every night because a different group of people fill in those seats every night, but there's no separation between us. The show is happening above you, on top of you, next to you, behind you, below you and it never stops. And that sounds like it could be chaotic and it sounds, but for all intents and purposes it should be, but it's not.
It just creates this, it just weaves this womb of joy and celebration around every person that comes into the room that unless you're just completely dead inside, I don't think you can help but get swept away by it and have the time of your life.
****
Tickets for Teatro Zinzanni, which include a four-course meal, are currently on-sale. For groups of 10 or more, call Broadway In Chicago Group Sales at (312) 977-1710 or email GroupSales@BroadwayInChicago.com.  For tickets and more information, visit zinzanni.com/chicago.
Interviewed by Matt Inawat. Ron Matthew Inawat is president of the GoPride Network and contributes to ChicagoPride.com, PrideLA.com and other sites within the GoPride Network. Follow @cpmatthew