A GoPride Interview
Art Smith
Art Smith interview with ChicagoPride.com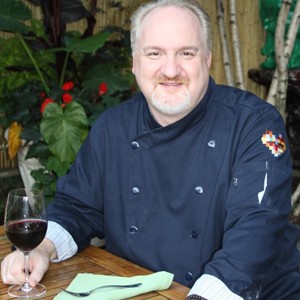 photo credit // ryan kolodziej
Oh, to be a celebrity chef these days. Just look around you. Cooking and food have become two of the hippest cultural hot topics in recent years, and have provided many chefs with rock star-like popularity thanks to the abundance of food and lifestyle TV networks and programming, not to mention a multitude of epicurean Internet sites. Although most fans are likely to believe that celebrity chefs' lives are glamorous or filled with stories of overnight fame, rest assured, in most cases this is highly unlikely. The food business is exhausting and requires passion, dedication, determination and lots of hard work. Celebrity chef Art Smith knows firsthand.

Smith, a native of Jasper, Florida, has been working with food for over 30 years. His career began at a tender age consumed by countless catering gigs, formal culinary training, and a stint as a personal chef to then-Florida Governor Bob Graham in Tallahassee. He landed in Chicago in 1989 when he was hired as a Chef de Cuisine on the short-lived American European Express luxury train. He then toured the world for several years working as a private chef. Ultimately, his big break came when he was hired over a decade ago as a personal chef to Oprah Winfrey. It was love a first biscuit between the two native Southerners and his life in food was changed forever.

Three cookbooks and two James Beard Awards later, he is now flying solo as a respected restaurateur (Chicago's Table 52 and Washington D.C.'s Art & Soul), and, with his life partner, artist Jesus Salgueiro, the co-founder of Common Threads children's charitable foundation. In fact, Smith and Salgueiro were named 2006 Chicagoans of the Year by Chicago Magazine as well as inducted into last year's Chicago LGBT Hall of Fame for their humanitarian efforts.

He was most recently seen competing on television in Bravo's summer hit Top Chef Masters. We caught up with Chef Smith during a taping of a soon-to-be-aired episode of Ming Tsai's Simply Ming at the PBS studio in Boston, Mass.

PJ: (PJ Gray) You've been a judge on cooking competition shows, but what was it like being a contestant?

AS: (Art Smith) Every judge wants to be Simon [Cowell]! Reality TV cooking is tough but fun.

PJ: What do TV viewers not see behind the scenes?

AS: Chefs sitting around eating takeout food and trading stories. Conversations in cars, bars etc. We spent a lot of time together bonding during the filming. None of us were strangers. For some of us the camera was the only stranger.

PJ: You competed in Top Chef Masters to raise money for your charity Common Threads--and you won some money in the semi-finals, too. How much?

AS: Ten thousand dollars. And it all goes to Common Threads programming at its 22 locations across the country including Chicago, Los Angeles, Miami and Washington D.C. I won the money from my Elimination Challenge, against Roy [Yamaguchi], Michael [Cimarusti] and Jonathan [Waxman]. My fried chicken beat all the fancy chefs and my mango pie didn't hurt either. Everybody, including the judges loved it.

PJ: You are also a best-selling cookbook author with three books under your belt. Any more in the works?

AS: I'm not telling! How about "A Gay Chef's Guild to Being Memorable on Reality TV"?

PJ: Very clever. Strangely, that would probably be a best-seller. Speaking of best-sellers, Julia Child's books are flying off the store shelves again thanks to the movie "Julie & Julia." You had the chance to know her before her death in 2004. What is your fondest memory of her?

AS: Julia LOVED steak and baked potatoes, along with a love for kitties.

PJ: I'll assume kittens never made it into any of her recipe books. Let's move on, shall we? Esquire Magazine recently asked some celebrity chefs to admit to their favorite fast food indulgences outside of the fine dining world. Do you have any?

AS: Sure. Char-Grilled Hot Dogs at the Weiner Circle in Chicago, but they're only delicious when eaten on weekends after midnight. By the way, Julia Child adored In-and-Out Burger in California. And she only enjoyed it from the drive-through.

PJ: Now I have one more reason to worship her. [laughs] As a chef and restaurateur, you are known for Southern American cooking; however, you travel the globe regularly. What is your favorite meal from another country?

AS: White truffle pizza with fresh gorgonzola cheese in Tuscany, Italy.

PJ: You have always professed that "food is love." When you want to express your love to those you love most, what is on the menu?

AS: Deviled Eggs, Chicken and Homemade Dumplings, Kentucky Bibb Pear & Fair Oaks Farms Royal Blue Cheese Salad, and a 12-Layer Chocolate Cake.