A GoPride Interview
Fred Schneider
Fred Schneider interview with ChicagoPride.com
Mon. August 24, 2009 by Windy City Times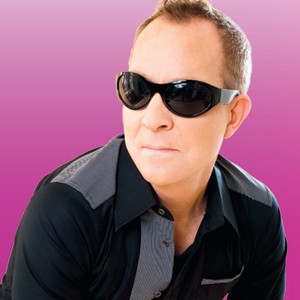 photo credit // pieter m. van hattem
The B-52s have been together 25 years and have sold more than 20 million albums. Returning to Chicago after years to the House of Blues, Kate Pierson, Keith Strickland and Cindy Wilson will be here soon. But before the group's Aug. 21 concert at the House of Blues, Windy City Times spoke with Fred Schneider on the road about the "greatest party band in the world."
WCT:
(Windy City Times) When was the last time you were in Chicago?
FS:
(Fred Schneider) I never know where I am. I think I was there last year twice. I love Chicago.
WCT:
How is the tour going?
FS:
So far really well. We are basically never off tour. We just take breaks. [Laughs]
WCT:
You are performing all the old hits this time out?
FS:
We sing six or seven new songs and the rest are the old ones.
WCT:
I saw you play in Nashville on the "Cosmic Thing" tour. You played in Nashville again this year at the Country Music Awards.
FS:
Yes, with Sugarland. For the past couple of weeks it has been the number one video on the country-music video channel. Thank you, Sugarland! They are really great people.
WCT:
When I was reading up on your hits, I didn't know that the song "Debbie" [refers] to Debbie Harry.
FS:
Yes, it's a tribute. Without her there wouldn't be Madonna and people like that.
WCT:
Tell me about the Funplex album.
FS:
It has been out a year already. Doesn't seem like it. We wrote it the same way that we always do, with Keith writing the music. Cindy, Kate and I come up with ideas and lyrics. Then we all arrange it and put it together. We paid for the record ourselves and, luckily, Astralwerks really wanted us. We got a deal with them and they have been stellar to us. We made all of the money back and broke even. With downloads and piracy, it's going to be hard to do more albums.
WCT:
I was just talking to Donna Summer about how hard it is to have a hit these days.
FS:
No one has a memory so the latest hot thing is going to be cold mashed potatoes in a year or two.
WCT:
You recorded some of it in Athens, Ga., where the band was created, correct?
FS:
Yes, half in Athens and half in upstate New York. It was really great to do it there. Of course, it was the height of the allergy season. Our producer had to go to the emergency room because he had such a bad reaction to pollen!
WCT:
I grew up in the South so I know about the allergy season.
FS:
Yeah, I lived there for 10 years and never experienced anything like that.
WCT:
Did you ever think after playing at a friend's house on Valentine's Day in 1977 that you would still be doing this 25 years later?
FS:
No, because we did it as a hobby; it was like the snowball effect but we were inside the snowball itself. We were not watching; we were in it. It just happened and we did something that no one else was doing. It was original. People didn't know what to think of us. So they thought we were a novelty act but we never thought of anything we did as a novelty. We have a sense of humor and we are pretty surreal. I like to use the Dada method of writing, which is not totally commercial, but who gives a shit? It works. We write about love but usually it's in outer space or something.
Written by: Jerry Nunn
Read the entire interview with Fred Schneider at
www.windycitymediagroup.com/gay/lesbian/news/ARTICLE.php?AID=22130
.
Interviewed by Windy City Times
Serving the Chicago gay, lesbian, bisexual and transgender communities. ©Copyright 2019 GoPride Networks. All rights reserved.