A GoPride Interview
Jason Antone
Jason Antone interview with ChicagoPride.com
Wed. July 29, 2009 by ChicagoPride.com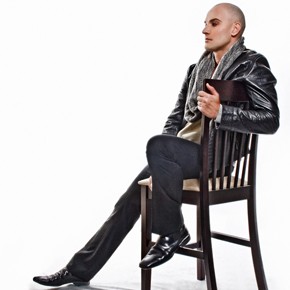 photo credit // gerry garcia
Chicago's Jason Antone has been musical since he can remember. He started playing piano at three years old, and then moved on to the violin, then the saxophone and then back to the piano. This was part of the territory for Jason since he was raised in a musical family. Jason's grandfather had his own Chicago band. His father also played in the band and instruments always surrounded the entire family. Growing up, Jason wanted to continue his music education so he decided to attend DePaul University for Vocal Studies and Music Management. Cementing that he's got the chops, Jason was invited to be featured on the praiseworthy "Turn It Up America" collection. These experiences started it all and helped propel Jason into his own artist with his own vision which cannot be any more evident than in his recently released debut recording "Start To Move."
Jason has had three amazing years making an impact on the music industry leading up to this full-length release. Jason burst onto the scene in 2006 with the official release of self-penned dance single "With You" which started the word of mouth about this young artist and singer-songwriter. What followed is something every artist dreams of, which is charting on Billboard. In 2007, Jason released "Be Free" (co-written with the incredible Georgie Porgie) followed by the 2008 single "Love's Gonna Lead You Back" which instantly hit the iTunes Dance Top 10 List. Both tracks back to back made the Top 25 on the Billboard Club Charts securing a place for Jason on the music industry map. The released singles includes remixes by Manny Lehman, Josh Harris, Peter Barona and more. The videos for these singles also got picked up by MTV Networks' Logo Channel and also were distributed in video lounges and clubs nationwide by Promo Only. This success helped Jason get out and tours various part of the country in clubs and meeting his audience face to face.
This weekend, Jason performs at Market Days in Chicago's Boystown neighborhood. Here he takes time out to answer a few questions about his hometown.
Q:
What are some of the things you love most about Chicago?
JA:
Seasons, friends, and lakefront escapes!
Q:
And some of your least favorite?
JA:
Traffic and buses that attempt to cut you off while on a bike.
Q:
Do you have a recommendation for dining out in the Windy City?
JA:
My new fave is Otom on Fulton Market.
Q:
Any other favorites that you'd like to share?
JA:
I love Wilde and Joe's for food.
Q:
How would you best describe the overall acceptance of the LGBT community in Chicago?
JA:
There is always room for improvement, but we are on our way.
Q:
And the gay scene in Boystown?
JA:
Something for everybody.
Q:
Are you involved in Chicago's LGBT community?
JA:
I would like to go out more and work a little less.
Q:
What can we expect from your appearance at Market Days?
JA:
Live vocals, original music, electronic band, cute backups and some special summer moves. An audio and visual extravaganza!
Q:
Any other special appearance planned over the weekend?
JA:
Perhaps some serious socializing. Find me.
To find Jason right away, go to
www.jasonantone.com
for more information about his brand new album "Start To Move" and more!
And you can find Jason at Market Days this Saturday on the Roscoe's Entertainment Stage at 1:15 p.m. (
Event Details
)
Interviewed by ChicagoPride.com
Serving the Chicago gay, lesbian, bisexual and transgender communities. ©Copyright 2019 GoPride Networks. All rights reserved.