A GoPride Interview
Patricia Harper
Patricia Harper interview with ChicagoPride.com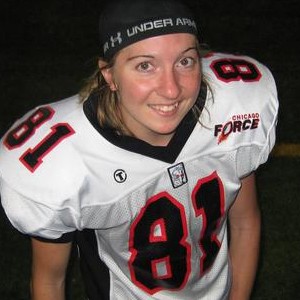 patricia harper, a member of the chicago force
The old expression "you play like a girl" has now become the ultimate compliment thanks to the
Chicago Force
Women's Tackle Football team. Founded in 2003, the Force is a Midwest Divisional Tier 1 team of the Independent Women's Football League (IWFL) and is currently in season until playoffs begin at the end of June 2009. Expect another exciting season of play after their Eastern Conference Championship win last year.
Patricia Harper, Wide Receiver and 2008 Offensive Rookie of the Year, took a during half-time at a recent home game to talk with CP about her experience with the Chicago Force.
CP:
How did you become involved with the team?
PH:
My roommate at the time had read about it online before I moved to Chicago and recommended I join. I moved here and missed try outs the first year. After living with me for a whole year while not having my usual sports outlet, she all but signed the waiver for me.
CP:
How many other teams exist in the league and where are your away games played?
PH:
There are 41 teams in the IWFL league. They are broken into two different tiers and multiple divisions. This year we will be traveling to Detroit, Kansas City, Minnesota, and Iowa. When we make it to championship again, we will be going to Dallas.
CP:
What is the biggest misconception about women's tackle football?
PH:
Where do you even start? There are often only two reactions: "Wow! That's awesome." or "HUH?!" People often mistakenly assume that it's all a bunch of rough and tumble Amazon women just beating each other up. That's not the case at all. Take off the helmet and pads and you find mothers, police officers, consultants, corporate climbers, EMTs, realtors, white collars, blue collars, sheriffs, engineers, teachers, city councilwomen, coaches, soldiers, upper management, carpenters, electricians, musicians, nurses, architects, and doctors, just to name a few. There's every type of girl out there from every walk of life; but what we do isn't what stands out, it's really about women who love a game enough to show up and play every week. We live for the season. We give our weekends, our free time, and our bodies just to play a game that we were told we never would be able to play. If anyone can wrap their head around passion, then they can wrap their head around women's tackle football.
CP:
Tackle football can be a rough sport. What has been your worst injury?
PH:
There's a big difference between being hurt and being injured. The rule basically is: if you can walk, you can play. Girls have played with broken hands, broken arms, torn ligaments, you name it. Let's put it this way, an injured player never "walks" off the field by their own accord.
Personally I can't say I've had a terrible injury. As Wide Receiver I get my fair share of strained ligaments, broken and jammed fingers and have had the wind knocked out of me more times than I'd like to remember. I dislocated my right knee cap in college and that tends to creep up as an issue after a few good hits or jabs into the ground, but it's nothing that can't be iced, taped up and gotten back into the game with.
CP:
What's the worst you've seen from other players?
PH:
Probably when something gets torn or dislocated or severe concussions. I've seen arms just hanging out of the socket from a tackle gone wrong and everyone has seen knees twisted in inconceivable directions. Concussions are probably the worst because there isn't really anything you can do to fix them; those are normally more season-ending than anything physical.
CP:
Now that you've played more than one season, have you noticed an increase in the team's and the sport's popularity?
PH:
I think I was lucky enough to have joined the Force during the perfect storm. Last year seemed to explode. We really picked up a lot of coverage last year when we went into the playoffs undefeated. Once we were in the Championship game we were getting recognized by local news programs and various papers/columns. We'd always had primarily word-of-mouth type advertising; but it was great to have people answer "Oh, I've heard of you guys." after you told them what you were doing that weekend.
The public's reaction is normally a blend of confusion and intrigue. Most people initially are shocked to hear that such a league exists and then want to know why they've never heard of us before. Then they feel like they have to see it to believe it. The problem is, you come once and you're hooked. It's like nothing you will ever see in your life.
I think the sport overall has nothing but growth potential. The IWFL recently partnered with USA Football to further promote the sport and its immense popularity among female athletes.
Ideally developing an IWFL J-League that would allow for youth teams to form and play as well. Women's tackle football is every bit as exciting as men's, if not more. You probably won't find our Ferraris parked on the side of the highway anytime soon because we don't get to play for million dollar contracts or compete for who can have the highest jersey sales. We are out there for a pure love of the game and play every down for every inch, the way the game was intended to be played.
CP:
What has surprised you most from your experience since joining the team?
PH:
It's hard to say that just one thing has surprised me. I think the growth of interest in the sport and the Force has been phenomenal. People see your shirt, or hat, or advertisement and want to know everything about it. Even on a personal level, my friends, my co-workers, and my family have all been enthralled and encouraging of me, the team, and the sport in general.
Personally, I would have to say that I've been surprised at how inspiring it can be: how far I can push myself and how much everyone will give for success. I walked onto the field a complete stranger to the game, the team, everything. In a matter of weeks it was like I couldn't remember a life before football. There are things that no one but your teammates will ever understand, and this bonds you immediately. There are coaches that give their time to teach such a complicated game to beginners year after year all while continuing to develop veterans. People look at the bruises you eventually become covered with, see the braces, the surgeries, hear about the intensity of it all and question your sanity of devotion. To us, it's just common. We know it is part of the game and accept that before even taking the first snap. Giving anything less than 110% isn't an option,
ever
.
When you see your defense sacrifice their body so the opposing team doesn't get that one extra yard so you can get back out on the field, you know you have to go out there and give them that right back. When you are completely gassed and sitting on a fourth down with seconds to go in a championship and your quarterback looks at you and tells you that she will give you everything she has if you can give her just one push more and you look at your teammates who are bruised, broken, and covered in makeshift braces, all take that haggard breath in and nod, your eyes ice over, your pain disappears and you live that one play for everything it's worth, it just makes sense and it surprises me that not everyone will understand or experience that feeling. Force. Family. Win.
Don't miss any of the remaining exciting Chicago Force home games at Holmgren Athletic Complex at North Park University (Foster Avenue and Albany) in Chicago.

For more team info, go to www.chicagoforcefootball.com