A GoPride Interview
Kevin Thornton
Kevin Thornton interview with ChicagoPride.com
Wed. April 22, 2009 by ChicagoPride.com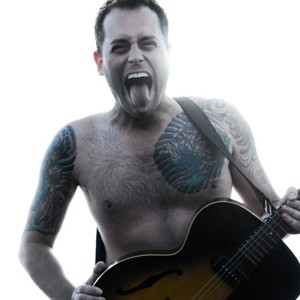 "Sex, Dreams, & Self Control!", a fusion of music, spoken word, and standup comedy by openly gay singer and Midwest native Kevin Thornton, will be performed at the Boho Theater at Heartland Studios on April 23, 24, 25, and 30 and May 1, 2, 7, 8, and 9. This new work, with an original alternative folk rock score in which Thornton croons like a young John Hiatt and a post- Smiths Morrissey, has been called both "courageous" and "darkly funny" by the
Nashville Scene
following the show's recent world premiere in Music City, Thornton's adopted hometown.
Fans of Thornton's underground New Wave band Waves on Waves, which has been featured on MTV's LOGO, might be surprised to learn of his extensive theatre background. Thornton holds a degree in theatre and has performed on the stage both stateside and abroad.
With so much free time on the road with his band, Thornton began sketching a semi autobiographical tale. "On tour, I had been reading a lot of David Sedaris and listening to old Sandra Bernhard concerts," say Thornton, "and the brilliance of those two definitely influenced me. I began to experiment with my short stories at open mics. Every time, the audience would just light up. I knew I was onto something," said Thornton. "Eventually I had about an hour of material that was audience approved. I knew what was going to take it to the next level was original music, and that's when it really clicked."
This rites-of-passage tale, called "groundbreaking" by Nashville's
Out and About
, presents itself as bold and racy, speaking loudly about sexuality and religion. "I made a concerted effort to make this story universal," says Thornton. "But I approached the subject with respect. I never tell the audience how to feel."
"Sex, Dreams, & Self Control!" might prove a challenge for some audiences, but, ultimately, Thornton says his goal is "to make people laugh, make them think, and move them all at the same time." Below, Thornton talks in detail about the show's genesis and provocative themes.
Q:
So, the gay community already knows you as the creative force behind the band Waves on Waves. I know
Sex, Dreams, & Self-Control
incorporates musical performance, but you're also able to use your past experience on the stage in this show.
KT:
(Kevin Thornton) Yes, I have a huge background in theater. It's what I studied in college. I've also been in several regional productions. I've always fantasized about doing something like this.
Q:
How did you develop the actual content of the show?
KT:
I got out of Nashville for a couple of days and went back to Indiana to visit my parents. I was feeling very nostalgic and drove around to childhood spots that I hadn't seen in years, including the house where I lived as a child. It looked like a haunted house, like it hadn't been lived in for 20 years. All these memories starting coming to mind. I also went to visit my old college campus. That was a time when a lot of pain was ending for me. I had grown up in a Fundamentalist Christian environment, and it wasn't until college that I started to accept my sexuality.
Q:
So, the memories led you to create the show?
KT:
Yeah. I came back to Nashville, and my mind was on fire. I wrote a 10-page short story—it had kind of a David Sedaris vibe. I thought it was pretty funny, so I read it at an open mic night. The audience just lit up, screaming with laughter. I also starting listening to Sandra Bernhard. I didn't want to copy her, but interspersing music with comedy and commentary really worked for her. So, I wrote a few songs to go with the material. Then, I called a theater in Nashville and asked them if I could do the show. They said yes, and I went in and did 90 minutes. The crowd loved it, and I went home knowing it was a real turning point in my life.
Q:
And your experience with Waves on Waves informed the musical aspect of the show, I'm assuming.
KT:
Waves on Wave is a pop group, and I definitely kept in mind that pop rock feel when I was writing the music for the show. But ultimately, I created music that expresses the emotional vibe of the show. I was really turned on by Duncan Sheik's music for Spring Awakening—it was one of my favorite theater experiences of the past several years—and I loved how the music wasn't so much advancing the plot, it was expressing the emotional tone of what was happening.
Q:
How does it feel, revealing some very personal things about yourself?
KT:
Well, it's personal, but I also tell stories about things that everyone faces. I tried to make it as universal as possible even though it's loosely based on my life. It was important to me that the story be painfully honest. But I also wanted it to be funny. My first sexual experience was the first time I felt shame, but in the show, it's both embarrassing and hilarious. To me, the ultimate triumph in life is to be able to embrace what's happened to you and move on. That's what I'm trying to convey.
Q:
I know the subject matter is intense, and there's also some strong language. Have your parents seen it? I'm wondering what their reaction will be.
KT:
They've been on the web site and listened to some clips of the show. My mom's only concern is that I don't perform the show naked. My mom is actually the hero of the show—she's the most touching part. I know that when she's in the audience, it will be tough to get through.
Q:
You're taking the show on the road soon; you'll be doing dates in Los Angeles, Chicago, and New York.
KT:
Yeah, I'm looking forward to that. And my full fantasy would be to do a long Off-Broadway run. Nothing too elaborate—a band and gorgeous lighting. But ultimately, it still just me, onstage with a microphone.
Kevin Thornton brings his one-man theatre experience to Chicago, "Sex, Dreams, & Self-Control" will be performed at 5, 30 and May 1, 2, 7, 8 and 9pm. For tickets and more information visit
The Boho Theatre at Heartland Studios
April 23, 24, 25, 30 and May 1, 2, 7, 8 and 9th at 11:30pm. For tickets and more information visit
www.sexdreamsandselfcontrol.com
. No one under 18 will be admitted to the show.
Interviewed by ChicagoPride.com
Serving the Chicago gay, lesbian, bisexual and transgender communities. ©Copyright 2019 GoPride Networks. All rights reserved.