A GoPride Interview
Javon King
Javon King plays Angel in Rent's 20th Anniversary Tour
The show is so impactful 20 years later is because it has themes that people still need to hear today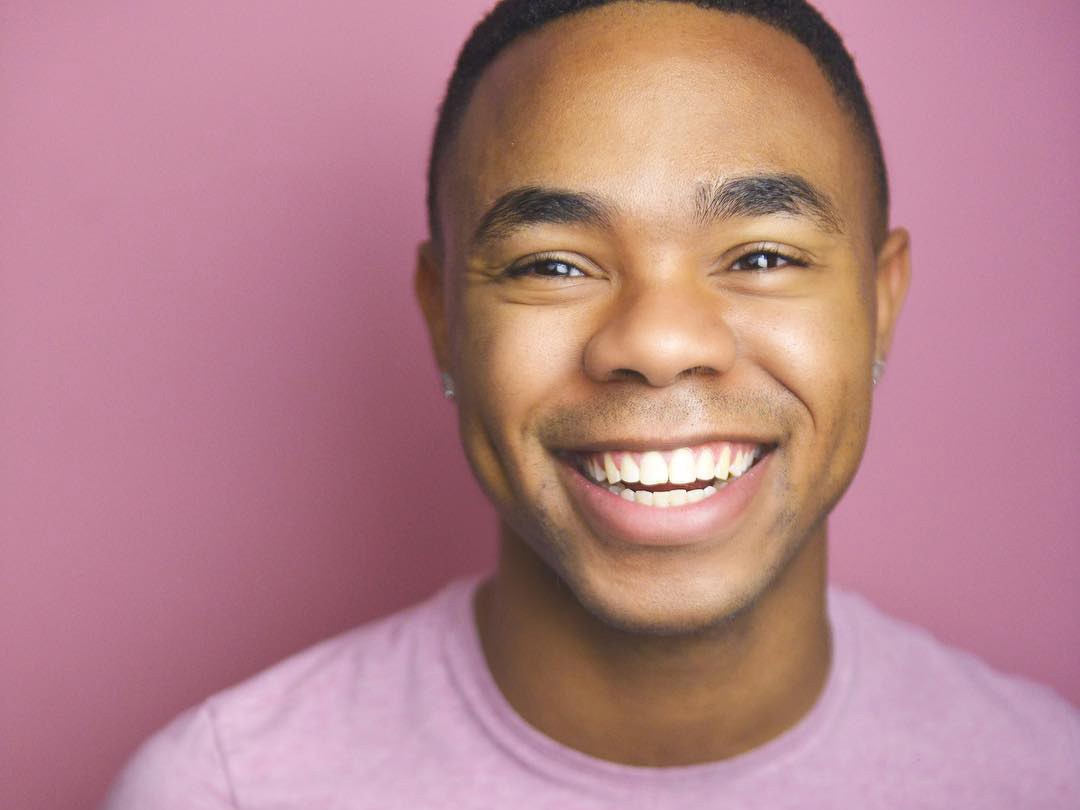 Javon King plays the iconic Angel Schunard in the RENT 20th Anniversary Tour, on stage in Chicago for a limited engagement at Broadway In Chicago's James M. Nederlander Theatre (24 W. Randolph) from May 10-19.
The talented actor is a New Jersey native making his national tour debut. King is currently studying musical theater at Rider University. King took a moment to chat with us about RENT and the impact that the musical, and specifically, Angel, has had on the LGBT community and movement.
The show opened in Broadway in 1996 and forever changed the landscape of American theatre. Two decades later, Jonathan Larson's RENT continues to speak loudly and defiantly to audiences across generations and all over the world. The Pulitzer Prize and Tony Award®-winning masterpiece returns to the stage in a vibrant 20th anniversary touring production.
A re-imagining of Puccini's La Bohème, RENT follows an unforgettable year in the lives of seven artists struggling to follow their dreams without selling out. With its inspiring message of joy and hope in the face of fear, this timeless celebration of friendship and creativity reminds us to measure our lives with the only thing that truly matters - love.
MI: Hi Javon! Congratulations on the tour first and foremost. So tell us about your journey of being part of this amazing 20th anniversary production of Rent. What drew you to the production initially?
JK: Oddly enough going back to the audition process I was not going into Rent. I didn't know that there was a 20th anniversary tour of Rent. I went in for a Kinky Boots tour with the same casting people. I went through my call backs for Kinky Boots and then they were like, "we also want you to come back in for Rent," and I was like "oh amazing!" because Rent for me has always been a dream show and Angel has always been a dream role.
I hadn't any idea they were doing a 20 th anniversary tour and so I went in for it and then I had a week or so of auditions for Rent. Then a couple of weeks later they said, "hey you're gonna be Angel in this tour and it is going to go internationally, you're gonna go to Japan and China and across the U.S. starting in 2019" and I literally thought they were joking – this isn't real because Angel has always been a dream role for me and I never thought that Rent was going to come back because it did so well on Broadway and then they closed it. I kind of got feeling there wasn't a need to do a revival because there really isn't anything they need to change from it. Because people love it the way it is so much. So, yeah, it was great and that was my journey into the show!
MI: What is so important, for you personally, about the show's message. And how does that translate to the new generation who'll be seeing this tour?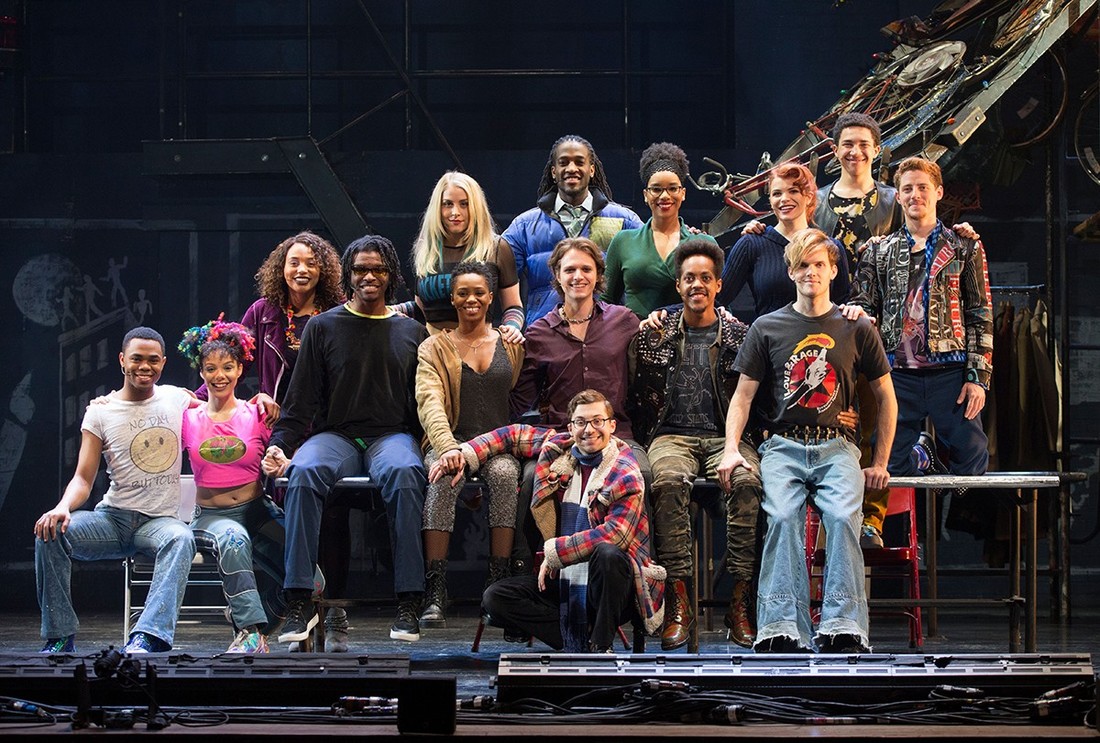 JK: I think when the show first came out, my character Angel was the first time people saw a drag queen on stage or even heard the term drag queen and now today's culture is – drag is so mainstream. There's RuPaul's Drag Race; and drag is all across the country and across the world. I think the show started a revolution and told people coming into the theatre that hey these are real people. They have real lives and they are making a living just as you are and they deserve your respect, your love and your friendship and everything like that, which reflects Angel.
In terms of everything else, the show just speaks on such powerful levels of loving each other and respecting each other and seizing the day. So yeah, that is why I think the show is so impactful 20 years later is because it has themes that people still need to hear today.
MI: What's it like playing such an iconic LGBT character. We are talking about one of the first LGBT characters on stage or screen.
JK: Yeah, it is! For me, I have to pinch myself everyday. I wasn't even born when the show first came out, I'm 21 and the show came out a couple of year's before I was even a thought or anything so for me I only relied on current drag queens. I had to do a lot of research on drag culture then. Drag culture during the 90's and the 80's and all of that foe me to make sure I am paying homage to the show and the character.
It's surreal. There are times where I am like is this actually happening to me? I am going across the world and doing this for people in China. It's insane to say the very least. It is so much fun and I feel so very honored and blessed to be able to do this.
MI: Since you mentioned Kinky Boots, how high are your heels for this production?
JK: They are about 4.5 inches and when I usually tell people that they are like "God, that's so high!" They really are pretty comfortable. There is a nice little cushion inside the shoe and there is like a pump on the ball of my foot so its not like I'm walking around right on my foot. There is a nice chunky heel that are pretty comfortable that wraps around my ankle so oddly enough sometimes I forget that they are on and people are like What? You forget that you 4.5 inch heels on? And I'm like look this for almost a year, they have literally almost become a part of me and so that is what they are they are kind of like a watch or something.
MI: This is like your practice run for playing Lola?
JK: That is also a dream role of mine! So yeah, this is definitely great practice.
MI: So what is your largest challenge playing Angel?
JK: I think keeping my energy up doing this 8 times a week because as a performer, in general, there are going to be bas days – that's just life in general. Angel is such an uplifting character that I can not let me, let me being upset outside of work come into the work space because Angel is not like that in any way shape or form. He/she always looks at the positive side of things and she asks everyone to treat each other with love and respect and so I just don't allow myself to bring any extra baggage from what is happening outside of work. That is one of the biggest things. Also, physically the role is non-stop. I am jumping up on tables, on the staircase. I am running and doing a bunch of turns and dance breaks and I'm drumming all over the place. The show is physically for Angel is very hard but at this point now I don't even think about how hard it is it is so much fun to do that it all flies by now.
MI: So what are some of the things you bring to the character to make it your own?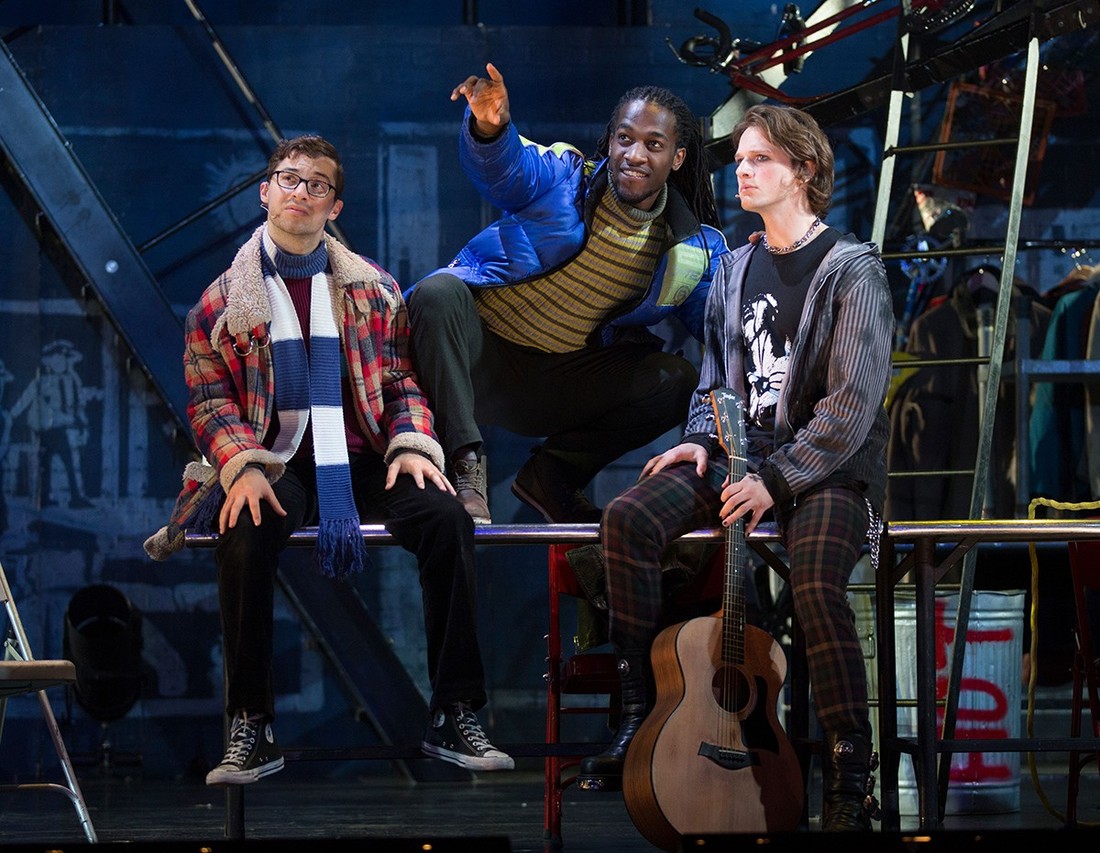 JK: I like to bring a little bit of me to it. I like to think I am little bit sassy sometimes, but I'm drawing a fine line with the sassiness cause like I was just saying Angel doesn't pass any judgement on anyone and you being sassy can come across as you passing judgement on someone or you not looking at the broader thigs and what they are bringing to the table so I try to – cause Angel is a shady queen – and she has these one-liners in the show that are pretty shady especially when you are trying to find that natural groove in a loving but also sassy but also shady way it can be pretty complicated but hopefully I'm doing that completely, but that is something I am trying to bring to Angel.
MI: Is there a dream role in any other musical or play that you would love to portray other than Lola?
JK: Yes, so besides Lola, I would love to be Fyero in Wicked. I think that would be great. I also want to be Raoul in Phantom of the Opera. At school I trained classically so I have this whole classical background in my voice that I don't really use so I am in pop opera right now, so yeah I would love to do Raoul in Phantom of the Opera which is a great character. Later down the road I would love to do Simba in the Lion King or just The Lion King in general and also I would just love to be in any dance ensemble. I just love to dance in general so I am open to most anything, but yeah those are my dream roles.
MI: Take us back a little bit. Where did you grow up? How did you find your passion for theatre and how did you get started in the industry?
JK: I grew up as an athlete. That is all my family ever did. I am actually the only one in my family who ever did anything arts-wise, so I don't know where I got all this from cause this is not in my family history at all that I know of. So yeah, I was an athlete growing up. I got to high school and started doing musical theatre and shows and was running track. I ran track for 8 years collectively and then they made me make a decision either track or theatre in high school cause the high school forced you to make life choices that they shouldn't have been requiring at that point, but they did. 
They put me in Rent while I was in college because technically I haven't graduated from college. I am in a gap year to do the tour. So I will end in July and go back in the Fall and graduate in December which is amazing that a program will let you do that because that is your major and they are like yeah, go ahead – just make sure you come back.
MI: How has being out and gay impacted your experience in the business?
JK: For me it is great. I love living authentically and living my true self. It is something I know a lot of people are not fortunate to be able to do because of family situations and stuff, but for me I absolutely love doing what I do and being able to talk to people in small towns in the middle of America and are coming up to me and asking me all sorts of questions about drag culture or just gay culture in general. I love being a resource for people who may not have the ability to be expose to things like this. I absolutely love it and I wouldn't want to live my life any other way except for my true self.
MI: So who would play you in your life story if it were a made-for-tv movie?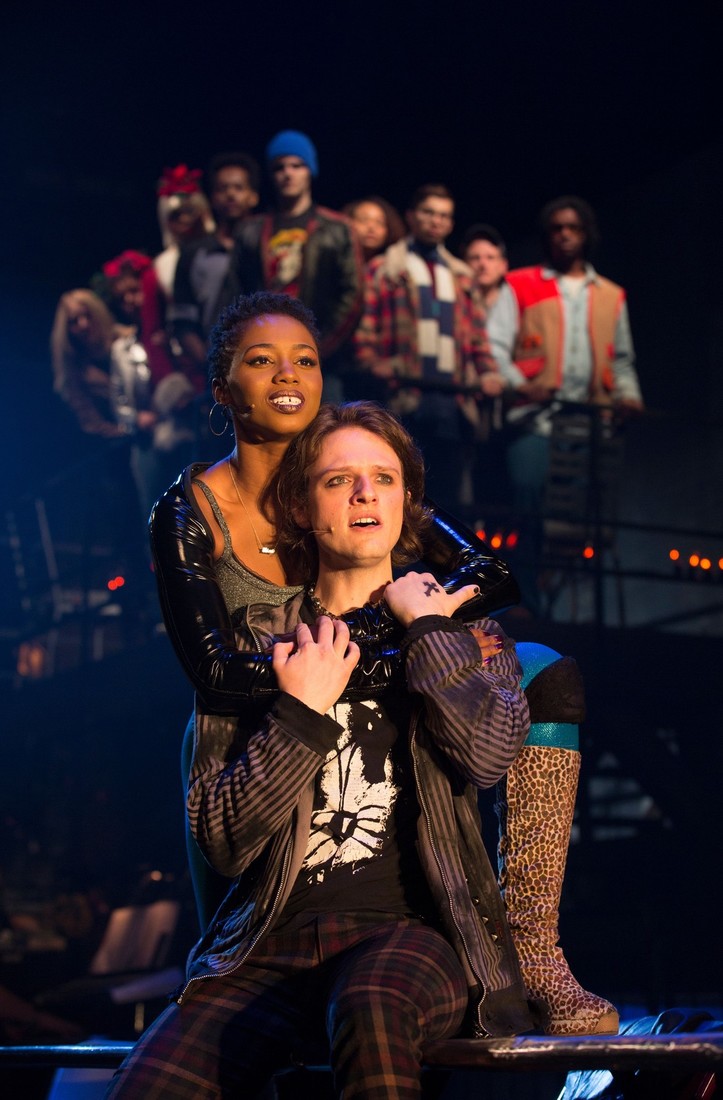 JK: I don't know. I think if Billy Porter were the same age as me he would be a good fit. I call him my uncle all of the time because we are very similar even though I have no idea who he is and he has no idea who I am.
MI: I was just going to ask you if you have met Mr. Porter.
JK: I have not met him but he knows who I am vaguely because our associate director, Trey, is friends with him and he sent him a text message early in the process when he found out that I loved and looked up to Billy Porter since I got into theatre and he kind of knows who I am and they are trying to get him to come see a show, but you know Billy is very busy and I don't think he will be able to come but if he did come I probably wouldn't know what to do with myself?
MI: Do you Insta-stalk him?
JK: (Laughs) I do insta-stalk him! I follow him on my phone on Instgram and like all of his pictures, I am one of those people.
MI: That actually leads us to our next question. Who are your top three Broadway man-crushes?
JK: Definitey I love Billy Porter, I definitely have a celebrity crush on him but I also have a talent crush on him if that makes sense? So him. 
And Derek Klena who played Fiyero in Wicked and was in Anastasia. I absolutely adore him. 
And, Ahmad Simmons who was in Cats. I think he is absolutely gorgeous.
MI: I'll agree with all three! So you're going to be in Chicago in a couple of weeks. Are you excited?
JK: Yes, oh my goodness I have never been to Chicago so I am super excited. I have friends that live there. I am excited to see how the Chicago audiences see the show. I am super excited. I have never been but we are planning a bunch of things on our days off to really get as much in as we can.
MI: Any must do things on your list?
JK: Yes, I have to go see The Bean. I have to go to Second City. I am going to see Hamilton while we are there. I want to support locally owned businesses while I am there and pizza locally owned while I am there. I don't care if it is a hole in the wall I want to do things like that and I have a friend that lives there and he is going to be my tour guide while I am there so it is going to be awesome.
MI: You have to see the Hamilton exhibit, the museum that just opened.
JK: Yes, yes, yes, yes, yes! I think we are making a cast trip to go over there. I think that is in the works, but I think as far as whether we are going as a group or not, I am going to go by myself because it is great that they made that.
MI: It is amazing! You've definitely got to go! 
Well that wraps it up! Javon, thank you for taking the time to hang out and chat. Get to Chicago safely and we'll be cheering you on stage!
JK: Thank you so much!
RENT 20th ANNIVERSARY TOUR will play a limited engagement at Broadway In Chicago's James M. Nederlander Theatre (24 W. Randolph) from May 10-19.
Individual tickets for the RENT 20th Anniversary Tour are now on-sale and start at $25-90. Tickets are also available for groups of 10 or more by calling Broadway In Chicago Group Sales at (312) 977-1710.
Based on original direction by Michael Greif (Tony and Drama Desk Nominations, RENT), Evan Ensign re-stages the 20th anniversary tour. Original Broadway creatives Marlies Yearby (Choreography), Angela Wendt (Costume Design), and Tim Weil (Music Supervision and Additional Arrangements) are joined by Jonathan Spencer (Lighting Design), Keith Caggiano (Sound Design), MiRi Park (Associate Choreographer), and Matthew E. Maraffi (adapting original scenic design by Paul Clay) to make up the creative team for the tour. Casting for the tour is by Wojcik | Seay Casting.
The RENT 20th Anniversary Tour is produced by Work Light Productions, whose other touring productions include Rodgers + Hammerstein's Cinderella, Irving Berlin's White Christmas, Something Rotten!, and the upcoming tour of the 2016 Olivier Award-winning production of Jesus Christ Superstar.
Interviewed by Matt Inawat. Ron Matthew Inawat is president of the GoPride Network and contributes to ChicagoPride.com, PrideLA.com and other sites within the GoPride Network. Follow @cpmatthew