A GoPride Interview
Mark Lewis
Making it "Rain" - Original Beatles tribute founder Mark Lewis on the tour, history and the band's relevancy in 2019
Great artistry is great artistry; really good quality work sustains, it doesn't go away.
photo credit // matt christine photography
Making it "Rain" - Original Beatles tribute founder Mark Lewis on the tour, history and the band's relevancy in 2019
As the founder of the longest running tribute band to the Beatles, Mark Lewis (founder, manager, original keyboardist) transformed "Rain: A Tribute to the Beatles" from a 1970s band performing Beatles covers in southern California bars into an major theatrical production that will be playing two performances this Sunday April 14th at Chicago's Cadillac Palace Theatre (151 W. Randolph).
Lewis talked to GoPride about the show, the rich history of "Rain" and the importance and relevancy of the Beatles' music to today's generations.
MI: (Matt Inawat) Mark, you created the band and started this all 45 years ago; tell us a little bit about the show and what inspired you to take it to where it is today?
ML: (Mark Lewis) Back in 1975 The Beatles had barely broken up and Rain was a band that did original material and we just loved The Beatles. We were an LA, Southern California-based, LA and Orange County-based band and we used to play bars. We had this idea to do a set of just Beatles; but not just the early stuff - something that people'd never do live; like some Sgt. Pepper, A Day In The Life, some of Abbey Road and we eventually did a lot of side two of Abbey Road. We did it and the audience went nuts. 
So we came back and did a Beatles show on a Monday or Tuesday night where we worked for the door. They didn't have to give us a guarantee, but would promote it out in a little bar in the San Fernando Valley. We didn't know if anybody would show up so we invited our friends just so we would have an audience. And it turned out the place was absolutely packed. And we did well - and at that point, it was like this little light bulb went off in my head.
Now, no way did I ever think I'd be doing it 45 years later, but I saw the people had an emotional response to it. People absolutely loved it and the idea was to try it in a few places. And since we were successful in one place, they wanted us back a week or two later so we came back and it was even more successful. 
Then the next thing you know we get another club to book the show as a Beatle night; and there were no costumes or anything. Eventually, our first costume was black turtlenecks that we got at JC Penney and there were five of us on stage, so you know, that was our Beatles show. We got a local agent to try to get us more gigs – which he did – and they were successful. We got another agent that started to book us into some colleges and high schools and from a guy that was doing a Top 40 band show at bars where we worked five sets from 9 until 2 am, up to 6 nights a week. We were making our money in one night we'd make working 5 nights and so it put this idea in my head that what if we pursued this a little bit further.... From there we decided we would try make some early Beatles suits and do
an early Beatles show.
MI: Did you have a costume designer for that or were you still going to JC Penney?
ML: It was somebody's grandma, a seamstress, to be honest with you. One of the guys and I can't remember who, his grandmother was a seamstress. She made stuff for us and then we did late Beatles which was where we wanted kind of a 60ish look and we would do some Abbey Road and White Album and stuff like that. 
Eventually we had the Sgt Pepper costumes made and then we saw and then we were looking for what we could wear for the later Beatles and we saw the Magical Mystery Tour white tuxes with the tails which we could get at a rental place. They would sell them to us really cheap because they had a whole back room filled with them. So that was our costume and we started to get a successful response. 
I think the idea was to try to do the Beatles thing and still do our originals. Eventually and as the years went on we would do our originals and it just didn't fit in to do your original stuff and then come out and do the Beatles music. We started to get some county fairs and some bigger gigs where we started to get booked as, you know the name of the [original] band was Reign, but it wasn't really a Beatles name. It was a name that we figured we could use for originals. It also happened to be the name of a Beatles song ["Rain"] so we kept the name because we figured it could go either way as an original band and it wouldn't be total Beatles sounding like the Sgt Pepper Band, or we could continue doing the Beatles tribute and it became "Rain: A Tribute To The Beatles." 
It just kept going and eventually we ended up working at a casino, at Harrah's in Lake Tahoe and in Reno, and we packed the place which was pretty unusual for a band coming in for the first time and we were getting standing ovations and encores and they kept bringing us back and bringing us back to the cabaret they had there at the time. It was turning into like a mainstream thing where we were working all of the time and getting a lot of gigs and it sort of was something that actually happened without us having a real plan except that we saw the success of the band doing Beatles and we just rode it for a while. 
There was a point where some of the guys just wanted to go off and do their own thing and I replaced them with guys that had done the show Beatlemania and were more used to being in a character and putting on wigs and doing that sort of thing to make it more of a production, and those guys are who were with us and still are the last thirty-five years; except the old guys like myself have kind of retired off of the stage and it's the next generation. In fact our Paul McCartney is the son of our former Paul McCartney. It is literally a second generation. 
We are getting into our late 50's and 60's, we have guys in their 20's and 30's doing it now and they are fantastic. It's not like we just got guys and they are young and play some Beatles songs and threw them on stage in costumes – these guys are as big a fans as we ever were and they are much perfectionists as we are and the show now is a full-blown production. I mean incredible lighting, video, LED screens. It takes you from the earliest Beatles to now we are doing for this year, the 50th anniversary of Abbey Road, if you believe. We're doing a special section on Abbey Road; some of our favorites including most of side two of Abbey Road in order and it is
just blowing audiences away.
MI: So how do you juggle being the creative mind, manager, musician and all of the other hats that you wear - or have worn - for the tour?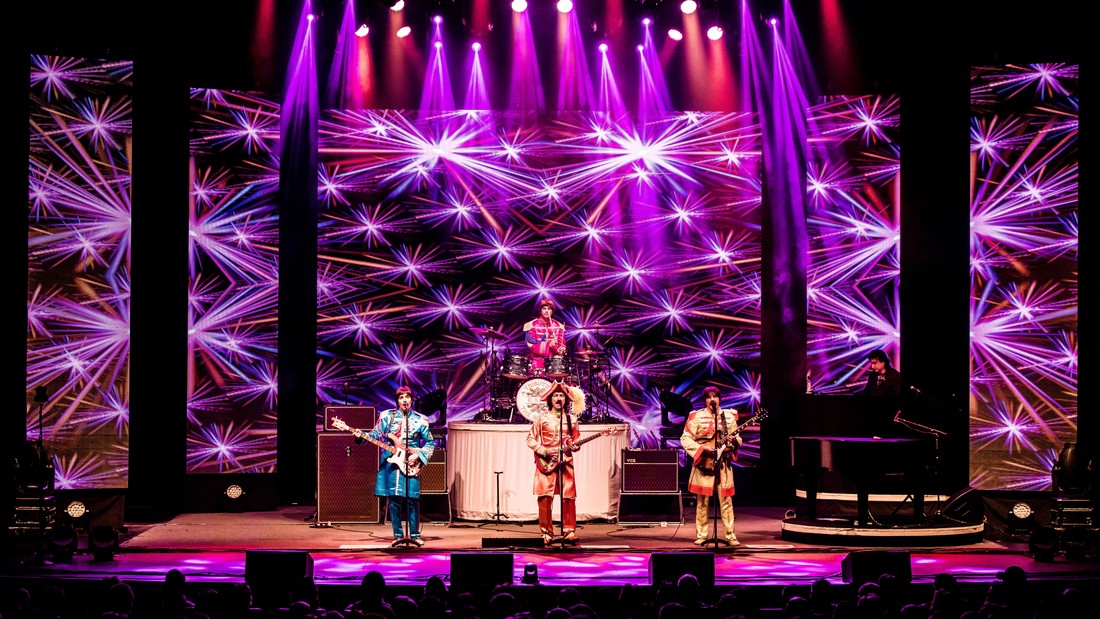 credit // Matt Christine Photography
ML: Its actually not as much juggling as it used to be because I am not performing and I am not on the road. We have an agency that does the bookings now. We have a general manager and tour manager to handle the tour buses; one with the crew and one with the band and two semi trucks. 
Now, its kind of overseeing and making sure that the quality control is there which is easy because I have such a talented band working for the show now. They're off the charts. So it's actually less juggling than it was when I had to be at soundcheck by 4 pm in the afternoon and then do one or two shows and then have to get on the phone and get up in the morning and do interviews and get on the bus and go to the next town.
Its actually turned into something that's really a pleasure to be involved with cause you can sit back in the audience and watch what it's become and that is like a joy for me.
MI: One of our photographers, Ken Brown, who's a huge Beatles fan wanted to ask how you got the idea to bring the show to Broadway. Was that something that one of the agents brought up to you?
ML: Well it was always something that was kind of a dream of ours. It is very expensive and very risky to go to Broadway, but you know the thing is, we had started to play theatres like we are doing. We played the Pantages in Los Angeles, 8 shows for a week and sold them out. We started to tour all over the country and Canada; and places were packed and so it gave us a kind of let's take the next logical step and go to Broadway.
We picked to go to Broadway over the Christmas season. It was just going to be a two and a half month run starting in mid-October and ending after New Year's. In fact, starting toward the end of October and ending right after New Year's. The run was so successful that we extended there at the Neil Simon and then we moved on to the Brooke Atkinson to another theatre and for another six months beyond that. It was really one of our partners, who has more experience in that sort of thing and has done several other shows, that sat us down and said "I think you're ready, I think the show is ready" and [Broadway was] the next logical step for us. Christmas time was a good time to go because people show up in New York over the holidays for the Christmastime season with the Rockefeller Center with the Christmas tree and everything that is going on. It's a great place to be for the holidays and it's actually difficult to get tickets to a lot of shows; and it seemed like a logical thing for us to do. We didn't know that we would be as big as we were and wind up extending all of the way into the summertime.
MI: After all of these years, what's your most memorable story about one of your fans or performances?
ML: I was onstage for 40 years. For me, I grew up in Los Angeles and to play at the Pantages Theatre which was a movie theatre I used to go to when I was a kid; when it became a Broadway theatre and had all of the major shows from The Lion King to Wicked or whatever you know playing there and to be working at the Pantages and be onstage there and look out at the audience in this beautiful theatre and seeing it packed every night was like a dream come true so that was one of the highlights for me.
MI: So what's the best part of bringing the Beatles live to a new generation of fans?
ML: The fact that it blows me away, I mean the Beatles broke up – they were done by the end of 1970. Their last album was in '69 and here we are in 2019.  In the 1990's I got asked this question, "what was it like to play for a new generation" – but I'm just blown away by the longevity. 
To me, it is just a logical thing because the music really holds to the test of time. The quality is there and it doesn't seem – you know sometimes you listen to some of the classic rock music and some of it sounds dated you know – but the Beatles don't sound dated. When you listen to Sgt Pepper and you listen to Abbey Road, you listen to the early Beatles and you listen to the music and how they changed over time it ust doesn't get old. And I think, reflecting upon the younger generation now that has come in and the Millennials and they come in and they wear the t-shirts and they know all of the songs and they get up and cheer, it just blows my mind how well the music has held up and how it has transferred from generation to generation. 
Really good quality work sustains, it doesn't go away. I remember when I was like in my early twenties and they released The Marx Brothers movies in the movie theatres. These were movies from the 1930's and early 40's and this was in the 1980's and the theatre was packed and everyone was laughing so hard and you wonder why has it sustained like that and it is because funny is funny, you know what I mean? Great artistry is great artistry. Why do people still go to see Shakespeare why do they still listen to Mozart? Because great music sustains, great comedy, great writing sustains and I think that is why the Beatles have lived so long. Their music continues to be favorites of multiple generations, Its quality in writing. Its quality in musicianship. Its quality in singing. Its quality in production and it is who they were and I think the fact that we are still out there touring and packing places in 2019 is proof of that.
MI: In your opinion what is the reason that makes Beatles songs so relevant to new generations?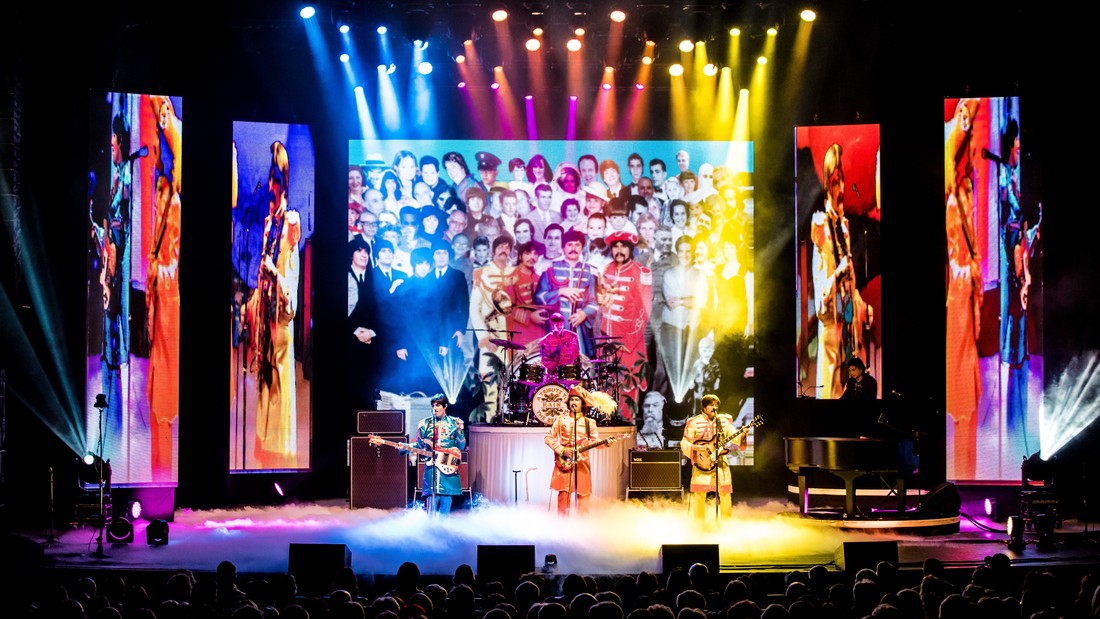 credit // Matt Christine Photography
ML: I think it's the fact that on a certain level they were fun and they were different and they played their own instruments and they had multiple singers and, you know, they just kind of hit a note with people that just kept sustaining for years after years. Think of what came before. 
They tell stories. Some of their songs were love songs, some of their songs became anthems during the turbulent 60's. They were the voice of a generation and they weren't like cutsie songs, they said something. You listen to "Come Together," you listen to "Yesterday," you know and the quality of the words and the musicianship and you look at what came before it was a lot of the cutsie stuff from the bebop era, and that was good I'm not criticizing that. The Beatles were such trend setters.
MI: One last question! You have been to Chicago touring before. Is there anything special you love about Chicago audiences or anything special in Chicago that you need to do while you are in town?
ML: I love Chicago. I have family in Chicago. My wife is from Chicago and the audiences are always phenominal. It always blows my mind how the get enthralled. There is nothing like a Chicago audience, they just get drawn in and there is just something about it and we are looking forward to being there. 
If you have seen the show before, please come and see it again because we have change it a lot, a lot more Sgt Pepper, a lot more Abbey Road, still a lot of the early Beatles favorites and the production is even better. So if you are a Beatles fan it is a must-see and if you're not sure if you are a Beatles fan, you will be when you leave. I guarantee that.
MI: Mark, thank you for the chat and we can't wait to see the show!
In celebration of the anniversary of the release of Abbey Road, "Rain: A Tribute to the Beatles" brings the Beatles' greatest hits to life. The performance will take audiences back in time with the legendary foursome delivering a note-for-note theatrical event that's the next best thing to seeing the Beatles. In addition to sets that include state of the art LED, high-definition screens and multimedia content, "Rain: A Tribute to the Beatles" has mastered every song, gesture and nuance of the Beatles, delivering a live performance that's as infectious as it is transporting.
For information on additional tour dates, and tickets, please visit: http://www.raintribute.com/shows/
PERFORMANCE SCHEDULE
Chicago's Cadillac Palace Theatre (151 W. Randolph)
Sunday, April 14 at 2PM
Sunday, April 14 at 7:30PM
Individual tickets range in price from $18-$75 with a select number of premium seats available. Broadway In Chicago lights up the Chicago Theater District entertaining more than 1.7 million people annually in five theatres, including the CIBC Theatre, James M. Nederlander Theatre, Cadillac Palace Theatre, and just off the Magnificent Mile, the Broadway Playhouse at Water Tower Place and presenting Broadway shows at The Auditorium Theatre. Tickets are available now for groups of 10 or more by calling Broadway In Chicago Group Sales at (312) 977-1710 or emailing GroupSales@BroadwayInChicago.com. For more information, visit www.BroadwayInChicago.com. 
Interviewed by Matt Inawat. Ron Matthew Inawat is president of the GoPride Network and contributes to ChicagoPride.com, PrideLA.com and other sites within the GoPride Network. Follow @cpmatthew