A GoPride Interview
Tony Clements
Tony Clements arrives in town with "Jersey Boys" musical playing through April 7th
I leaned over to my mom, at 5 years old, and said "I want to do that, I want to do that."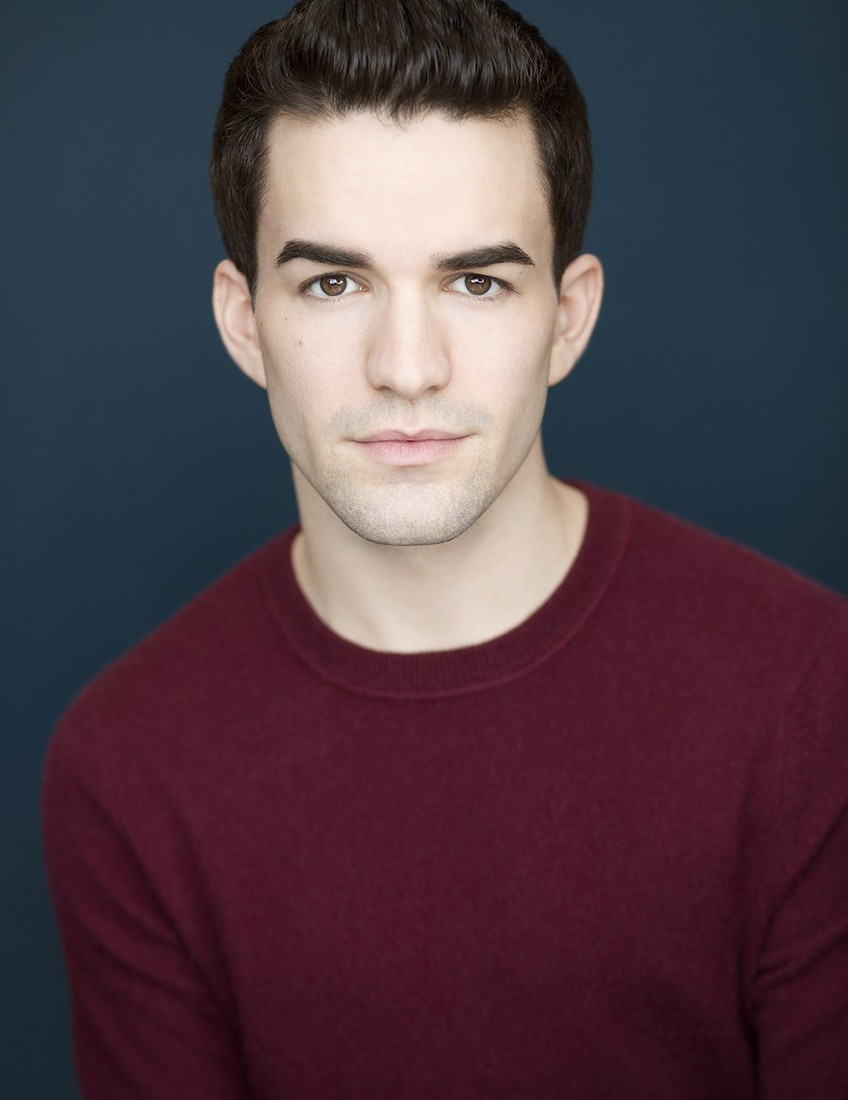 Tony Clements arrives in town with "Jersey Boys" musical playing through April 7th
"Jersey Boys" returns to the Windy City for a limited one-week engagement April 2–7, 2019 at The Auditorium Theatre (50 Ida B. Wells Dr.).
Directed by two-time Tony® Award-winner Des McAnuff, "Jersey Boys" won the 2006 Tony® Award for Best Musical, the 2006 Grammy Award® for Best Musical Show Album, the 2009 Olivier Award for Best New Musical, the 2010 Helpmann Award for Best Musical (Australia), it's the behind-the-music story of Frankie Valli and The Four Seasons. The show features all their hits including "Sherry," "Big Girls Don't Cry," "Oh What A Night," "Walk Like A Man," "Can't Take My Eyes Off You" and "Working My Way Back To You."
We talked to the talented Tony Clements (u/s Frankie Valli) as the tour arrives in Chicago this week.
MI: Hi Tony! Tell us a little about your journey into the musical.
TC: I first heard of the Four Seasons growing up and hearing their music from my parents. When I was in high school my chorus teacher gave me the music to sing after she thought it was good for my voice and throughout the years I became more familiar with the musical of Jersey Boys.
When I was in college I worked on the music and then started getting called to audition for the show, both the Broadway production and the national tour, so I auditioned for the show for about 5 years before I finally got it. It was a very long process. A lot of auditions and work sessions and music rehearsals and things like that, so when I finally got the job all of those years of hard work finally paid off.
MI: Did you do anything outside of the ordinary to prepare for your roles?
TC: I wouldn't say out of the ordinary. The show itself is very specific when it comes to movement and the way that Frankie Valli sings, his music is very specific, so I think I just vocally did a lot of work by myself. But then when it comes to the movement, there has been a lot of help from choreographers and dance captains to make sure the movement is authentic and appropriate for the time period. So there was a lot of focus on those knit-picky things that are important to the show. That makes the show so fantastic!
MI: Do you have a favorite scene from the show?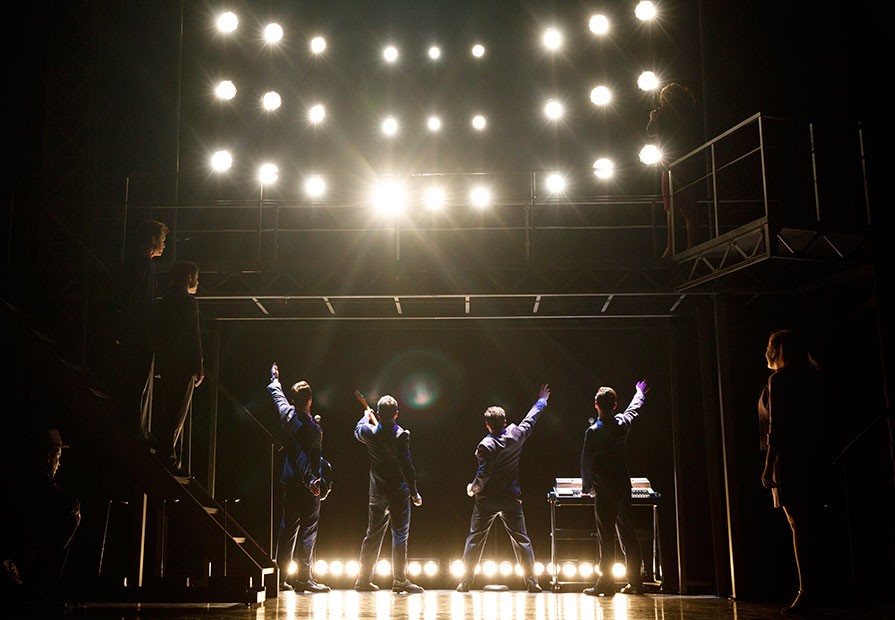 Company of Jersey Boys; Photo by Joan Marcus
TC: There is one section of the show called the Big 3 that is the Four Seasons first three big hits which are "Sherry", "Big Girls Don't Cry" and "Walk Like A Man" and basically those songs are back-to-back and it leads up the process of Bob Gaudio writing "Sherry"; and we just launch into this ten minute concert of the Four Seasons performing those three numbers and the audience goes crazy every single time because they are the first hits and they are so recognizable and bring such a sense of nostalgia to people. 
People grew up with this music and it's a nice little throwback and to have the audience respond they way they do is pretty incredible.
MI: So we know your family is super-uber proud of you. Take us back a little bit. Where did you grow up? How did you get your passion for theatre and how did you get started in the industry?
TC: I grew up in New Hampshire. When I was about 5 years old, I saw my cousin in a production of "Once, On This Island" and I leaned over to my mom, at 5 years old, and said "I want to do that, I want to do that." The day before, I wanted to be a marine biologist, so she didn't take it too seriously. 
I bothered her for about a year to take acting classes and dance classes and singing lessons; and finally after about a year she was like "OK, he seems pretty serious and won't stop talking about it." So, I did a lot of community musical theatre growing up in my hometown and eventually, when it was time for college I made the decision to try and pursue this as a career.
I went to Pace University in New York City and I got my B.F.A. in musical theatre. I went through all four years and then graduated and just kind of hit the pavement auditioning while still taking classes. Eventually it led me to this amazing job with a few smaller jobs in between; but this is my first, big national tour and first big show.
MI: Was there any particular role model who influenced your acting over the years?
TC: All of my teachers were so inspiring, especially my high school chorus teacher. She saw me in the show. She saw me do Frankie Valli and she was the one who introduced me to singing this music, so she was a huge inspiration by pushing my boundaries, making me uncomfortable by pushing the work. She was really inspirational. Also, my peers growing up throughout community theatre. They also were so inspiring and they have moved on to do amazing things a bunch of them are on Broadway and national tours so I really looked up to them growing up.
MI: So how has being out and gay impacted your experience in the business?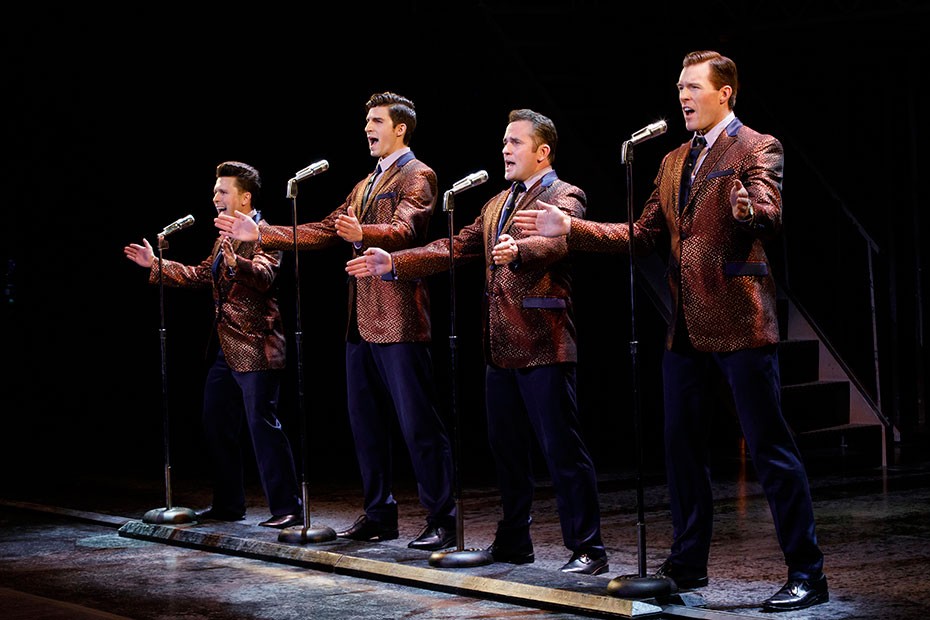 Jonny Wexler, Eric Chambliss, Corey Greenan and Jonathan Cable; Photo by Joan Marcus
TC: That's tough because I came out when I was 17 and of course, up until then I didn't really know who I was as a human being really. So I think being out as a gay man has really allowed me to search inside myself and be an authentic actor and be honest and truthful when it comes to the work. I am confident as a human being and I think that has a lot to do with the support and acceptance that I choose to surround myself with.
MI: Looking ahead, is there a dream role in any play or musical that you would love to portray?
TC: I've actually gotten this question and it is kind of tricky because for many years Frankie Valli was my dream role and now I get to understudy that role and I go on quite a bit.
Now, looking ahead, I would love to originate a role in a new musical. I would love to be Bok in "Wicked." I think there is something about starting with a show from the very beginning and having your creative input and offering your voice to create something from scratch. So that is something that I am definitely interested in doing.
MI: I love your answer to that! 
So we a couple of speed round questions: 
Name something that you can't live without.
TC: Ice Cream
MI: What is something in your home that would make a stranger think you were gay?
TC: A Star Is Born dvd starring Barbara Streisand.
MI: What is something in your home that might make a stranger think you were straight?
TC: A baseball glove.
MI: What do you miss the most when you travel?
TC: Having a home base to go home to. We are in a different hotel every few nights or sometimes even every night so having a place to go home to that is a familiar and comfortable space with my belongings is what I miss most about traveling and, of course, my boyfriend and my friends.
MI: Who would play you if your life story would be made into a made-for-tv movie and why?
TC: I would say, he is a little older than me but maybe Darren Criss because I have been told that we look pretty similar and he grew up doing theatre and he got his degree from the University of Michigan so he has a good pedigree.
MI: So, the top three songs on your playlist?
TC: Anything by Sara Bareilles, "Mama Say" by Betty Who and "Don't Stop Believin'" by Journey to get me pumped up before the show.
MI: If an original musical was going to be made about your life, sum up your entire life in a musical title.
TC: Just Keep Moving!
MI: Are you in Chicago already; or are you coming down this weekend?
TC: No, we get into Chicago on Monday, I believe.
MI: Oh wow! That's not a lot of runway space before opening night on Tuesday!
TC: I know, right? It's been worse. Sometimes we drive into shows.
MI: (Laughs) Are you excited to be in town?
TC: I'm so excited! I've only been one other time. I went for a quick trip this past January with my boyfriend. His sister lives there so we were there for a long weekend. 
I'm excited to perform in Chicago. I'll be on for Frankie Valli in our Sunday performance. So, to be able to perform in such a theatrical city where the arts are so alive is really exciting.
MI: Any favorite hangouts or food that you just have to try while you are in town?
TC: I have to have some deep dish. Even while I was there I didn't have the chance to have deep dish pizza. There are a few people who are from Illinois that I am kind of relying on to take me to the cool hang out spots.
MI: Thanks for taking the time to chat and have a safe trip here. We're looking forward to seeing you and the cast in the show!
Individual tickets range in price from $30-$100, with a select number of premium tickets available. Tickets are available now for groups of 10 or more by calling Broadway In Chicago Group Sales at (312) 977-1710 or emailing GroupSales@BroadwayInChicago.com. For more information on schedules and ticketing, visit www.BroadwayInChicago.com.
Interviewed by Matt Inawat. Ron Matthew Inawat is president of the GoPride Network and contributes to ChicagoPride.com, PrideLA.com and other sites within the GoPride Network. Follow @cpmatthew