A GoPride Interview
Waves on Waves
Waves on Waves interview with ChicagoPride.com
Wed. September 24, 2008 by ChicagoPride.com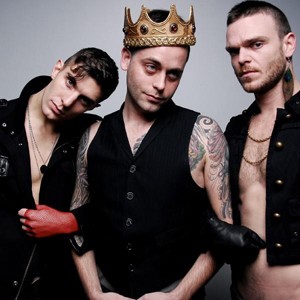 photo credit // chuck willis
Influenced by art rock visionaries of the past, Waves on Waves seeks to create a totally new vision with its self-titled debut album.
Incorporating such influences as Morrissey, Tears for Fears, the Police, and Pink Floyd, the band has managed to craft an ambitious pop work that revels in its own singular musicality.
Waves on Waves
presents out gay singer/guitarist Kevin Thornton, bassist Luke Aaron Jones and drummer Enoch Porch carrying the art-rock torch unabashedly into the future. Lush with emotive vocal harmonies, vintage synths, and an amiable yet firm underbelly of rhythm, the album does not show an overt effort for the eclectic, nor a striving for the retro façade. Their sound thrives in the present with an intriguing individualism that informs a larger humanistic message conveyed in Thornton's lyrics.
Under the moniker Thornton, it was the group's 2004 release
Had A Sword
that first put them on the underground radar. Receiving praise from a variety of publications, the band was hurled into the forefront as one of Nashville's premier rock outfits after winning the Nashville Scene Award for the Best Experimental Rock Group in 2004. After their extensive tour was sidelined because of Hurricane Katrina in 2005, the band took a short hiatus. Emerging vigorous and renewed, the band regrouped to record
Waves on Waves
and are now on the road bringing their musical "avant-garde apocalypse" to the masses.
Here the band members talk to ChicagoPride.com about their "sister electrons," the conflict of religion vs. sexuality, and the benefits of having gay fans.
CP:
Your music is very sophisticated and accomplished, but I was surprised to hear you describe it as art rock, which strikes me as a bit of a throwback.
WoW:
(Kevin Thornton) On the contrary, we're presenting our music as something that is brand new. I would say the art rock thing is definitely in our roots. When we first started, our music was slow and moody—a lot of dark piano ballads. We've been growing into a new thing, refining our sound, doing something more universal.
CP:
What are your influences?
WoW:
(Kevin) My favorite band is the Smiths. Pretty much anything from UK in the 80s—Depeche Mode, Kate Bush, Cocteau Twins.
CP:
How do you divide up the songwriting duties between the three of you?
WoW:
(Enoch Porch) Kevin writes the lyrics, and we all form the sound together. Sometimes Kevin will play something on guitar, Luke will play something on the bass, I'll be on the synth, and it all turns into a song.
CP:
Kevin, what inspires you lyrically?
WoW:
(Kevin) My life experience. I grew up in a very conservative religious setting. When I started exploring my sexuality, there was a serious conflict with my religion. You can hear evidence of that conflict more in my earlier work. The pain of that conflict is gone, so you don't hear it as much in the music now. I still remember going through that, though, and I definitely care about people who are still dealing with that experience.
CP:
Enoch and Luke—do you feel that Kevin is expressing a gay perspective in his lyrics that you might not be able to relate to because you're both straight?
WoW:
(Luka Aaron Jones) Kevin writes from a very humanistic place. We are each able to derive our own meaning from his words. Ultimately, his lyrics create a sense of hope by lifting experience to a higher level.
CP:
Kevin, are you hopeful?
WoW:
(Kevin) For myself or mankind? These days, when I wake up in the morning, I try to feel good and walk toward the future. It's nice to not be in conflict in my life. I hope for peace for myself every day. As individuals, humans are really good. We make courageous acts of love. To be honest, I don't have a lot of hope for mankind as a whole. As a group, we're hopeless.
WoW:
(LukeL That's why music is so important to us: it can inspire those acts of love that give life meaning. It's a current that flows through all of us. We can all agree on that collective consciousness.
CP:
Your imaging is very unique, particularly the album cover: the head dress, the bullhorn, the billowing waves of fabric. Is there a method to this madness?
WoW:
(Kevin) I went to the costume shop and got all of this wild stuff. I told my boyfriend I was going for "avant-garde apocalypse." I brought them to the photo shoot, and we all just started picking up stuff and playing with it. At some point, Luke unfurled this big piece of silk. It just became one of those moments.
CP:
So, it sounds like you all get along.
WoW:
(Kevin) Don't' be fooled. I hate these motherfuckers [laughs].
WoW:
(Enoch) We have sister electrons. If something is going on with Kevin, I know it. We get along because we've been together for 10 years or the other way around. We're thoughtful and sensitive guys. Out on the road, we can spend 5 hours sitting around talking about our lives.
CP:
What kinds of things do you talk about?
WoW:
(Enoch) Sex. We talk about masturbation.
WoW:
(Kevin) We're all very uninhibited people. I love free thinking, just throwing the chains off. We're all into talking about things people things you shouldn't talk about.
CP:
Are you guys aware of having gay fans?
WoW:
(Kevin) We hand out bracelets at our shows so we can know who's gay [laughs]. No, we definitely know we have gay fans, but at this point in our careers, there's no one group that sticks out at our shows. Our audiences run the gamut as far as race and sexuality are concerned. But I wouldn't say that you're going to show up at our show and feel like you're at Gay Pride.
CP:
Have you ever been pigeonholed as a gay group because you have a gay lead singer?
WoW:
(Kevin) Not as the band Waves on Waves. We used to record under another name, and the sexuality angle got a lot of press. They pounced on the God and sexuality conflict. I don't feel like that's really happening with this record, even though the cover art is a little flamboyant.
WoW:
(Luke) I'm heterosexual but I don't feel like I need to be gay to identify with the gay community. And any band where you have a member who is gay should definitely have ties to the gay community. That is part of who we are. Personally, I never put much thought into whether we're thought of as a gay band. This is who we are. If you love us for that, great. As a straight member of the band, the fact that we appeal to gay people is something I'm proud of.
WoW:
(Enoch) People look at me and say: is this guy gay, is this guy straight? That never offends me. The fact that people perceive diversity in this band is a strength more than anything.
Waves on Waves has a hotline where you can preview music, leave a message for the band, and get promotional items. 1-888-ON-WAVE-1 (888-669-2831)
Online:
www.wavesonwaves.com
Interviewed by ChicagoPride.com
Serving the Chicago gay, lesbian, bisexual and transgender communities. ©Copyright 2019 GoPride Networks. All rights reserved.