A GoPride Interview
Matt Woods
Matt Woods interview with ChicagoPride.com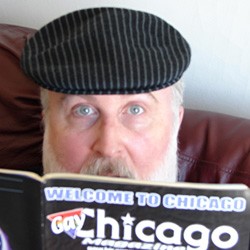 One of "Those People": An Interview with Matt Woods
Sometimes opportunity comes when you least expect it. Adult film critic Matt Woods knows firsthand. It was just fours years ago when he and his partner, Brick—already a big fan of legendary porn star Will Clark—attended a "Cocktails with the Stars" event sponsored by Gay Chicago Magazine during IML weekend. While there they were lucky enough to win tickets to the Grabby Awards show the following night. "I met Gay Chicago's publisher there," Woods recalls, "and asked him (on a lark, really) if he was looking for any other reviewers. He asked me to call him the following week, and I started right away."
Up until that time Woods admits he could only name and/or recognize a couple of the major porn stars, "and to tell you the truth, I thought that people who could match so many of their faces to actual names probably took the whole porn thing a bit too far. But now I'm one of 'those' people!"
Now Woods' work can be seen regularly in Gay Chicago's review column Behind Closed Doors, as well as the magazine's website. In preparation for this year's Grabbys, Woods offers a behind-the-scenes look at the porn industry from a critic's point of view.
PJ:
One might think that your appreciation for porn would grow stale after watching so much. Has it?
MW:
Until I started reviewing, I was just a casual and infrequent viewer of male videos, so at first it seemed a bit like being a kid in a candy store. Even a kid can tell the difference between crappy candy and the good stuff, but will still take whatever he can get at first. So even though I had to slog my way through some awful videos at the beginning, the experience seemed new enough that I didn't mind so much. At this point, I still very much appreciate well-crafted porn. However, the poor stuff raises my ire, instead of my dick.
Of course, most guys also have their favorite "type," whether it be jocks, twinks, bears, or what have you. I happen to prefer bears. But as a reviewer, what matters most to me is if the guys onscreen and behind the camera are doing what they do with passion. So, I can watch videos with all different kinds of guys doing all sorts of things I wouldn't ever try in my personal life (including some pretty heavy fetish stuff), and write what I hope is an exciting and interesting review.
Having said this, I can tell you that the only time I feel something is stale is when the attitude of the cast and/or crew telegraphs that feeling to me.
There is a major studio, that I (and others in the industry that I've talked to about it) believe is just coasting. They have released some really poor quality product over the past few years, with bad camerawork, bad lighting, bad sets, bad acting, bad make-up—you name it. It just doesn't match that studio's reputation. I cut them some slack for awhile, but after one of their major releases some time back, I drilled them a new a**hole in a review. My editor cut out many of my outrageous comments, and now I get very few of their videos to review. It's sad, in a way, because I'd like to be able to warn people in advance not to spend their hard earned money on top-dollar videos that have blurry scenes and the like. It's just plain disrespectful to their customers.
I tend to be a bit harder on the top studios, since they have the resources to turn out top-notch work if they choose. I'm more lenient on product from lesser studios and independents, because I want to offer them as much encouragement to improve if possible. This has been a pretty long-winded answer to your question, but I guess it explains that there's more to writing reviews than simply watching and describing the sex, which can get very old, very quickly.
PJ:
How challenging is it to keep your writing fresh?
MW:
Writing reviews for good videos is easy because it's fun to describe something exciting and fresh, and talk about clever and creative details that have stimulated me. Writing reviews for bad films is easy too, because I have fun finding ways to be deliciously bitchy about it. So I can say that my reviews for the very good, and the very disappointing, are the easiest. If the movie is simply boring, however, it can be very difficult to face my blank computer screen and fill it with words that will interest anyone.
I have a lot of fun coming up with different expressions to describe the variety of c**shots I see. Some examples I've used are "twirling up-in-the-air swirlers," "globby droolers," and "spit 'n drippers." In my review of Hot House's Communion, I wrote that Tony Mecelli gave Francesco D'Macho a c**shot so large and long that it was "...not only a complete facial, but also a pearl necklace for him to clutch at in shock and awe, as well." For awhile, I used the term "cheney" to describe someone getting shot in the face, but that's old news now, and I've stopped using it because I'm not sure new readers would get it. So that type of thing helps keep me entertained as I write, and I hope, keeps the reader entertained, too.
PJ:
You not only write about performances, but also about production quality. How has that changed in the male video industry? Is the quality getting better or worse?
MW:
You mentioned the performances, so I'd like to say something about that first. Don't ever think that porn artists aren't "real" actors. These guys have to keep up their energy for hours at a time, and that just is not a normal state of being for people. You had better believe that these guys are acting their heads off a lot of the time! One of my favorite examples for this is in a Mustang video starring the lickalicious Jake Dakota. One of the DVD features is a behind-the-scenes documentary where the director and crew are taking their time making sure everything is just right before rolling the camera. The second the director yells action, it's as if someone turned on Dakota's light switch. That's real acting, and some do it much better than others. And that's part of the reason there are awards for it.
Now, about the production values. Most viewers have one major objective when selecting a DVD to put in their player. We all know that, basically, these are jack-off movies. But the mind is the true sexual organ, and pleasing the mind fully takes more than putting a camera in front of a d**k and an a**hole and hitting the "record" button. The mind is where fantasy takes place, and this is what really heightens the sexual experience. To me, the production values play the integral role in arousing and stimulating that fantasy experience. So the writing, lighting, camerawork, editing, costumes, sets, music, and so many other factors besides the performers, are essential ingredients in creating the optimal sensual experience.
What really upset the apple cart in porn was the move from film to video, and this is described, I think most accurately, by the Burt Reynolds character in "Boogie Nights." The quality of the picture in film can be so warm and intimate, whereas video is cold and clinical, so my least favorite porn dates from the 1980s. It took a number of years for artists to learn how to make the most out of video, and I don't think the industry really turned out much quality product through those years. In the mid- to late 90s, however, artists began to try to put out a more well-thought-out product, and the production values began to soar. Now, we're seeing some truly incredible videos made by people who are proud of their talent, and the ever-growing budgets by some of the major studios is reflective of the greater interest in higher quality porn.
I'd also like to add that we have recently seen the biggest change in male porn videos since the switch from film to VHS. Raging Stallion Studios now makes all of their videos using hi-def digital cameras, and they're in widescreen format, to boot! None of the other studios have started this yet, and Raging Stallion's resulting product is incredibly pleasing to the eye. Even what might be called their "lesser" videos are infinitely more interesting to watch than videos from any other studio. It's truly an incredible advance.
PJ:
How could the industry improve?
MW:
Well, based on what I just said, I guess I'd say that more studios should move to the widescreen hi-def format. However, that might not, in and of itself, be an improvement, because you could give a monkey the best materials possible, but that doesn't mean it could ever produce anything near a Jackson Pollack masterpiece.
Just as in the rest of the business world, we're also witnessing a consolidation among the major studios. I certainly hope that less competition doesn't lead to a lack of needed variety, and to a lack of opportunities for up and coming professionals behind, and in front of, the camera. And, just as with banking and so much consolidation, the fear is that if one falls, the entire industry could be dealt a devastating blow.
A lot has been written about conflict between Gay Chicago and the Grabbys, and Michael Lucas. It's a shame that the conflict exists, because I don't think that Lucas really knows how much some of us reviewers like his product, and how appreciative we are of the creativity and variety that he brings the industry. I look forward to the day when the industry can be completely united in order to even more effectively battle the reactionary forces that want to destroy it.
PJ:
Beyond physical appearances, are there any people in the porn industry that you admire?
MW:
What do you mean by "beyond physical appearances"? Are you implying that there's anything else? [laughs] But seriously, there's lots to admire. It is interesting to me, that just as in Hollywood, each of the studios has its own "personality," so to speak, and that individual artists are a better fit with one studio, rather than another. Of the people I've met, I'd have to say that I admire Chris Ward, head of Raging Stallion Studios. He truly reminds me (in a positive way!) of an old-time Hollywood studio chief, and the RSS staff and performers are always so warm and friendly. I would liken their style to Warner Bros. studio of the 30s and 40s. Gritty and tough, with an urban sensibility.
I also admire Steven Scarborough. Hot House Entertainment, the studio he founded, completely reflects his sweet (and very, very hot) persona. Their productions of even the dirtiest, filthiest, nastiness are always in impeccable good taste. Their company slogan, "Filthy never looked so good," fits them to a tee. How do they do it???
Hot House's creative director is Brent Smith. There isn't really an award in the industry for what he does, and yet I think he deserves the lion's share of the credit for how good their final product looks. Hot House is definitely the MGM of porn studios...a real class act.
Another reason I respect and admire Scarborough and Ward so much is because of how much they care about their staff and performers. Raging Stallion, in particular, strives to help their performers develop their talents behind the screen.
And I can't forget Chi Chi LaRue, who has done so much for the entire gay community, as well! Although she's described as a "directrixxx," I think, at this point, she's really a mogul. There's also much to admire about Michael Lucas. Here is someone who came to this country as a young man, and who has built his New York-based empire from scratch, out of sheer force of will and determination. I'd have to compare his studio to New York-based RKO. Remember, they made "Citizen Kane"!
PJ:
What advice would you give someone who wanted to write porn reviews?
MW:
I think having a good, well-rounded education is a must. I mean, you have to be able to construct an English sentence in order to be published as a writer. I'd also encourage those who are interested to rely more on Anglo-Saxon, and less on Latin. In other words, "f*cking" is more fun than "having intercourse," don't you think?
And, as long as one has an eye for detail, they'll be able to learn when and why things go right, and when and why things go wrong in a scene.
PJ:
What do you enjoy most about attending the Grabby Awards?
MW:
The major industry award show is the GAYVNs, and until this year they were held in Southern California and were closed to fans.
This year they moved the show to San Francisco, and opened it up to everyone. They're usually a bit stodgy, although Kathy Griffin sure livened it up this year! They're held in a theater, like the Oscars, so it's hard to walk around and meet people.
I like to describe the Grabbys show as being a bit looser, kind of like the Golden Globes. I'd say that the Grabbys are more fun, and fan-friendly, especially since the Park West venue has table seating, which makes it easier to walk around and hob-nob with the celebrities.
Lots of performers attend, since it's held over Memorial Day/IML weekend. They are generally very approachable, and eager to have their picture taken with you. If you want to come, be sure to get your tickets early, as the show sells out very quickly.
For more on the Grabby Awards, visit
www.grabbys.com