A GoPride Interview
Lisa Vanderpump
Vanderpump Rules Rosé
Using Bravo as a vehicle to highlight gay rights has been really important for me to come back to those shows.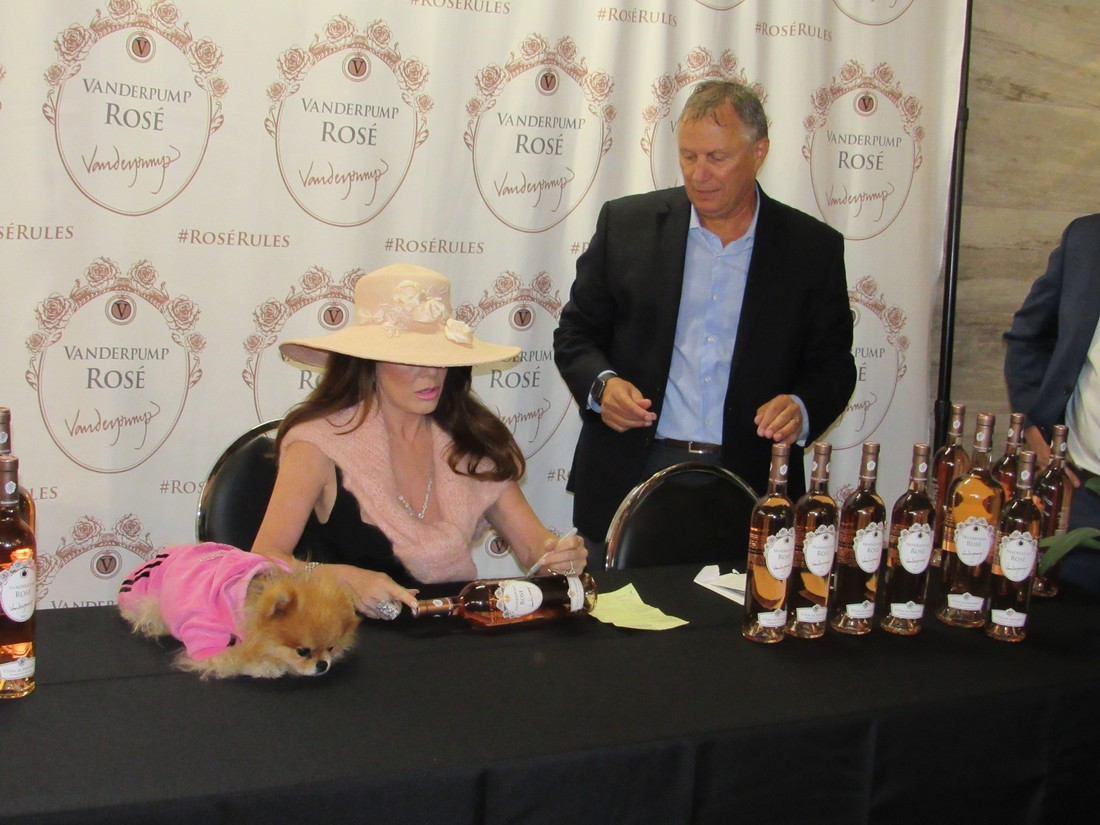 photo credit // jerry nunn
Lisa Vanderpump has fans lining up in Chicago for wine
Lisa Vanderpump continues to take over the world with new business ventures. She is known for appearances on Bravo's The Real Housewives of Beverly Hills, Vanderpump Rules, and ABC's Dancing with the Stars.
Along with her husband, Ken Todd, the two own 26 restaurants, bars and clubs. She is currently in the process of opening a new bar called TomTom with Vanderpump Rules stars Tom Sandoval and Tom Schwartz.
Born in England, she has made movie, television and music video appearances over the years. She authored the book Simply Divine: A Guide to Easy, Elegant, and Affordable Entertaining and is editor-in-chief for Beverly Hills Lifestyle Magazine.
On July 14, the businesswoman introduced a huge line of fans to her new rosé  from the Cotes de Provence, France at the Jewel-Osco on Division called Vanderpump Rosé . Her Pomeranian Puffy was nearby for the Chicago appearance but refused comment. Luckily the Bravo star herself stopped for a few questions.
JN: (Jerry Nunn) What makes this rosé different than other wines ?
LV: (Lisa Vanderpump) Just look at it. It's the most beautiful thing on the planet, right? We lived in France for many years so it came from a really authentic place to find it. It is a beautiful mixture of these grapes. It is just fantastic and has been so well received. It has been a pleasure doing it.
JN: Did you have to do a million tastings?
LV: Yes, which I quite enjoyed! [laughs]
JN: You have been so supportive to the LGBT community and I have seen you at gay Pride in LA.
LV: I am there every year.
JN: Would you do something in Chicago for our Pride?
LV: Absolutely. It is very important to me, especially in these times we need to hold steadfast. Using Bravo as a vehicle to highlight gay rights has been really important for me to come back to those shows.
JN: I was just with Andy Cohen for Tel Aviv's Pride.
LV: I am very close to Andy. It is wonderful when you can use a reality show for the greater good. I think we have used that in our fight against the Yulin Dog Meat Festival. Bravo has been very gracious with us.
JN: Have you had a favorite moment on The Real Housewives of Beverly Hills?
LV: I have had so many, Dancing with the Stars, getting my star on the Walk of Stars in Palm Springs, speaking at congress. There have been so many incredible opportunities that have come from this. It has been an extraordinary ride. There have been some downsides too, where I have wanted to slap the other women, but haven't! [laughs]
JN: What are your thoughts on the Paramount show American Woman that was inspired by fellow Housewife Kyle Richard's life?
LV: I like it. I really do. I think it is wonderful when you see opportunities that have come from the Housewives and to see Kyle grasp this opportunity and really run with it.
Interviewed by Jerry Nunn. Jerry Nunn is a contributing writer to the GoPride Network. His work is also featured in Windy City Times, Nightspots Magazine and syndicated nationally. Follow @jerrynunn
Serving the Chicago gay, lesbian, bisexual and transgender communities. ©Copyright 2019 GoPride Networks. All rights reserved.