Born and raised in Hialeah, Florida to Cuban-American parents, Danny Burgos didn't get his start acting until his senior year of high school when he played his own twin brother in a musical murder mystery after being discovered singing for tips at a local Coldstone Creamery. 
Burgos is currently on the First National Tour of "ON YOUR FEET! The Story of Emilio & Gloria Estefan" after having completed the Broadway run as the Standby for Emilio. Based on the life story of seven-time GRAMMY® winning international superstar Gloria Estefan and her husband, 19-time GRAMMY® winning producer-musician-entrepreneur Emilio Estefan, "ON YOUR FEET!" returns to the Cadillac Palace Theatre (151 W. Randolph) in Chicago for a limited three-week engagement.
Burgos has toured across the country (including the national tour of Beauty & the Beast), performed at several regional theatres and has had the honor of performing alongside incredible talents like Michael Luwoye (Hamilton), Garrett Long (Dear Evan Hansen) and Tony Award winner Jarrod Emick (Damn Yankees). 
His favorite shows & roles include: Bernardo in "West Side Story," Gomez Addams in "The Addams Family," Tateh in "Ragtime," Paul in "A Chorus Line" & José in "In The Heights!"
ChicagoPride.com had a fun and lively conversation with Burgos to talk about the return of "ON YOUR FEET!" to Chicago.
MI: (Matt Inawat, ChicagoPride.com) Hi Danny! Good morning and congratulations on the amazing success of "On Your Feet!"
DB: (Danny Burgos) Good morning! Thank you.
MI: Everyone's excited that this production is coming back here to Chicago. Tell us a little bit about the production. What will theater-goers have to look forward to that might be a little bit different and a little more exciting this time around?
DB: So, it is completely reimagined from what they saw last time it was in Chicago. It had its fun time on Broadway and now that we're taking it on the road, we've have to reimagine some of the stuff because we travel now. We've had to make a couple adjustments, but it is the same, fun and beautiful story that they saw in Chicago.
The reason to come back would be that we have these incredible talents as our Gloria and Emilio that they didn't get to originally see in Chicago. So Christie Prades and Mauricio Martinez are truly just phenomenal - they've completely made these roles their own. They've really taken what Anna and Josh gave them in Chicago and on Broadway and made it fresh and new and beautiful in a different way.
MI: Yes, I heard this entire new cast is going to be so amazing.
DB: Right! Not to brag, little humble-brag, but we're all so excited to be telling this story because we're a 98, 99% percent Latino cast, and this is our story, you know? So there are a bunch of us from Florida, from Miami, myself included and I mean, this is just us. 
We're speaking our language, literally and figuratively and it's just an incredible opportunity to get it to tell it everywhere, so bringing it back to Chicago, we can only imagine what kind of love is waiting for us there.
MI: Do you have a personal favorite scene or message that emanates from the musical?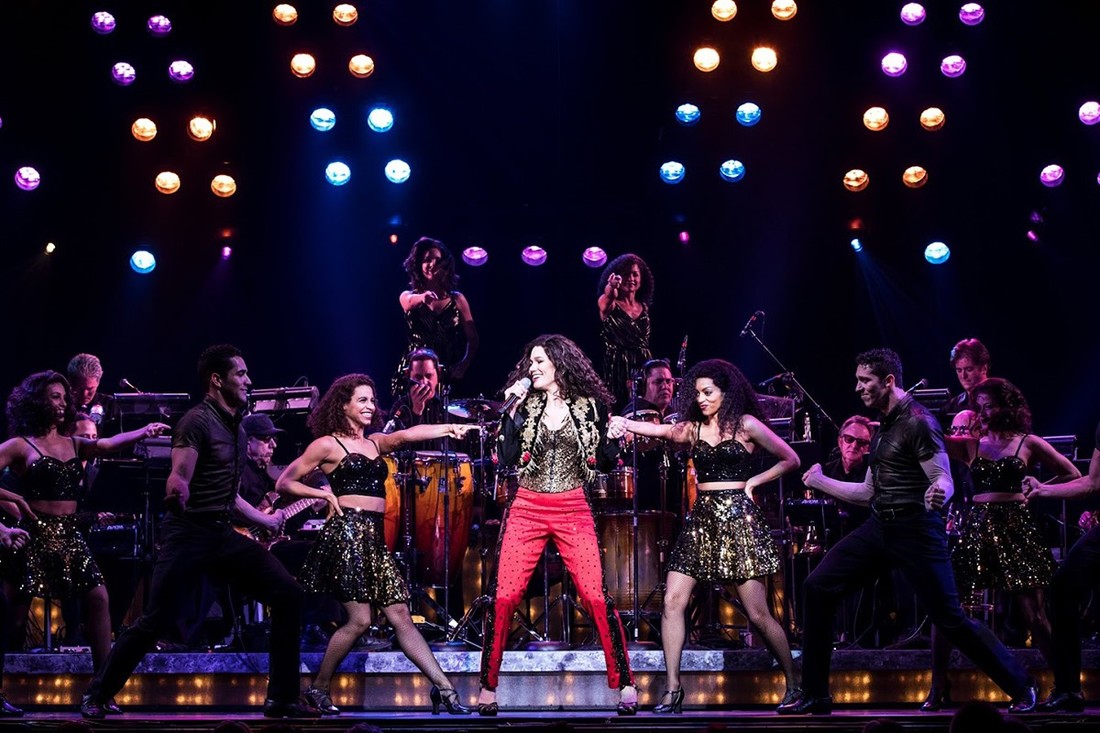 Christie Prades as Gloria Estefan and Company, ON YOUR FEET! @ Matthew Murphy
DB: Yes, 100%. So I saw it for the first time on Broadway when my friend, Ektor Rivera made his Broadway debut as Emilio. And when I saw the song Mi Tierra;  a big song-and-dance number when you find out that Gloria Farjado, Gloria Estefan's mom used to be a singer in Cuba and it's like this old-style Havana, beautiful Salsa number; and I saw that number and I leaned over to my friend who I was watching it with and I was like, "I'm going to be in this show one day." It was just that. And that sealed the deal for me. It's so beautiful and rich and full of culture. That was it.
MI: Speaking of being in the show one day, you're playing the understudy for Emilio. What drew you into playing that role?
DB: What really did it for me was the scene where he looks at the record producer in the eyes and says, "this is what an American looks like." 
That scene just hit home because Gloria is a Cuban-American woman, Emilio is a Cuban-American man and my parents are Cuban. So quite literally, this was my story.
Watching the opening number where a bunch of them are having fun on the streets of Miami, you know, that was my block, those were the parties. My sister would go outside and my brother would be playing basketball outside, and I'd be jumping rope and dancing around with our neighbors, you know? That was just life. To see Miami portrayed on stage. 
The first show I ever fell in love with was In the Heights, and I loved it so much because it was my people, and my people were telling our story and it wasn't overly romanticized.  It was just a day in the life of what it's like in Washington Heights. Then I saw "On Your Feet," and I was like, "that's Miami!" They're not trying to make it any more than it is, it's just Miami. People on the street, having a good time, dancing, doing their laundry. So I saw that, and was like, "Yeah, I have to do this. I have to be in this show at this time."
MI: Tell us a little bit more about your personal story: was there a moment when you just knew you were born for the stage? How did you get involved in theater?
DB: So, that's actually really funny. High school, I was a tennis player, so my dad all through his life tried getting me to play tennis and I never wanted to. My sophomore year I picked up a tennis racket and just happened to be good at it. All through high school, I played tennis. 
And during my senior year, I was on my way to tennis practice and my best friend at the time, who was super nervous, wanted to go out for the musical. So I told her, "Hey, Sonia, I'll go with you to audition." I ended up auditioning and getting the lead in that musical, and it was a random.
MI: Oh, wow.
DB: I always say it's funny because I fell in love with musical theater playing my own twin brother in a murder mystery.
So, yeah. I died at the beginning of the show and then I came back as my twin brother to avenge me. It was really funny. After that, I stopped acting for a little bit, and I was working at a Coldstone Creamery somewhere in Miami we call Main St. And down the street is a little playhouse called The Main Street Playhouse, it's a little community theater and at Coldstone we had to sing for tips.
I got a tip and I started singing an ice cream rendition of "My Girl" and the guy that had tipped me was the artistic director of that little community theater who was doing a production of "She Loves Me," and he just walked up to me and asked, "do you want to be in a musical?" I said, "yeah, sure," and he ended up casting me - and ever since then I haven't been able to stop.
MI: How awesome! So is there dream role in any play or musical that you'd love to portray?
DB: My dream role, the pinnacle of everything for me, has always been Usnavi in "In the Heights." I just really love that musical, and also I was with one of the original cast members of "In the Heights!" 
I worked with a lot of them actually, when I was doing On Your Feet on Broadway, but Michael Balderrama, he directed me in a production of Heights and I was the understudy for Usnavi - he's actually the resident choreographer for Hamilton in Chicago now, and he asked, "If you could do any dream role, what would you do?" 
And I told him, "Usnavi in Heights."
And he says, "No, but anything else?"
And I was like, "Okay, Hamilton in Hamilton."
And he's like, "Okay, I see you played your cards right."
But really anything with that production team. Andy Blankenbuehler, Lin Manuel Miranda, and Alex Lacamoire have tapped into something really special. Anything with them behind it, I'm behind it.
MI: Are you excited to be in Chicago?

Adriel Flete and Mauricio Martinez as Emilio Estefan, ON YOUR FEET! © Matthew Murphy
DB: I'm really excited. Last time I was there was two years with Beauty and the Beast. We played at the Cadillac Palace as well and I really love Chicago. It has a really special place in my heart.
MI: Are you ready for the cold-ish weather though?
DB: Absolutely not. We're here in South Texas right now and it's forty degrees, and I refuse to go outside.
MI:  Well, hopefully it warms up by the time you arrive here. Since you've been to Chicago before, any favorite restaurants or hangouts?
DB: It's really basic, I know, but anybody who knows me knows I love pizza and every time I go to Chicago, I hit up a Giordano's for a deep dish because it is my favorite. I really just love it.
MI: Have you tried any other Chicago-style pizza?
DB: I actually haven't because I've only ever been in the city for a week at a time, and I'm just like, "You know what, Danny? Don't mess with a good thing."
MI: Are there any charities or causes that have a personal importance to you?
DB: Actually every year, the entire Broadway community comes together to support Broadway Cares/Equity Fights AIDS, and that has always been really special to me, just because I, as a gay man, have found that there's a lot of stigma against HIV and AIDS and most of that stigma is because of under-education. 
Growing up as a gay man, I didn't understand what HIV and AIDS was - even after a few of my friends told me that they were undetectable, which, nobody really knows what that means until they have to come to terms with it, or until they've encountered it, you know? So me, being an under-educated gay man in the community, I can only imagine what other people outside of the community - non-gay, non-involved people think about HIV and AIDs. 
So the reason I love that foundation so much is because they support that cause and the education of HIV and AIDs, but they also support the Women's Health Initiative and outside causes. As well as the hurricane relief in Puerto Rico and more. They're really just there for anyone who needs help.
MI: Yeah, it's an amazing organization.
DB: It's always been so special because I thought, you know, there are other people who need help, and they were like, "Yeah, we got it covered." That was just really special.
MI: Hey Danny, I can't wait to see the musical - I'm so excited and really looking forward to it!
Thank you so much again for taking time out for a chat.
DB: Thank you!
MI: And see you in Chicago!
Based on the life story of seven-time GRAMMY® winning international superstar Gloria Estefan and her husband, 19-time GRAMMY® winning producer-musician-entrepreneur Emilio Estefan, ON YOUR FEET! will play Broadway In Chicago's Cadillac Palace Theatre (151 W. Randolph) for a limited three-week engagement March 21 through April 8, 2018.
Gloria Estefan has sold over 100 million records and sold out stadiums around the world. Emilio and Gloria Estefan together have won 26 GRAMMY Awards® – but their music is only half the story. From the heart of Havana to the streets of Miami came a cultural phenomenon unlike anything the music industry had ever seen. ON YOUR FEET! is the new Broadway musical that follows the Estefans' journey to superstardom, set to their chart-topping, smash hits, including "Rhythm Is Gonna Get You," "Conga," "1-2-3," "Get On Your Feet," "Mi Tierra," "Don't Want To Lose You Now," and "Reach," in addition to an original song written by Gloria and her daughter Emily Estefan.
ON YOUR FEET! is directed by two-time Tony Award® winner Jerry Mitchell (Kinky Boots, Hairspray) and choreographed by Tony Award nominee & Olivier Award winner Sergio Trujillo (Jersey Boys, Memphis), with an original book by Academy Award winner Alexander Dinelaris (Birdman, The Bodyguard Musical). The musical began its Pre-Broadway engagement in Chicago in June of 2015, and started performances on Broadway on October 5, 2015, with an opening night of November 5, 2015, at the Marquis Theatre in New York City.