A GoPride Interview
Michael Thomas Ford
Michael Thomas Ford interview with ChicagoPride.com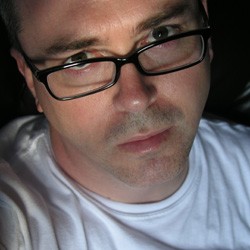 Into the Blue: The CP Interview with Michael Thomas Ford

This month humorist, essayist, novelist Michael Thomas Ford adds his new novel Changing Tides (Kensington) to his very impressive and popular body of work. In it, Ford once again showcases his talent for weaving fascinating characters and conflicting relationships while incorporating his real-life personal interests. For Ford aficionados, Tides will not disappoint.

Michael Thomas Ford corresponded with ChicagoPride.com about his exciting new work.

PJ: You've admitted that your latest book, Changing Tides, combines a number of your personal interests—marine life and scuba diving, and the work of Steinbeck. So, let's begin in the water. Where and how did your interest in scuba and all things marine originate and how did that transform into a book idea?

MTF: I've been fascinated by the sea since I was a child, when someone gave me a book about shipwrecks. I'm particularly drawn to how it hides so many things. It covers more than 75% of the earth, yet we know less about ocean life than we do about what's on the moon. I started diving when I moved to California seven years ago, because it seemed silly to live literally across the street from the ocean and not find out what was in it. I taught diving for a couple of years, and have dived all over the world. I'm happiest underwater, so it was natural to want to write about it. When I was thinking about a new book, I knew I wanted it to feature the ocean in some way, so I decided to make the main character a marine biologist.

PJ: Now for Steinbeck... What prompted your interest in making his life so key in this book?

MTF: Anyone who spends time in Monterey, where I do a lot of my diving, comes into contact with Steinbeck's work in one way or another. In many ways, he defined Monterey and it defined him. I read some Steinbeck in high school, but never appreciated him until I started reading all of his other novels a few years ago. To my mind, he, William Faulkner, and Flannery O'Connor are the greatest American writers. Faulkner is the best at writing about place, O'Connor about spirituality, and Steinbeck about what it means to be human in the most basic of ways. His work is deceptively simple, yet there is enormous love for humanity in it. As far as my novel goes, it just made sense to include him. I wanted to write a novel that included the sea, so I set it in Monterey. And I've long been curious about the relationship between Steinbeck and his best friend, Ed Ricketts, so I decided to pursue that as well, particularly because it parallels the journey of the main characters in the novel.

PJ: What about Steinbeck does most of the public not know about him?

MTF: Most people don't know that he was wildly insecure about his own work. He never understood the praise he got. Although he had moments when he did believe he was a good writer, he had more moments when he was afraid he would never capture in words the things he felt and observed about being human. When he received the Nobel Prize for literature, he remarked that they had given it to the wrong man.

PJ: In your novels, including Tides, your characters deal with, among other things, death as well as personal secrets. How much of your life's experiences played a part in their incorporation into your work?

MTF: Readers of my essay collections know that my life features heavily in my work. With the novels, I don't so much use specific events as I do the feelings that arose from those events. Any novel is really about an experience. How you dress up that experience can take any of many forms, which is why it always annoys me when people try to set 'literature' apart from 'genre fiction,' as if the underlying experiences of the characters are any different because they're orcs or werewolves or whatever. As for my own books, there are bits and pieces of me in each one, but none of the specific experiences—at least that I can think of—are directly from my life. I think life is all about discovering who and what we are, which often means revealing secrets and going into hidden places, so my books feature a lot of that. As for death, I do seem to have a fascination with writing about that. I don't know why, really, except that experiencing the death of someone close often precipitates self-examination and change.

PJ: Interesting. You also include sex (much to the pleasure of your readers). Do you find it difficult to write love scenes?

MTF: No, I don't find it difficult. I believe that the purpose of fiction is to capture our lives in story and reflect the experiences of the people you're writing about as fully as possible. Sex and love are important parts of life, and often are the things that drive us and influence who we are. I think to not write about those things is to ignore what it means to be human. After all, it's during sex, or in moments of love, that people show who they really are. When are you more vulnerable than when you're naked and expressing your truest desires? I always think it's funny when someone (usually a reviewer) complains that there's too much sex in a book. If we're writing about people's lives, why wouldn't we include sex?

PJ: How has your writing process changed over the years? Did it change with this book?

MTF: I approach writing in a fairly uncomplicated way. I sit down and I write. When I need a break, I take it. I used to get anxious when those breaks stretched into days, or weeks, or months. Now I know it's just part of recharging the brain, so I don't worry about it quite as much. But in general I have very intense periods of writing accompanied by lots of time spent doing seemingly useless things.

PJ: I know you have some adorable dogs at home, but do you have a home aquarium?

MTF: I don't have an aquarium, but only because they're so much work. I keep thinking about getting one, but then I remember that my partner and I haven't gone anywhere together in several years because one of us always has to be here for the dogs. We have five now, ranging in age from six months to 13 years, so someone is always at the vet, and finding someone who will stay here with them is not as easy as you might think. Each of the five has unusual personality quirks that make it difficult to leave them. But I suspect an aquarium is in the future.
Serving the Chicago gay, lesbian, bisexual and transgender communities. ©Copyright 2019 GoPride Networks. All rights reserved.