A GoPride Interview
Rita Rudner
Rita Rudner Gambles on Skokie
I paid attention to not being a comedian, and just concentrated on being who I was.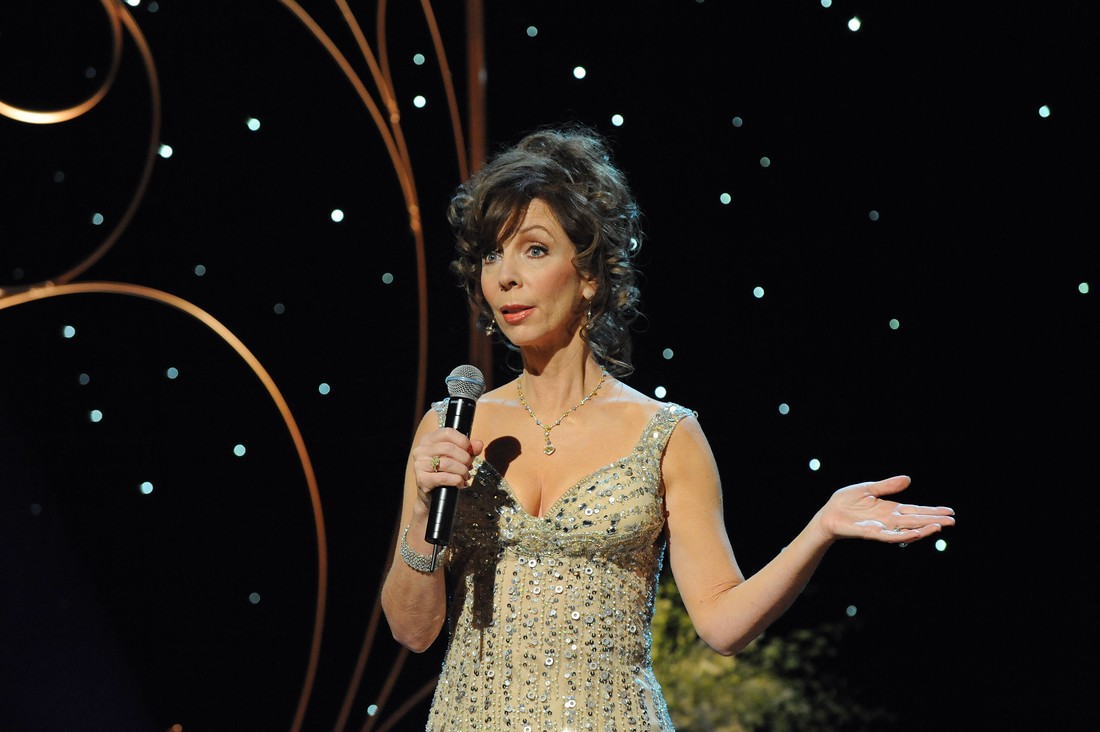 Comedian Rita Rudner takes her Vegas show on the road
Comedian Rita Rudner started her career as a Broadway dancer but found her calling doing stand up. For decades her career has grown into comedy specials and tons of TV appearances. 
She wrote the film Peter's Friends with the title character struggling with being HIV-positive. 
Rudner has written several books such as Naked Beneath My Clothes, and Tickled Pink. 
She has sold over two million tickets in Vegas show making it the longest running comedy show there. 
Pride called the funny lady up before her upcoming show in Illinois. 
JN: (Jerry Nunn: Hi, Rita. Where in the world are you calling in from today?
RR: (Rita Rudner) I am in Laguna Beach. If you hear things sawing and banging, we are having our doors fixed. It is not my husband because he is not a DIY. It is people with chainsaws doing things I don't want to know!
JN: Well, I hope your doors get fixed. 
RR: What happened was we built this house right on the ocean. When the rainstorms come such as the Pineapple Express from Hawaii we have no protection. We get a big lake in our living room. 
It might not rain here for another ten years, but when it does we are going to be ready. 
JN: It is raining in Chicago today. Have you performed in Skokie before?
RR: Oh yes. I think twice before. It is one of my favorite places, because it is right across the street from DSW and ULTA. There's also Marshalls and Ross Dress for Less. I could spend a week in Skokie! I like the discounts. 
JN: What are the current topics on your stand up tour?
RR: I am talking about things that are happening in my life, my husband, daughter, growing older, and not understanding technology.
JN: So you started as a Broadway dancer originally. Do you have a favorite Broadway musical?
RR: I went to see Company like 11 times. I used to get standing room all the time. I will sing it for you if you want. 
I did Follies, and that was also a Sondheim show. 
JN: Do you have a favorite Tonight Show or David Letterman moment?
RR: The Tonight Show would be when I got on. I auditioned for it for years. It was quite an ordeal getting on that show. I was cancelled a few times then there were three people that had been bumped a few times, so Johnny decided to have us all on the show finally. 
My favorite David Letterman has to be the firs time. All of a sudden I was on TV and saying things that I thought of, people were laughing, and it was very satisfying. 
I am just writing my autobiography and reliving all of those moments. I haven't gotten to the Carson show yet. I am just at Australia where I got together with my husband in the book. I have a lot to write about. 
JN: So this time out you are writing about yourself unlike your other books?
RR: Yes. It is much easier to write about things you have been through than to make it up. 
JN: What will it be called?
RR: So far it is called My Life in Dog Years, because my life can be connected to my four dogs. 
JN: What is the dog's name now?
RR: Twinkle. When I was growing up I had my German Shepherd Tiny, in New York I had a guess what dog named Agatha, for a long time my other guess what dog named Bonkers was in the show with me. 
JN: Is Twinkle coming to Chicago?
RR: No, Twinkle stays home. I am not putting Twinkle on a plane. He is coming to Palm Springs with me this weekend for my show there. 
JN: Palm Springs is the gay mecca of the world. 
RR: I love it, yeah. 
JN: So many comedians cultivate a gay following, such as Kathy Griffin. Why haven't you?
RR: I like whomever to come to my shows. I want people who want to see me to come see me. I don't want to force people. I don't want it to feel like a job! [laughs]
JN: So everyone's welcome?
RR: Oh, yeah. You come!
JN: I will be there. I have gotten to be friends with several comedians like Joan Rivers over the years so I will have to meet you. 
RR: I loved Joan. She was the best. I miss Joan. There aren't that many people who are such forces of nature that when their time is over on the planet no one can replace them. There is really an emptiness in the space. She was such a wonderful woman. 
Anytime I met up with her, she was so charming. I loved her energy. I used to sit in my dressing room and watch her on QVC. I would buy her jewelry. She was so good at it. 
JN: How did you develop your style of comedy? It is different than many others. 
RR: I paid attention to not being a comedian, and just concentrated on being who I was. That is what you have to do. If you say you are a comedian that has been done before. If you just be who you are then you are unique. Everyone is unique. 
JN: How long has your show been running in Vegas?
RR: 12 years. This was while I was raising my daughter while living in suburbia Vegas. I picked her up from school, and had play dates with three year olds. Instead of gambling I was putting her jukebox in her lunch for the next day. 
JN: Did you ever run into Cher in Vegas?
RR: I never did. Cher used to cancel a lot when she was at Caesars Palace. I was at Harrah's at the same time, so they would hold the show because they would all come over. 
I did see her show one time and I loved it. 
JN: You performed with Bette Midler and Sheryl Crow?
RR: That was very tricky because I am not known for political humor. I keep my politics out of my at even though I know I am right, especially now, people are so crazy. They will start calling me names, and I just want to be funny. I think people look at me and see where I stand. I am not really overly about it, but I lean a little to the left when I am telling my jokes. If someone asks me then I will gladly tell them. 
I was the emcee and I had to do 10 minutes of political material. My husband and I wrote it out. It was quite challenging for me. I was very happy I did it. I met the president. I got a picture with Bette, Sheryl, President Obama, and my daughter Molly. 
JN: I want to see that photo. Peter's Friends has been out a long time. 
RR: It sticks around, that movie…
JN: Would you ever do a sequel?
RR: It would be impossible to do a sequel. People have asked us over and over. Kenneth Branagh and Emma Thompson are divorced, Hugh Laurie is a big television star, and Stephen Fry is an entity unto himself. We couldn't do it again, but we have been notified that many countries have done plays of Peter's Friends. I think there was one in Rome, and France.
JN: So for the future you have your new book coming out?
RR: Yes, my autobiography. I do lots of shows. Martin just converted a novel we did Turning the Tables into a miniseries. It has been optioned by an English producer and they are casting it. They are going to take it out to studios like Netflix and Hulu. It is called Heaven Nevada. It is set in the casinos in Vegas. 
JN: Are you on social media?
RR: I wish I could do it. I have my Facebook page and will tweet something out if I think it is funny. 
My daughter does it. She's a singer/songwriter. Her name is Molly Bergman. She has a new duo that she is doing with her friend. I keep track of them. 
I think I am okay with how I am working things. I love doing what I do when I do it. 
My daughter is performing around the corner so I can go see her perform tonight. 
JN: Sounds like she is doing well at 14 years old. 
RR: I have spent a lot of money on her. I want to see some of that money back. There is no free lunch, come on. I am charging high interest rates!
Follow the laughs to Skokie at the North Shore Center for the Performing Arts, 9501 Skokie Blvd on April 21 at 8 p.m for a night of Rudner. Tickets can be found at www.northshorecenter.org. 
Interviewed by Jerry Nunn. Jerry Nunn is a contributing writer to the GoPride Network. His work is also featured in Windy City Times, Nightspots Magazine and syndicated nationally. Follow @jerrynunn