A GoPride Interview
Karen Fairchild
Karen Fairchild Makes Little Big
If you knew us at all just from the community in Nashville that is around us all the time, whether it is songwriters or people from management, yes one hundred percent gay friendly.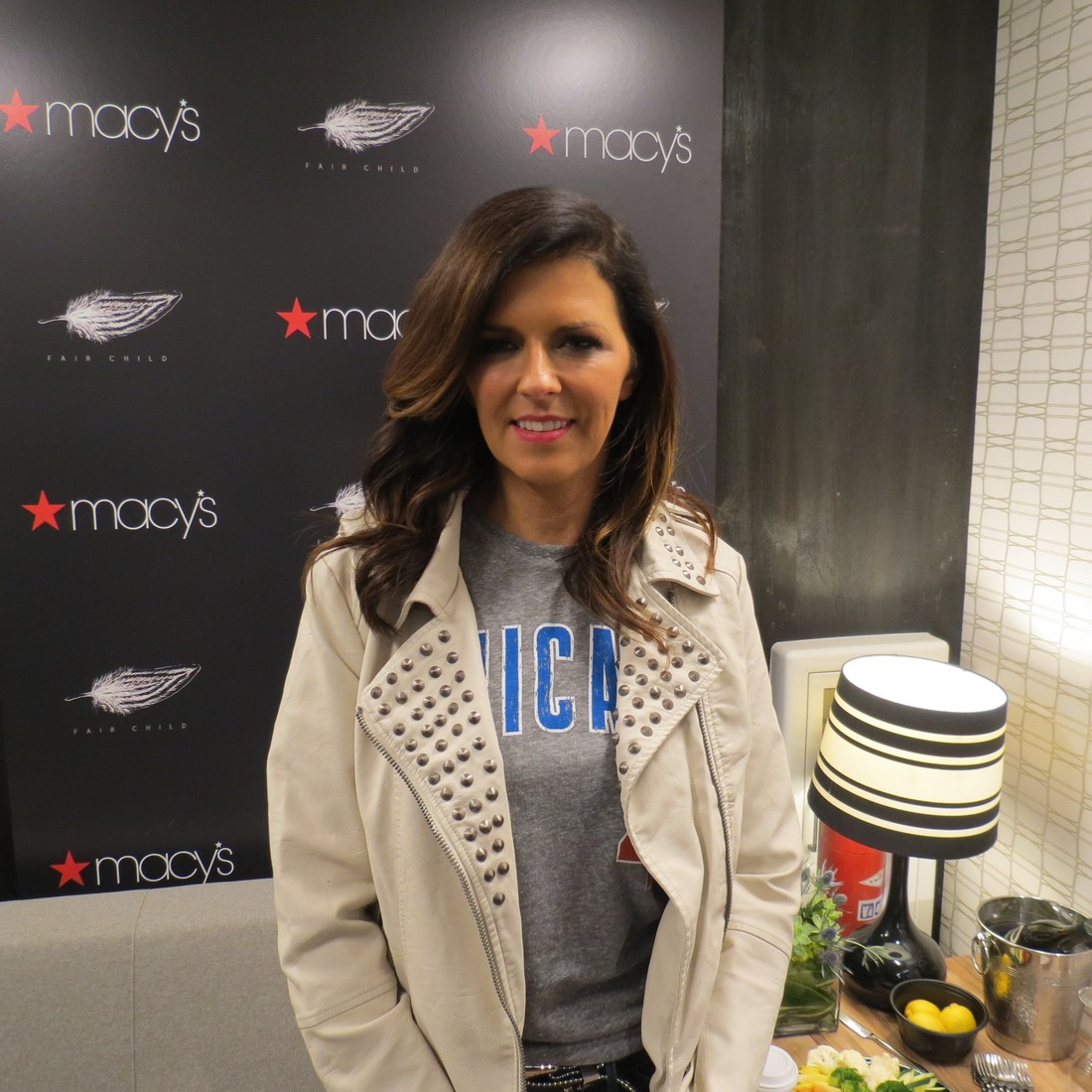 photo credit // jerry nunn
Little Big Town's Karen Fairchild brings fashion to Macy's
Country music group Little Big Town hit it big with songs like "Better Man" written by Taylor Swift and "Little White Church." The group is consisted of Karen Fairchild, Kimberly Roads Schlapman, Jimi Westbrook, and Phillip Sweet. 
They were inducted into the Grand Ole Opry in 2014 and have won several Country Music Awards over the years. 
Karen Fairchild launched her fashion line Fair Child and spoke about the project at a recent Macy's Water Tower Place appearance. 
JN: (Jerry Nunn) Start off with where are you from?
KF: (Karen Fairchild) I live in Nashville. I have been there for 18 years. I grew up in Griffith, Indiana. 
JN: I grew up in Nashville. 
KF: You did?
JN: Yes. Nashville is really growing these days. 
KF: It is crazy. There are cranes everywhere. 
JN: Is that how you got in Little Big Town?
KF: I started singing early. My dad sang. I moved to Nashville 18 years ago. I was singing demos for songwriters. I did whatever I could. We formed the band in late 1998. We have been doing this ever since. 
JN: You have a new song?
KF: It just came out and it's called "Better Man."
JN: Will you be going on tour with it?
KF: We are just finishing a tour with Luke Bryan. Our night in Detroit is the last night. We have been out since February on the Kill the Lights Tour. 
We are going to take Christmas off to breathe before we go out next year.  
JN: So you crammed in a fashion line because you were bored?
KF: I don't have anything to do [laughs]. No, I love fashion like I love music. I always have time for this. 
JN: Have you always been into fashion?
KF: I can't say I have always been fashionable because we all have hits and misses. 
JN: In Nashville especially!
KF: Growing up my mom was always put together. We used to go pick out fabric and make dresses for school. I think my love of texture and fabric came early on. I didn't want to have what everybody else had so I loved picking out Vogue patterns and having dress made. In high school it turned into making prom dresses. I would take a Vogue pattern and have a shoulder made from one pattern and skirt from a different pattern. 
That turned into fraternity parties in college. My good friend from Alabama was an incredible seamstress and I learned from her. 
JN: How did you get involved with Macy's?
KF: About a year and a half ago we launched Fair Child online with Evine. They are kind of like a home shopping channel. It went well and we were introduced to the Macy's folks. They were interested in what Nashville girls are doing. It is a mix of high low dressing and the love of vintage finds. It is pairing that with Saint Laurent and Givenchy. I think Nashville girls do that really well, especially now. They are not afraid to mix their favorite Levi's with their boyfriend's biker jacket. I think Macy's wanted to see what is happening in Nashville right now. Music, fashion, and real estate there could not be hotter. 
JN: Would you want to do a men's line?
KF: Yes, my husband would love that. 
JN: He could help you. 
KF: He has the perfect physique for suits. 
JN: You should have brought him with you. 
KF: I should have. 
JN: Is Little Big Town gay friendly as a band?
KF: Yes. If you knew us at all just from the community in Nashville that is around us all the time, whether it is songwriters or people from management, yes one hundred percent gay friendly. 
JN: Have you been to the gay bars Tribe or Play?
KF: No, I have not been, but my makeup artist goes over there. 
JN: My friend DJ Phil works there. [makeup artist says he knows him]. See? Everyone knows each other in Nashville!
KF: The whole band came out to the Macy's when we were in Nashville. 
JN: That is great that they are supportive. 
KF: Very supportive. I am so excited because it is my brand new baby collection. It is going really well. 
JN: Do you watch Project Runway?
KF: Yes. Kimberly and I judged last season on All Stars. I think I was more nervous about that than any singing gig. 
JN: It is not a huge room right?
KF: No, and it is intimidating, especially for the designers.
Interviewed by Jerry Nunn. Jerry Nunn is a contributing writer to the GoPride Network. His work is also featured in Windy City Times, Nightspots Magazine and syndicated nationally. Follow @jerrynunn