A GoPride Interview
Andre Holland
Andre Holland shines in Moonlight
The horror genre is fun but I'm not sure it is quite right for me.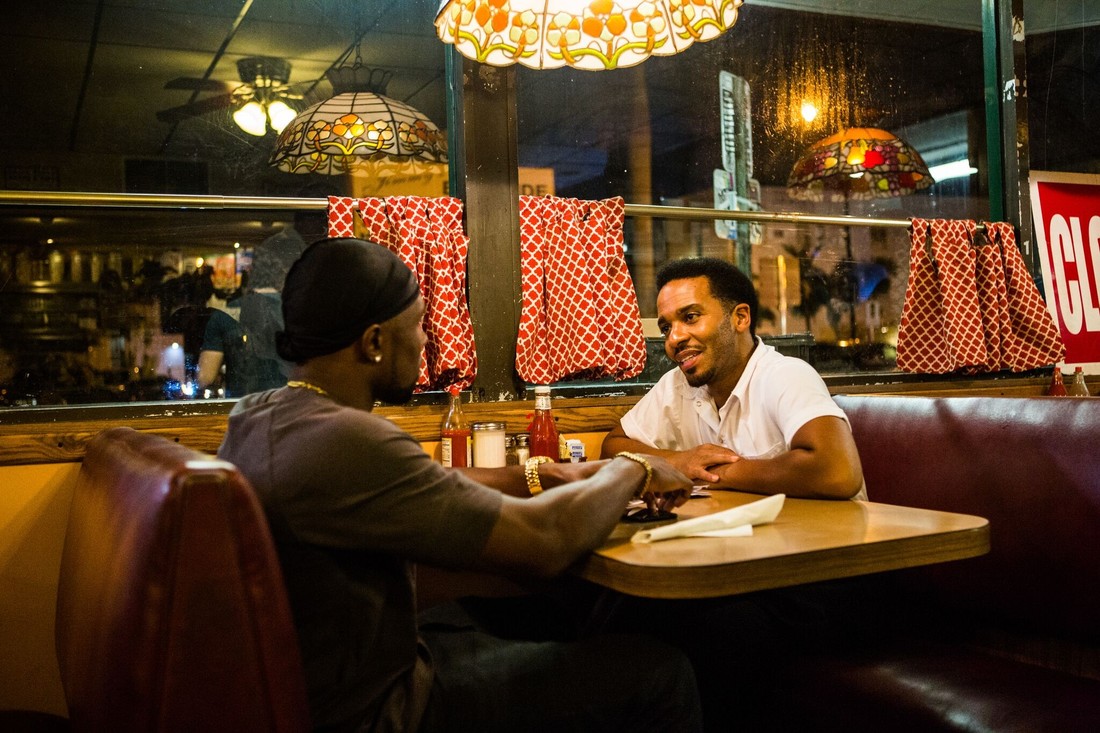 Talented actor Andre Holland discusses gay film Moonlight
Actor Andre Holland began his career in theater then moved to television and films. He's appeared on The Knick, American Horror Story: Roanoke, and 1600 Penn on TV. Movie credits include 42, Selma, and Sugar. 
His latest endeavor is Moonlight where he plays Kevin. It is the story of a gay person named Chiron in three stages of his life played by different actors. Kevin is a friend of Chiron's from the past. 
Nunn sat down with him to discuss the film at the Waldorf Astoria one afternoon. 
JN: (Jerry Nunn) How did you become involved with the Moonlight project?
AH: (Andre Holland) I have worked with Tarell Alvin McCraney, who is the play Moonlight is based on. He's a company member at Steppenwolf. I have done a could of his plays here. 
JN: I saw you were in The Brother/Sister Plays. 
AH: Yes, we did it at the Public Theater then workshopped it at Steppenwolf. We also did it in Atlanta at the Alliance Theatre, kind of all over…
JN: So that is how Moonlight happened?
AH: I have known him for ten years but the involvement with Moonlight came more with Barry Jenkins, the director. He was a fan of the show I did called The Knick. He was also with Plan B Entertainment, who produced Selma. That is how I got involved. 
JN: There are more Knick episodes coming?
AH: Yes, they are still going on. I am not sure what the storylines will be. 
JN: What made you want to do this role in Moonlight?
AH: I wanted to work with Barry. I am a big fan of his from Medicine for Melancholy years ago. Tarrell is my favorite playwright. I will do anything he asks. The characters were so clearly drawn and three dimensional. It was an easy thing to say yes to. 
JN: Literally it is three dimensional with three people playing them.
AH: Exactly. 
JN: Talk about your character Kevin. 
AH: Kevin is the childhood friend of Chiron, the main character. They have a very close friendship when they are ten years old. We meet them again as teenagers where they become sexually intimate with each other. In the third chapter, which is the part that I play, they are reunited and reconnected. 
In the second chapter there is something very violent that Kevin does to Chiron. The shame and guilt he has been carrying is what makes him reach out to reconnect. 
JN: Did you see the other scenes before acting in yours?
AH: No. Barry wouldn't let us. I wanted to. I went down a few weeks early to see some stuff, but Barry didn't want it. He felt that the character changed so much between those three chapters. He did not want any of us to outwardly mimic each other. He wanted us to go after the essence. He just cast the right people and framed things the right way. It led the audience to believe they were all the same person.  
JN: That is a different approach. 
AH: True. He just kept talking to us about it. He wanted the essence of the person. I think it was a good choice in the end. 
JN: Now that you have seen the film, would you want to do it differently?
AH: The first time I saw it I did. I wished I could go back and change some things but now after seeing it a second and third time I think it is perfect the way it is. 
JN: How did you prepare for the emotion that came towards the end of the movie?
AH: I had a cheat sheet because I knew Tarell. His movie is largely autobiographical. I knew about certain events in his life and some of the people he talks about. I had visited the place where he lived many times so I understood innately what that was. 
I went down and spoke to some of the people who lived in the neighborhood in Miami. At the end of the day I think my connection with Tarell is what helped me the most. 
JN: How important do you feel this movie is?
AH: It is really important. The way people are responding to it is something we never anticipated. We knew it was good but it is so diverse. The way people are reacting shows me that everyone sees themselves in it. That is groundbreaking. 
JN: I was ready to weep in front of a room full of straight critics. 
AH: Similarly people come up some older people that it is not their story but are just crying in our arms after a screening. They know what it was like to be bullied or struggled with their own identity trying to figure out who they are. It has really caught people's imaginations. 
JN: Do you think this movie will have the crossover appeal?
AH: I think so. It is that rare film that comes along once in a while that catches the zeitgeist. This movie is that. I certainly have my fingers crossed that it is. Everyone needs to see this movie. 
JN: What do you think will happen at Oscar time with such an ensemble piece?
AH: I look at it and young Alex Hibbert who plays the young Chiron gives such a beautiful performance. By the time you get to the third story there have been so many great performances that you forget this kid was brilliant. Everybody does their job. It really is a true ensemble. I wish that were a category at the Oscars. 
JN: Janelle Monae is turning into an actress. 
AH: She's killing it. She's even a better person. She's very down to earth and so cool. 
JN: How do you feel about the African American community accepting this film?
AH: Historically it has been a touchy subject, especially in the south where I am from, people don't really talk about it. If they do talk about it, it is often talked about negatively. Nowadays in light of the Black Lives Matter movement I think people should pay attention to these lives also. I think the Black community will really embrace the film. It is about us. It is real. 
There has been talk about there being a few stereotypical characters. 
JN: They may be worried about how people are perceived. 
AH: I think so. It deals with drug addiction, drug dealing, and single parenthood, but they are three dimensional characters. You understand where they are from and what they are trying to do with their lives. It is not a stereotype that has been pasted onto somebody. These are stories that come from Barry's and Tarell's mothers. 
JN: Yes the characters are based on real people. 
AH: It is real and that is the best answer. 
JN: Where are from in the south?
AH: Birmingham, Alabama. 
JN: My cousin is in Prattville. 
AH: She's just down the road!
JN: How was the experience of working on American Horror Story?
AH: The experience was cool. We had a good time. It was shot over the summer. It was fun to meet everybody. 
JN: Are they in cliques?
AH: Not to my knowledge. I was in and out to be honest. I came in, did my work, and I was gone. I didn't have many long days. I got a feeling that everyone got along great. 
JN: Maybe more on the show?
AH: I don't know. It might be one and done. 
JN: You never know with Ryan Murphy. He likes his regular cast. You could go on Scream Queens. 
AH: I want to shift my career back to shows like The Knick. I prefer the classic drama structure. The horror genre is fun but I'm not sure it is quite right for me. 
JN: What are your future plans?
AH: I am going to a play in the fall on Broadway. There will be a couple of movies in the spring. I think I will do another play in the summer. I am also producing and writing a bunch. 
JN: So theater is a big focus for you?
AH: It has always been a big focus. I have been away from it for the past few years. I want to get back to it!
Interviewed by Jerry Nunn. Jerry Nunn is a contributing writer to the GoPride Network. His work is also featured in Windy City Times, Nightspots Magazine and syndicated nationally. Follow @jerrynunn