'SuperHero: The Resistance' takes over the Aragon Ballroom, Aug. 12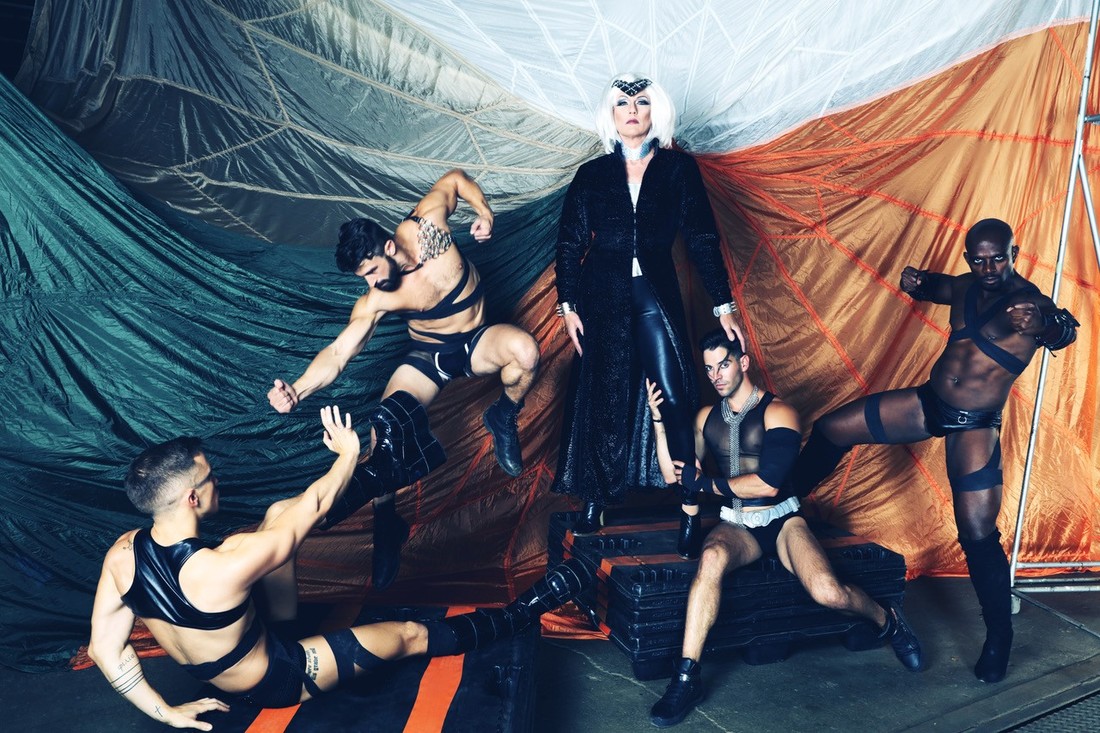 circuitmom's 'superhero: the resistance'
photo credit // bret grafton
CircuitMOM's famed Saturday night Market Days dance party is back on the North Side
Chicago, IL - It's a big year for
Matthew Harvat
a.k.a. Circuit MOM and Edwin Martinez's infamous Market Days party -- after 14 years they're returning to the
Aragon Ballroom
in Uptown for what is sure to be the biggest and best incarnation of the popular party yet. After selling out the last six years of Market Days shows at the
House of Blues
, Harvat is excited to bring "SuperHero: The Resistance" closer to the festival and to a true Chicago landmark where even more Market Days revelers can dance the night away.
"Since Market Days has truly become Chicago's 'gay travel and tourism' weekend, we felt it was time to take the leap of faith once again and move to the Aragon Ballroom," Harvat told ChicagoPride.com. "We are honored to represent our Chicago community with our efforts to create the best possible dance party for the Saturday night main event. Plus, by partnering with Anthony DiFiore from Neverland and his Friday night party and Ric Sena from Alegria for his Sunday night event, the weekend really has become a fun way for people to experience Chicago's amazing summer season."
"This will be the first time most people will walk into the Aragon Ballroom," he continued. "When our guests hit the top of that grand staircase and turn to see the full venue, the magnitude of the space is breathtaking."
The change in venue means that the party's capacity is jumping from approximately 1200 to 4500, with Harvat and the Circuit MOM crew ready to entertain the thousands of Chicagoans and out of towners (according to online ticket sales data 85% of partygoers are visitors to Chicago) that flock to our fair hamlet for Market Days each year. Harvat has seen Boystown's summer street festival grow and evolve over the past 25 years and his party continues to grow alongside it.
"I worked my first Market Days weekend back in 1992 when I was a manager at Roscoe's," Harvat recalled. "The fest was so much smaller then, but I noticed that once the booths closed at 10pm, even back then, there was nowhere for the bulk of the people to go. All the bars were bursting at the seams, leaving 1000's of people waiting in long lines to hopefully get in at some point."
Harvat started the CircuitMOM brand in 1997 and in two years had been featured at IML and Gay Disney in Orlando and was producing large production numbers at G.L.E.E. Club on Sunday nights at the now-closed Crobar. In 2000 CircuitMOM threw their first Market Days dance party at the Park West Theater -- re-creating their five biggest shows as a 45 minute production number dropped into the middle of a six hour dance set from DJs Pete Crow and Warren Gluck. From that first sold-out crowd of 900, the party continued to be a success, moving to the old "Convent" space with a capacity of 1400 in 2002 and on to the Aragon in 2003.
After the Aragon CircuitMOM took a break from creating massive weekend-long productions to focus on their floral and event business. Unable to stay away, the team returned to Market Days in 2011 with a party at the House of Blues, where Harvat had been producing other parties, including some IML's best known bashes, since 1999.
In 2012, Harvat gave the party a superhero theme, thinking it a great way to get people to dress up in costumes. He had no idea how enthusiastically the crowd would respond, creating a tradition that he's excited to continue this year.
"People went crazy with their elaborate costumes that rivaled any Halloween party we'd ever seen -- it was awe inspiring," Harvat said. "We did two other themes the following years, but our guests kept asking for the Superhero theme to come back. In 2015, we added a sub-theme to Superhero and once again, the crowd delivered, so we have kept the theme going."
This year, throngs of villains and superheros of all stripes and colors will dance amidst the grand staircases and 57 foot ceilings of Uptown's Aragon Ballroom, a Moorish-style palace built in 1926 with an exquisitely decorated interior modeled after a Spanish village. The space comes with its own unique challenges, of course, such as having to bring in every single piece of equipment -- every light, speaker, cable and piece of staging right down to the last coat rack. This gives Harvat and his team the license to create from the ground up -- a somewhat daunting task, but if anyone is up to the challenge, it's CircuitMOM.
For the very first time, they are creating a party "in the round," with a massive center stage where performances will be featured, surrounded by dance floor on all sides. A 35' x 40' light truss is being brought in to hang over the dance floor and partygoers can expect the mind-blowing visuals and fabulous shows they love in CircuitMOM's massive productions from 10 pm "until the last note of music is played at 3:45 a.m.," Harvat says.
That music comes courtesy of the DJ super duo of Joe Gauthreaux and DJ Grind. Both DJs are legends, spinning at and headlining every major event of the party circuit over the last few years, inspiring crowds with the pulsing beats and soaring vocals of their dance remixes. DJ Joe Gauthreaux first spun for CircuitMOM's Market Days party 15 years ago back in 2002.
"This will be DJ Joe Gauthreaux's fifth time out of eight Market Days events to spin for us and we could not be more excited," Harvat said. "His energy and dedication to the night is incomparable. We have wanted to work with DJ Grind for many years but our schedules never worked out. This year, these guys set out on a mini tour together as a DJ duo and we were lucky enough to get them for our event. Plus, it was a no brainer for the theme! Batman and Robin coming to spin."
As if that weren't enough, CircuitMOM is also making a return to the stage for the first time at Market Days since 2003, when the show was last at the Aragon. So grab some latex, stock up on body paint and start making your mask, because the superheros and villians are descending on Uptown this Market Days!
There are three ways to get your tickets to this fabulous party. You can grab your tickets in advance at
Cram Fashion
, 3329 N. Broadway, in Lakeview, or find CircuitMOM's booth near the corner of Halsted and Cornelia during Markey Days. Tickets are also available online at
www.circuitmom.com
. New this year, VIP tickets offer guests access the only second floor balcony to view of the entire event, plus their own club space within the venue as well as express access to the venue and the first look at the entire party before the general admission ticket holders.