Out at Wrigley, Chicago Cubs official gay day this Saturday, July 25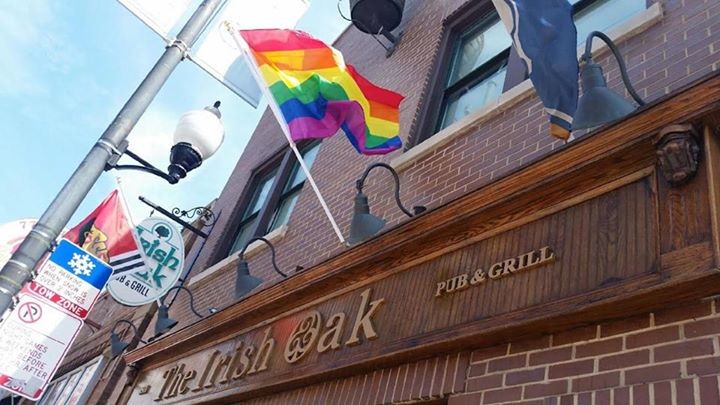 the irish oak hangs rainbow pride flag for oaw
Chicago Cubs vs. Philadephia Phillies, Out at Wrigley
Chicago, IL - This Saturday marks the 15th anniversary of Out at Wrigley, the largest annual lesbian, gay, bisexual and transgender (LGBT) sporting event in the country.
This year's game, which pits the Chicago Cubs vs. the Philadephia Phillies Dodgers on Sat., July 25th, offers fans the opportunity to purchase VIP Budweiser Patio seats for $162.00. The field terrace reserved tickets for $57.00 are sold out.
Tickets are available online at
OutatWrigley.com
.
"We're hitting this event out of the ballpark," said event organizer Bill Gubrud. "This year, in addition to newly added amenities your VIP ticket will get you at the park, many of the local sports bars are waving gay pride flags to support LGBT in mainstream sports and to commemorate the day.
A sprit of Pride in Wrigleyville
"We happily support the LGBT community and are proud to show our support for them in any way we can," said Jennifer Niehaus, event coordinator for Deuce's (3505 N Clark St) and Casey Moran's (3660 N Clark St), both of which will be flying the rainbow flag.
Vines on Clark (3554 N Clark St), Sports Corner (956 W Addison), Cubby Bear (1059 West Addison), Murphy's Bleachers (3655 N Sheffield),
John Barleycorn
(3524 N Clark St), Moe's Cantina (3518 N Clark St), Old Crow Smokehouse (3506 N Clark St), Sluggers (3540 N Clark St),
The Irish Oak
(3511 N Clark St), Roadhouse 66 (3478 N Clark St) and Yak-Zies (3710 N Clark) are among other local businesses that will be hanging rainbow flags this Saturday.
National Anthem
As part of Out at Wrigley annual event this year, more than 50 performers competed during the early summer for a
once in a lifetime chance to sing the national anthem
on game day at the Friendly Confines.
"That moment last night is still so surreal," said D'Angelo Hampton, who won the national anthem competition during the final round on July 7th. "It won't hit me until I'm representing everyone on July 25th at the game. I still can't believe it!"
First Pitch
This past weekend, fans were also given the opportunity to throw the ceremonial first pitch at the ball game. David Siembal won the opportunity and will be throwing the first pitch at
Wrigley Field
this Saturday.
Tickets
Tickets are still available. Attendees have the opportunity to purchase VIP Budweiser Patio seats for $162 (price includes all food and beverage that is offered) or right field terrace (sold out as of this writing) for $57.00.
A new offering this year, the Bud Patio Ticket will include spirit options, including Spiced Rum, Whiskey, Vodka and Mai Tai's to go along with Budweiser, Bud Light, Red Bridge Gluten Free Beer, Goose Island, 312 Urban Wheat & 312 Green Line.
The all-inclusive ticket's food options include grilled Vienna hot dogs, grilled chicken sandwiches, cheeseburgers, veggie burgers, salads, nachos, Cracker Jacks, peanuts, cookies, and gluten free popcorn.