Chicago Cubs welcome Out at Wrigley to the Friendly Confines, August 26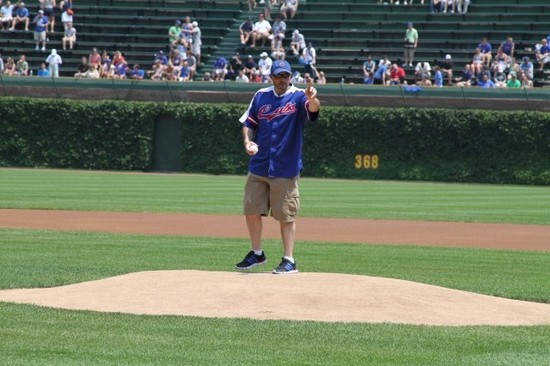 sean donnell throws the first pitch during oaw, 2011
photo credit // tim hite/mtm chicago
Out at Wrigley, the Chicago Cubs official gay day, is Sunday, August 26
Chicago, IL - On Sunday, August 26,
Wrigley Field
will be packed with over 500 gay and lesbian fans for Out At Wrigley, MTM Chicago's annual Gay Day at the Friendly Confines. Out at Wrigley, which was first held in 2001, brings Chicago's LGBT community together for a day of food, drinks and cheering on the Chicago Cubs inside one of the nation's oldest stadiums.
New this year, Out at Wrigley is taking over the Cubs' newly finished Budweiser VIP Patio, which was built over the old family section in the right field bleacher seats. For $130, these VIP tickets include unlimited food and drink, including Budweiser and Smirnoff products, starting at 45 minutes before the game. In addition to the 150 VIP tickets available, there will also be 400 seats in the two sections of bleachers directly next to the VIP section for $50 a piece. This will create a wall of queer fans, making it the first dedicated LGBT cheering section at Wrigley.
"This year we're trying to make it really big inside the stadium, so bring as many gay flags as you can because we're in that VIP section and then the bleachers section right next to it so as soon as someone pops a home run, a fly ball, anything up in the air, it's going to be be all over TV," Bill Gubrud, co-owner of MTM Chicago and the founder of Out at Wrigley, told ChicagoPride.com. "It's going to be the most exposure ever of any of the Gay Days there."
In 2000, Gubrud was working as the sales manager for the now-defunct
Chicago Free Press
. His first sale was for the Chicago Cubs' 70s night, making the Cubs the first professional male sports team in history to advertise in a gay publication. The following year, Gubrud talked to the powers that be about throwing a Gay Day at Wrigley, originally titled Out at the Ball Game. After the success of Out at Wrigley's first official year in 2001, similar Gay Days began appearing at baseball stadiums in Atlanta, San Diego and several other cities across the country.
In 2001, the Cubs were not doing particularly well and not selling out, so Gubrud was able to buy a block of 2000 tickets -- the largest group sale in the history of the Cubs. As the team increased in talent and popularity, nearly making it to the World Series in 2003, season ticket sales increased and Out at Wrigley was only allowed to buy 500 seats inside, supplementing this with the purchase of two rooftops in '04, '05 and '06. When the
Chicago Free Press
closed, MTM Chicago, co-owned by Gubrud and Tim Hite, adopted Out at Wrigley and continued the much-loved event.
According to Gubrud, the Chicago Cubs have been phenomenally supportive as the event continues to grow and sell out year after year. Cubs co-owner Laura Ricketts, who became the first out MLB owner in 2009 and partner of the recent launch of the Lesbian Super PAC, is a big supporter of Out at Wrigley and annually attends the event herself. The Cubs also invited the Out at Wrigley folks to ride on their float in the Chicago Gay Pride Parade since first participating in 2010.
"The whole concept of Out at Wrigley... was for gay people to go to a ball game and not have to hear the bigoted slurs," Gubrud told ChicagoPride.com. "Before this had started the word faggot and calling someone gay at the ball game and all that were not words that were banned at Wrigley Field. Since [Out at Wrigley] started, the minute that word comes out of the mouth, you're out of the park."
As part of Out at Wrigley, members of the LGBT community compete annually to sing the national anthem and throw the ceremonial first pitch on game day. Out at Wrigley hosts several pre-parties at bars and other venues throughout Edgewater, Lakeview, Uptown and Andersonville to help decide the lucky winners. The final round of the pitching contest takes place on Thursday, August 16 at Crew Bar and Grill, 4804 N. Broadway, where 20 finalists will gather to compete for the honor of throwing first pitch.
Gubrud said this year's singing contest had the fiercest competition and most talent yet, with
15 singers competing in the finals
at
Sidetrack
on July 10. The winner is 25-year-old Zachary Kropp, a student and server at T's Restaurant and Bar who currently lives in Andersonville, holds a degree in musical theatre and described himself to ChicagoPride.com as "a pretty average dude," whose list of favorite things includes cartoons, hot dogs, biking and vodka. Krop went on to say " there are plenty of other people that deserve this honor at least as much as I do, several of whom I competed against -- I tip my hat to them."
Out At Wrigley is always a community-oriented affair and this year's event is being sponsored by Bud Light, Found in Town, Crew Bar and Grill, Supergurl Images and the
Chicago Gay Men's Chorus
with media support from ChicagoPride.com,
Grab Magazine
, Time Out Chicago, OutInChi.com and the LStop.org. Gubrud also stresses that the event would not be possible without his amazingly dedicated committee, consisting of his MTM business partner Tim Hite, Jackie Weinberg, Zac George, Steve Milford, Brian Wells, Aaron Brost and Meghan McCallum. It's because of people like them, Gubrud says, that Out at Wrigley is the most attended LGBT event in professional sports.
"They call Wrigley Field the largest outdoor beer garden and on August 26th it'll be the largest outdoor gay beer garden," Gubrud joked, emphasizing that the VIP section especially will be one big Sunday Funday party.
Out at Wrigley takes place on Sunday August 26 when the Cubs host the Colorado Rockies, with first pitch at 1:20 p.m. Tickets are currently on sale for both the VIP and bleachers sections; they can be purchased online by visiting
www.outatwrigley.com
.