CircuitMOM is ready to party once more with two incredible Halloweekend parties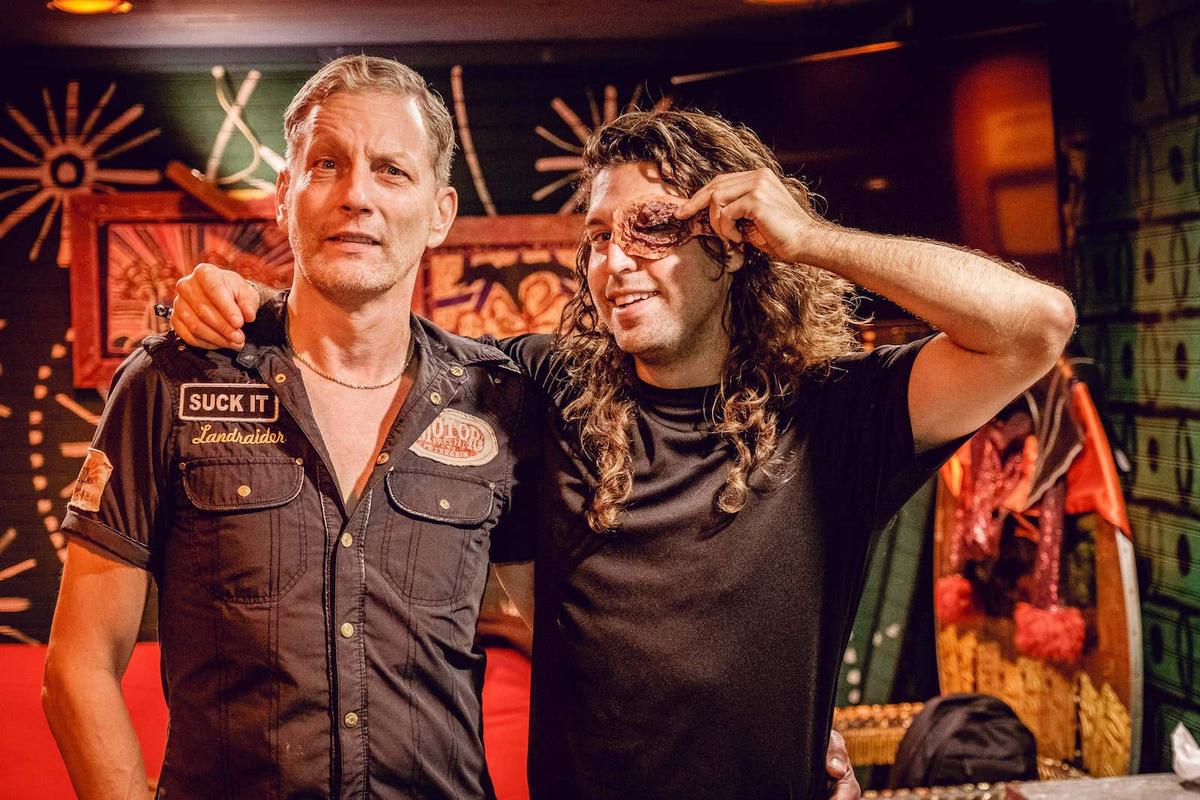 circuitmom and circuitson, 'slashers' party in 2021
photo credit // chris perardi
'There is a lot of creative freedom when it comes to a Halloween costume,' says Matthew Harvat. '… that is empowering.'
Another holiday is upon us and Chicago's LGBTQ community is ready to celebrate – with costumes and creativity unmatched.
Halloween is, seemingly, the next stop on the LGBTQ Party Calendar.
"As people get more and more into Halloween in general, I think Chicago is the perfect place to really amp up the offerings for the holiday with events for all age groups and segments of society," said
Matthew Harvat
, aka, CircuitMOM of Chicago-based CircuitMOM Productions, which is wrapping up its 25-year celebration in 2023.
"There is a lot of creative freedom when it comes to a Halloween costume and people can be anything or anyone they want for the night … that is empowering. Like other holiday weekends, Chicago, Boystown and all our colorful neighborhoods have so much to offer in the way of venues, parks, cultural centers, clubs, bars and more for Halloween. Our Chicago LGBTQ+ community never disappoints. The Halloween events in Boystown geared towards families and pets are fun to see and the Halloween parade is always a blast.  
"One day, I would love to host and produce my own massive party that takes over
Navy Pier
for Halloween with stuff for kids and families in one part of the pier as well as a huge dance party in the grand ballroom for the late-night partygoers. That would be a career highlight for sure."
CircuitMOM Takeover presents
I SCREAM
, the Charlie's edition, on Friday, October 27 at the Lakeview bar from 10 p.m. to 4 a.m., with DJs Mx Toto and Ana Paula.
On Saturday, October 28, CircuitMOM presents
AFTERLIFE
at the
House of Blues
, starting at 9 p.m., featuring DJ Suri and DJ Sam Gee.
"Halloween in Chicago gets bigger every year and I love it for our community, Boystown and the city," Harvat said. 
"This year has truly been an amazing time with so many events in different venues, different cities with new and renewed partnerships, new talents on our rosters and new looks and themes. Hard to believe it is almost over, but this gal is ready to sit down and reflect on how lucky I am to still be in the game and soak it all in. The support has been remarkable.
"We really love working with Charlie's. It is such a fun party right in the neighborhood and everyone is there to have a great time to kick off Halloween weekend. Plus, we are ecstatic to feature DJ Mx Toto in their first club gig with us and the phenomenal Brazilian DJ Ana Paula bringing her glorious beats from around the world to the Charlie's dance floor. Ana always delivers such a sexy vibe in her sets and we are so excited for this DJ pairing and for the always amazing Charlie's crowd.
"With AfterLife being our last dance party of 2023, we are pulling out all the stops. We are trying something completely different with decorations, set designs, shows and costuming."
Edwin Martinez, aka, CircuitSON came up with an idea for taking guests on a theatrical journey throughout the course of the night, Harvat said, not wanting to expand.
"After a few scheduling challenges over the last couple years, we finally have
DJ Sam Gee
on our stage here in Chicago to open the night. In a very short time, he has become a sought-after DJ both here and internationally, so it only made sense to pair him with one of our all-time favorites, DJ Suri from Spain. Suri has headlined for us for Market Days and Halloween before, and Chicago loves his energy and passion for music, his joy for life.  His recent turn as one of the headlining DJs for World Pride in Sydney this past summer has launched him even further into the top-tier of international DJ stardom, so we are very fortunate to have him back with us once again."
Related: 
Sam Gee is back for CircuitMOM's Afterlife party
 -
"CircuitMOM events are legendary; being part of one is a huge accomplishment," Gee told GoPride.com. 
Harvat confirmed that CircuitMOM Productions is bringing in their own sound system for Charlie's, along with a full light and laser show to make that smaller space feel and sound gigantic. For Saturday, the party will feature House Of Blues' new sound system and light show.
"Looking back on 2023, I am humbled by the outpouring of support and well-wishes for the past 25 years of chaos, glitter and shows that we have (produced)," Harvat said. "There is no way any of this would have lasted this long, had it not been for the army of people who have helped create this brand and keep it moving forward.  It is emotional to think about it all and I am beyond thankful for every moment."
And yes, there were plenty of memorable moments from 2023. Such as:
- "Being able to turn The
Aragon Ballroom
into Moulin Rouge during Market Days and doing a 25-year retrospective performance of some of my best shows," Harvat said.
- "Expanding our studio and warehouse to gain rehearsal space, build our own construction department and moving our floral company out of my basement and garages into a proper production space," Harvat said.
- "Consciously taking time to stop and be in the moment at every event we were involved with or produced, so I can file those in my memory for later in life.  There will come a time when my memories will be all I have and these will carry me through with great pride and happiness," he said.
Harvat said 2024 will include some new partnerships in other cities and a couple locations requiring a passport.
"We will definitely be shaking up our schedule of events and talent rosters in Chicago like never before because Chicago is home and we want to keep it fresh and keep people coming back," he said. 
So, what, or who, will CircuitMOM dress as for Halloween?
Harvat wouldn't reveal: "Let's just say, I am bringing an iconic moment from Schitt's Creek to life ... with a reveal, of course," he said.
The Best Places to Party this Halloween in LGBTQ Chicago