Ed Negron honored with memorial window at Center on Halsted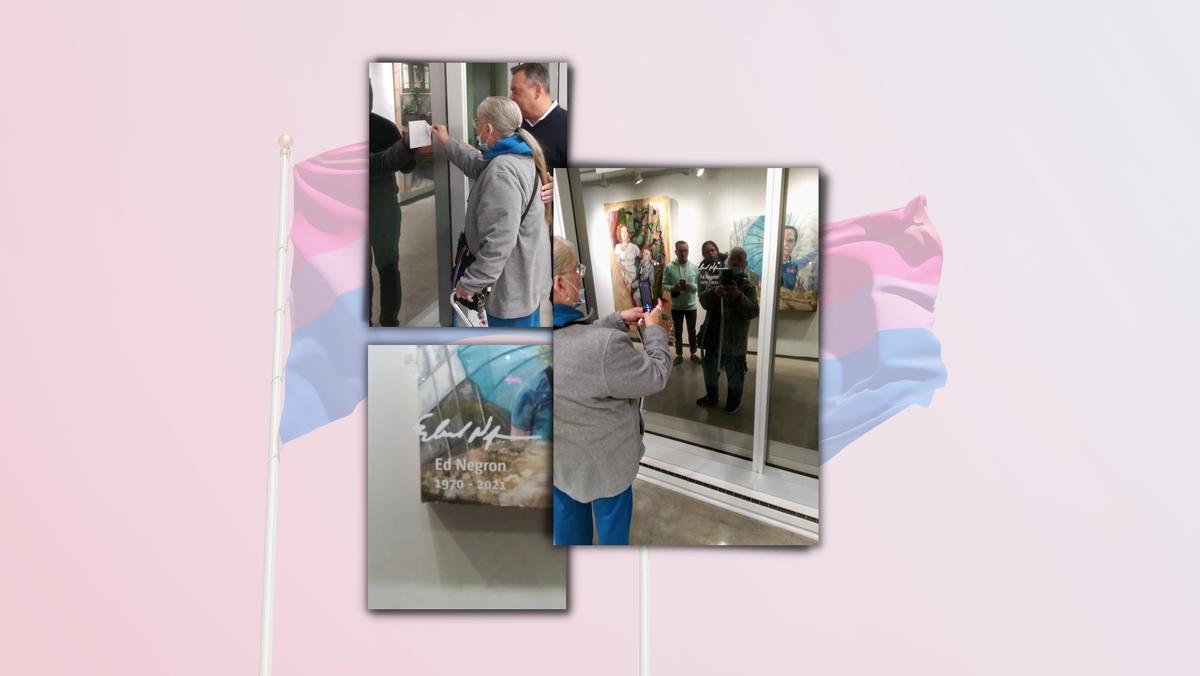 ed negron's mother helps unveil memorial window honoring son
photo credit // mikey oboza
Negron, an openly bisexual-identifying man, is an inductee of what is now called the Chicago LGBT Hall of Fame
Mikey Oboza, co-founder of Bisexual Queer Alliance Chicago, contributed this report
Family and friends gathered at
Center on Halsted
(COH) on November 23 for the unveiling of a memorial window honoring longtime bisexual activist and community organizer Ed Negron.
Negron died in late July of this year.
His funeral included a procession through what is popularly known as the "Boystown" neighborhood enclave.
Among the celebrants were Negron's mother Osnaida Rodriguez, sister, niece, nephew, coworkers, and other community members.
COH executive Modesto Tico Valle shared welcoming remarks and noted "the importance of the memorial window remembering those who helped make history."
Rodriguez and Valle then unveiled the memorial window featuring Ed Negron's name.
Negron's sister Monica Rodriguez helped organize the honor with COH.
"I wanted to have a small gathering for this, because I feel this is big. Center on Halsted was a big part of him. It's where he started," Rodriguez said.
Negron, an openly bisexual-identifying man, is an inductee of what is now called the Chicago LGBT Hall of Fame.
He is one of the most well-known certified alcohol and drug abuse counselors in the metropolitan area and advocate for people recovering from substance abuse.
Some have hailed him a hero for coming out as a former gang member and drug dealer, helping others out of similar situations.
He was a veritable presence at LGBTQ, HIV/AIDS, and Latinx rallies and events, sometimes speaking on their behalf or capturing the events on camera as a professional photographer.
This was especially true when it came to Puerto Rican community events. He was a proud Boricua.
Apart from his photography, counseling work, and activism, he was also a U.S. Army veteran, and recipient of a White House challenge coin.
Bisexual Queer Alliance Chicago (BQAC) remembers Negron as one of its co-founders.
Fellow co-founder Mikey Oboza was in attendance.
"I'm speechless and grateful Monica shared this moment with me," Oboza said.
He also shared that having the honor at Center on Halsted is meaningful.
"Especially since BQAC had our first meeting at COH on October 16, 2010," he explained.