BG Pride Drive kicks off Sunday, June 6 for 3-hour rainbow-filled celebration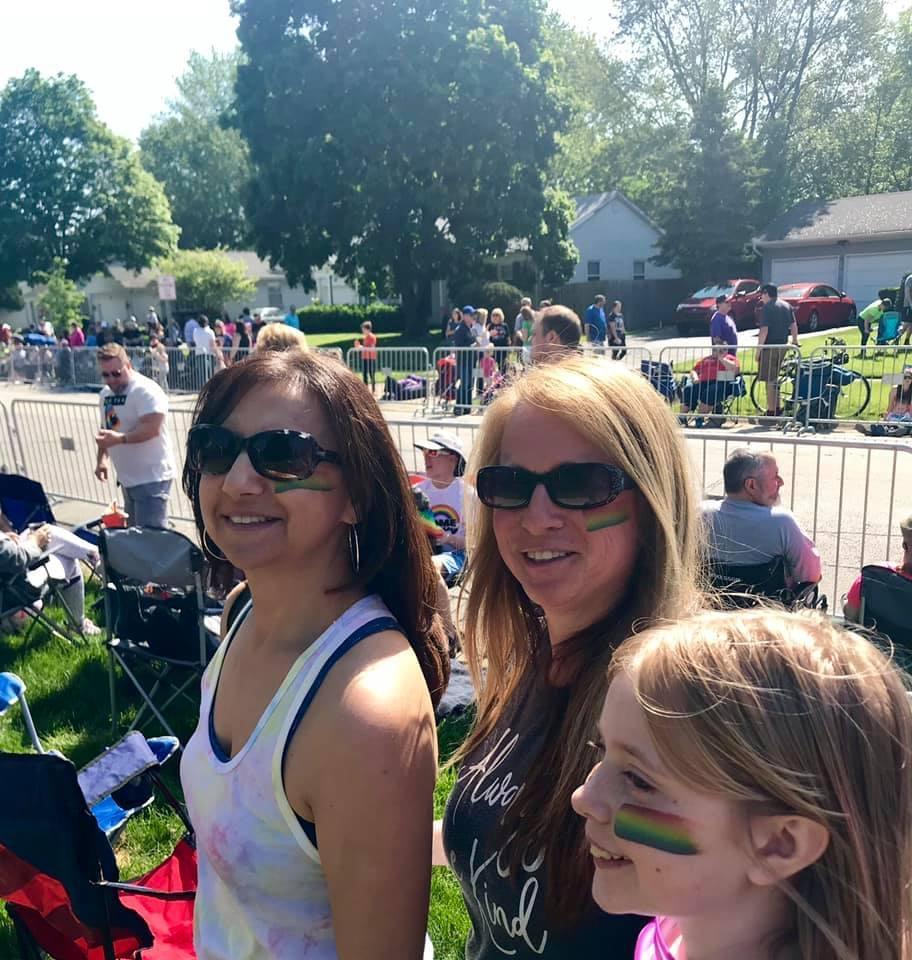 jacobs family at 2020 bg pride drive
'The 2021 BG Pride Drive continues to spread the message to our youth that Buffalo Grove is a kind and loving place for all,' says Drive participant Jen Jacobs
There were a lot of cars participating in the 2020 BG Pride Drive, held last June during the COVID-19 pandemic in northwest suburban Buffalo Grove to replace the city's cancelled Pride Parade. Lots Of Cars.
There even were some walk-ups, recalled Buffalo Grove resident and participant in the 2020 event Bill Eisenstot, whose daughter came-out to Bill and his wife, Robin, when she was in college.
The
2021 BG Pride Drive
, a 3-hour rainbow festival, is set to kick off this Sunday, June 6, starting at 12noon.  This year will be even bigger than 2020 – with even more cars expected.
"We are excited and happy to be a part of this event, happy at the outpouring of sponsorship this year," said Eisenstot, 58. "We've added more decorations and a sponsor, including more educational (elements), not just colorful.
"It's great that so many homes, people, businesses, and sponsors have engaged to make this bigger and better," than 2020.
Eisenstot said the continued success and growth of BG Pride events, now in their third year, shows that Buffalo Grove and the surrounding area is "inclusive, accepting and a safe place to be your authentic self."
Eisenstot said his home will feature a DJ, a drag queen and more. There also will be an inflatable rainbow arch, an 8-foot inflatable unicorn and an array of colorful balloons from gay-owned Balloons By Tommy, and more.
"We were overwhelming and emotional (last year) – it warmed our hearts to see and feel the reception," Eisenstot said. "We expect more of the same this year.
Morgan Eisenstot, Bill's daughter, has presented at a previous Pinta Pride Project fundraising dinner, and given a TEDx talk while at the University of Texas.  She was unable to attend last year, but did march in the 2019 BG Pride Parade, and she is here for the 2021 event.
"The 2020 Pride Event was so amazing," said Jen Jacobs, who has two children who are part of the LGBTQ community. "We attended the BG Pride Parade in 2019 and were worried about what would happen in 2020 due to the pandemic. The Pinta family did an incredible job of pulling the community together for the BG Pride Drive. So many families opened their hearts and homes for the BG Pride Drive."
And many youth came-out at the 2020 Pride Drive.
"The best part of the day was watching neighbors, friends, and family members come together to celebrate. The Pinta Family has made Buffalo Grove a kind, welcoming, and inclusive place to live in," Jacobs said.
"The 2021 BG Pride Drive is going to be even more fabulous than last year. There are more homes, more sponsors, and more entertainment. Our house will be sponsored by Evolution Body Arts. We will have Princess Anna and Olaf from Frozen visiting, and there will be opportunities for pictures."
Jacobs' home also will feature three family-friendly drag queens.
"The 2021 BG Pride Drive continues to spread the message to our youth that Buffalo Grove is a kind and loving place for all," Jacobs said. "Last year's event flew by. Our goal for this year is to live in the moment and enjoy every part of this spectacular day.  It is so amazing to live in a community where love is the focus. We hope the spirit of inclusion and welcoming for all always remains in Buffalo Grove."
Jacobs youngest child, Esther, 13, identifies as nonbinary – and Carolyn Pinta of the BG Pride Drive organizing committee is one of Esther's teachers.
"The Pride Parade is all about love and pride for all.  The Pride Drive is going to be really fun this year," Esther said.
More:
pintaprideproject.com/pridedrive
Related: 
Pride is back in 2021! Everything you need to know for Pride month in Chicago