Buffalo Grove Pride Drive on Sunday to honor George Floyd, support Black Lives Matter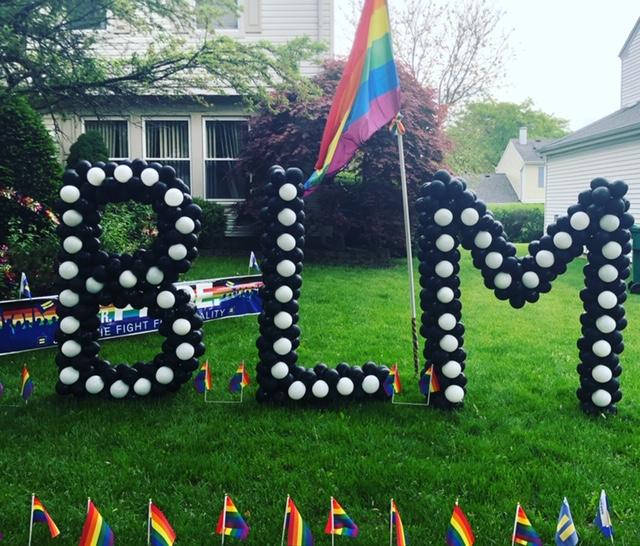 buffalo grove pride drive on sunday to support blm
Rainbows will fill Buffalo Grove on Sunday as 2020 Pride month takes on different look
The parade has been canceled, but not the pride.
The 2nd annual Buffalo Grove Pride Parade, scheduled for Sunday, June 7 in the northwest suburb, was a casualty of the coronavirus pandemic, but organizers simply re-routed the rainbows.
The BG Pride Drive is Sunday, June 7 – a parade around town, in your car.
Residential lawns will be decorated with pride decor, balloon art and more. There will be plenty of high-energy music in BG and an endless sea of rainbows.
The event is scheduled from noon to 3 p.m., with close to 100 homes participating, plus numerous local businesses.
"We are over-the-moon thrilled with how many people are involved and pumped," for the Drive, said Carolyn Pinta of The Pinta Pride Project – organizers of the BG Pride Parade and now also the BG Pride Drive.
"A lovefest is so necessary; there is too much hate."
Pinta confirmed the Pride Drive will honor George Floyd and stand firmly behind the Black Lives Matter movement.
"I have connected with a young lady in Mundelein who started a BLM group," Pinta said. "Their teens are making signs of support for our homes to display. This group also has been invited to partner with some of our homes to have representatives on the lawn to engage others to join."
Pinta's home will have large BLM balloon letters, not just rainbows.
Two of the participating families on the route are mixed couples, with a black and white parent. Pinta said there will be rainbow BLM shirts along the route.
"We are open and welcoming to any peaceful group supporting BLM, and will find a spot for them on the route," Pinta said.
About 40 local businesses partnered with local families on the route to show support – and five businesses are on the route.
"With all that's gone on over the past week-plus, we certainly need some love. We need love, acceptance, and (a) loud, proud denouncement of hate," Pinta said. "We hope that all attendees feel the love and are inspired to pay it forward by being kind to others. We also hope that folks will bring donations for the food pantries that we are supporting through the event, (with) either goods or monetary (donations)."
Many houses along the BG Pride Drive route will be collecting non-perishable food items for the Wheeling Food Pantry and the Vernon Township Food Pantry. Fifty percent of all monetary donations made on the day of the Drive will be donated to the Vernon Township Food Pantry.
When asked how the Drive will be deemed a success, Pinta laughed and said, "No fender benders." She added: "The Drive will be a success if all involved feel loved, accepted and appreciated; and if hundreds of parents are able to continue the conversation (that) love-is-love with their (children) and how loving who you want to is a normal, natural part of life."
Two of the near-100 homes are in neighboring Arlington Heights, though close to the BG border.
Most of the families participating have children who are helping to decorate their homes, Pinta said. Buffalo Grove-based Aptakisic Jr. High, a local school, is on the route and will be decorating its sign.
"Seeing the joy on the faces of (youngsters) and knowing that, by participating, the parents are teaching love and acceptance … that is the best part," Pinta said.
"Folks are rightfully (still) about COVID-19, (so) we have taken as many precautions as possible and, as always, are working closely with the village to create all of the rules and regulations to keep people safe."
Congressman Brad Schneider is scheduled to participate. Nina West sent a promotional video for the Drive, as did out IMPACT Wrestling star Kiera Hogan.
For more information about the BG Pride Drive, including a map and addresses for participating homes, go to:
pintaprideproject.com
.
Related:
Pride special on ABC 7 to celebrate Chicago's LGBTQ community, June 28