A GoPride Interview
Greg Alsop
Police force: Tokyo Police Club's Greg Alsop on the band's new album
People are a lot less interested in bands that sound timid, cute, or precious.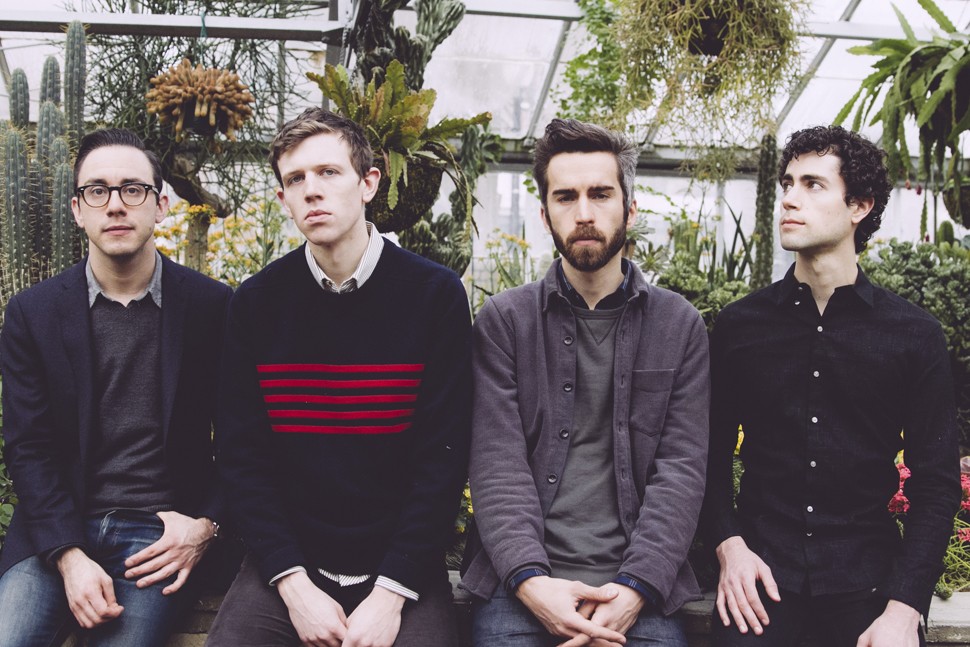 tokyo police club (greg alsop, right)
photo credit // andrew strapp
The band Tokyo Police Club is bringing their Canadian rock sound to Chicago this week. Made up of David Monks, Graham Wright, Josh Hook, and Greg Alsop, the group formed in a basement after a previous group disbanded.

Tokyo Police Club quickly gained attention from playing festival's like Coachella and Chicago's own Lollapalooaza then opening for notable acts such as Weezer and Foster the People.

For an episode of Desperate Housewives they made an appearance for a battle of the bands contest calling themselves Cold Splash.

Police Club's latest endeavor Forcefield released last month brings new music and a new attitude.

Jerry Nunn talked with drummer Greg Alsop about the new album and returning to Chicago.

JN: (Jerry Nunn) Hi, Greg. So you are a native Canadian?

GA: (Greg Alsop) I am. I was born and raised in a suburb of Toronto, Newmarket Ontario.

JN: I'm actually going to Toronto for World Pride this year in June.

GA: Pride there is a blast in Toronto. It is an insane party all up and down Church Street. Bring lots of water and wear sunscreen! Does Chicago have a good Pride?

JN: People come from all over the surrounding areas so it is huge.

GA: Oh, it's the Midwest so I guess it would draw from around there.

JN: Are there any gay members in Tokyo Police Club?

GA: No. We are all in long term relationships with a member of the opposite sex.

JN: Well, obviously open minded being from that area in Canada.

GA: A hundred percent. I have close connections to all sorts of people. Toronto is a very liberal place where I grew up. Newmarket is a very open minded town to a point. You definitely see high school boys calling each other gay in a derogatory way in that area but I see changes when I go back there.

My mom was a high school teacher and I went to an arts school. As far as I see it's a very progressive minded place. I hope it just continues like that.

JN: The band members were born in the eighties?

GA: Yes, I was born in 1985. They are all '87.

JN: Does that influence the music? I hear a lot of '80s sound to it.

GA: I think I am rediscovering the '80s right now. The '80s have become the retro movement of choice with bands like HAIM or Chvrches, even the St. Vincent record feels like Prince and late '80s. Some people I like listening to are Phil Collins or Janet Jackon's Rhythm Nation.

JN: That's a good one!

GA: It's amazing. The sounds they were coming up with back then were really cranking it.

JN: Totally. This new album Forcefield seems a different sound from the last one Champ. How do you describe it?

GA: Hopefully it sounds like a rock record. I am not saying the other two didn't sound that way but I think we were trying to fit into the indie rock paradigm a lot on the last two. It was kind of what the sound was and the world that we were a part of. The room for bands like that is slowly diminishing as we leave the 2000s. People are a lot less interested in bands that sound timid, cute, or precious. I am hoping this sounds more like a rock record than an indie rock record.

JN: It sounds smoother, maybe more money was spent on this one?

GA: It definitely didn't cost more than Champ. Champ was the most expensive record ever. We recorded it in Los Angeles and were signed to a bigger label with a bigger budget. They flew us out and put us up. We recorded that record in three months.

For this record we did it out of pocket. We were in between label deals at that time. We ended up going back with the same labels. We financed six and half months of recording in Toronto. It took a long time. I am not saying it was cheap but Champ definitely took the cake as far as budget.

JN: I love the behind the scenes. I saw you guys perform Champ at Metro in Chicago.

GA: Really? I love that venue. Thanks for coming out. That was a good show.

JN: It was. You are performing at Lincoln Hall here next. It is a really nice venue.

GA: Chicago has amazing venues. Everywhere we have played there I have been really impressed with no matter size or location. When we first played there we played Schubas. That is one of the best sounding rooms in the continent. It sounds incredible especially for a place that size. It sounds big but you can really turn a band up and still sounds warm in there. Not to mention the food around there.

We played at Subterranean, Metro dozens of times, and last time were there with the Foster the People it was at Congress. Chicago has always been a good place to play. We are very excited to go back there.

JN: Foster the People are one of my favorites.

GA: It was just when "Pumped Up Kicks" was getting huge so an incredible tour to be on. They are great band to watch to see how a band can pull off something like that. They have a really solid live show. It was cool to learn from them as well.

JN: How was it being on Desperate Housewives?

GA: That was a blast! It was great. Our friend Paul Bullock was a writer on that show. He was Marc Cherry's personal writing assistant for a long time. They needed a band and they just pitched us. We had been on set a couple of times before just hanging out with him in LA. It was a wild thing to do. We were flew in for a few days while in the middle of our tour. We were in the ABC lot at Universal Studios so we were outside in costume. Tour groups would go by on their trolleys and thought were real celebrities. They took pictures of us but we told them we were literally almost extras on the show. We were thankful to be a part of their vacation [laughs]!

JN: I watched the video for "Hot Tonight" with the old arcades in it. Do you have a favorite video game?

GA: I like Mario Bros. I didn't have a lot of video games growing up. I never had a console system but when I went over to friends house that was what we ended up playing, Mario part three.

JN: There are a lot of bars featuring these retro video games these days like the Mario Bros.

GA: They are great games. It is cool to be able to do that. It is nice to have a distraction like that when you are drunk. We can always play Asteroids for a bit. The games from the early '80s are really tough like Galaga or Dig Dug. They are way more difficult than anything that you find these days. They are endlessly frustrating so you keep drinking!

JN: Talk about the song "Toy Guns."

GA: That song started with the verse and was forgotten about for a while because it didn't have that next thing and sounded like a pop punk song to us. We wrote it and forgot about it for months until that chorus just came out of nowhere. It took the song and made it bigger. It turned out better than it was. I really love Dave's lyrics in that song. I am the last person to ever listen to lyrics in music. It is not what I am instantly drawn to.

While we were getting ready for the release of this record we signed a bunch of the inserts that go into the CDs so I started reading them. I think more than any other record I am impressed by what he has come up with because they are very personal. Anyone can relate to these lyrics and for me they really resonate.

JN: I look forward to seeing you all play live again.

GA: See you at the show and it has been great talking to you!

Tokyo sets it on fire at Lincoln Hall on April 17.


Interviewed by Jerry Nunn. Jerry Nunn is a contributing writer to the GoPride Network. His work is also featured in Windy City Times, Nightspots Magazine and syndicated nationally. Follow @jerrynunn
Serving the Chicago gay, lesbian, bisexual and transgender communities. ©Copyright 2019 GoPride Networks. All rights reserved.