A GoPride Interview
Noelle Scaggs
More Than Just a Dream: Noelle Scaggs of Fitz and the Tantrums
We just tried to write songs and make them as strong as possible.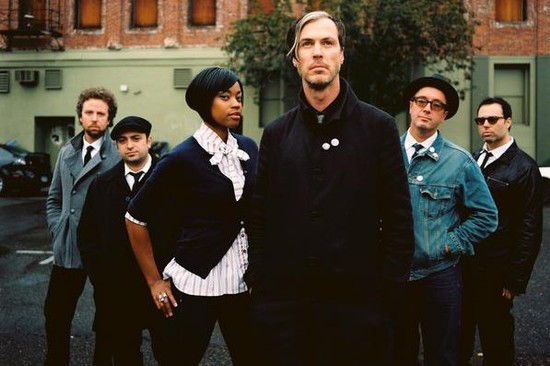 photo credit // fitzandthetantrums.com
One of the biggest breakthrough artists of 2012, Fitz and the Tantrums, have returned with their sophomore album, More Than Just a Dream.

Formed in 2008 by Michael Fitzpatrick, the LA-based band came together with mutual friends and a dream. Since their first show, Fitz and the Tantrums have made it to the main stage after endless travel that included opening for Maroon 5.

The band, made up of six talented musicians, recently played two back-to-back, sold-out shows at Chicago's Metro. That's where Jerry Nunn caught up with singer Noelle Scaggs.

JN: (Jerry Nunn) Hi, Noelle. So tell me how the group came together. Did it happen fast?

NS: (Noelle Scaggs) It did actually. Fitz wrote a song called "Breakin' the Chains of Love" for the band and tapped into something in his voice that he loved. He went to school with James King who was our saxophone player. He gave him a call to help him with his inspiration. It started with a Motown vibe so James came to help and Chris Seefried helped in developing the sound. They created our first EP called Songs for a Breakup, Vol. 1. They wanted to make a band together and James recommended me on vocals because they wanted a female singer. He brought along John Wicks as a drummer. I decided to do the gig after hearing the EP and wanted to check out the vibe singing wise. I'm not really a backup singer and it is not really my thing. I wanted to help support and make it an easy transfer. It wound up working immediately. We stuck together. We did the show at the Hotel Cafe then did another one a couple of months later. The response was good so more things kept falling into our laps. Fitz decided to put out the EP and we got the artwork done. It was commitment on our part to do it. It made it easy because every show we did we were growing. We were invited on our first promo tour with Flogging Molly then came another serendipitous moment with Adam Levine when he heard about us in a tattoo parlor in New York City. He tweeted about us and asked if we would go on tour with his band.

JN: It all happened within the first year?

NS: Yes, I gave up a job that paid money. It was hard. I didn't know how long that I could do it. Fitz was running out of money also. The South By Southwest festival asked us to do four showcases so we did that.

JN: What year was that?

NS: Late 2009. During the show we started to notice record execs leaving the area so we thought it was over. When we did our last showcase everyone started talking about us. We were signed right after that. We went from doing clubs in LA to working with a really important support staff. It seemed like every show that we did turned into something three months later. There were so many magical moments. The chemistry in this band only grew further. Many outsiders can't believe this band has only been together for four years. I had been with my former band for ten years before that.

JN: What was it called?

NS: It was called The Rebirth. We started to break here in the States right before I quit. It was very Earth, Wind & Fire meets Roy Ayers. It was a neo soul project. We put out an album in 2005 and traveled all over the world. I learned a lot from that experience. I met James because he played horns with us.

JN: Where are you from?

NS: I grew up in LA but was born in Colorado. We moved to LA when I was six. I have been in LA for a long time.

JN: Did you always sing?

NS: I have. It's interesting I discovered singing when I was ten. I used to write down the lyrics of all the songs I was listening to. I was always interested in the writing process. I had a knack towards remembering the lyric and the cadence. The way an artist sang was always my thing. Even in high school when I was deciding whether to do this I wanted to be a writer for other people. I wanted to be the Diane Warren of music. I didn't want to be the performer. I didn't want to be on tour. I guess I got that from being the kid that sat in her room and listened to songs over and over.

JN: You share singing lead vocals with Fitz.

NS: Yes, in the beginning I was there to support Fitz on backup then as we slowly developed our live stage then it became a dynamic duo thing. We were doing what no other band had been doing when classic songs became more forward and commercial. We were the only female/male, black/white, crazy/passionate thing live. We really fueled from that. With time passing this new record brings more forth what we do live. It is definitely a parallel in a lot of duets. The writing process is he and I on the lyric part of it.

JN: You play percussion?

NS: I do. I play tambourine.

JN: I saw you perform at the after party for Lollapalooza at the Hard Rock.

NS: That was really fun. Even when we were so tired and the last thing we wanted to do. People don't see that backdrop when you have done ten interviews that day doing three shows before the main show.

JN: How do you keep up the energy?

NS: I certainly don't know where it comes from but certainly an energetic thing.

JN: "Out of My League" is a very high energy song. How did the new album come together?

NS: The entire writing process started with the last year of touring. It was touring for three years straight. Fitz and I basically took less than a week off and going directly into writing mode.

I didn't want to do what we did on the last record. I didn't want every single song to be about heartbreak and love. We didn't need a part two to this. He wanted to expand on our sound and our vibe. We wanted to get out of the pigeonhole that we were in as a retro soul act. There are so many other mediums to the music. We wanted the '80s British sound or the hip hop vibe. We wanted our voices really coming together and the same thing that we have onstage. We wanted our songs translated how they sound live. The thing is we created the first album before we played anything live but this record we knew we could do live. We came to the forefront with it. We wanted to make it singable. We pushed the PBMs to 250 and up! It is a very up and hype kind of record but we still have that balance of what we started with. There is an eighties sound with synthesizers and drum machines. We called in a producer called Tony Hoffer who is amazing to help us. We started with 40 songs but we paired them down on the new record. There were no limitations. We just tried to write songs and make them as strong as possible.

JN: I heard about a Budweiser show with Jay-Z. Beyonce is going to be there!

NS: It is funny to do these things because we felt the same way about Lollapalooza the first time that we got that. We couldn't believe that Eminem performed after us. It is a big bill for us but it is because we have played Coachella and do all of these things. We don't get as nervous now.

JN: Are there any gay members in the group?

NS: No. There are some family members that are so we are very supportive in the equal rights movement, especially me being from the family that came from the '60s. Still to this day there is so much racism everywhere. At the end of the day it is humanity and how human you want to be.
Interviewed by Jerry Nunn. Jerry Nunn is a contributing writer to the GoPride Network. His work is also featured in Windy City Times, Nightspots Magazine and syndicated nationally. Follow @jerrynunn