A GoPride Interview
Eric Mabius
Coached: Eric Mabius on "How to Fall in Love"
It made me go back a reflect quite a bit. I am glad I'm not single now.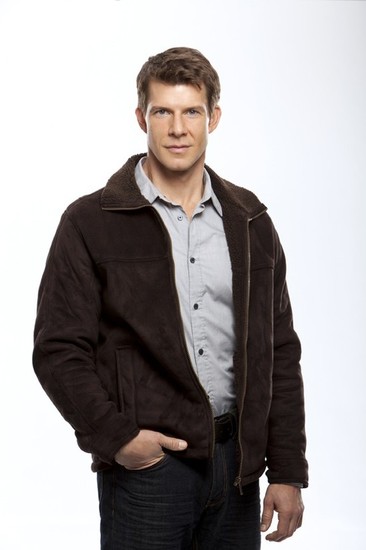 photo credit // eike schroter - crown media holdings
Actor Eric Mabius' career has included a wide variety of movie and television roles, yet he is probably best-known as fashion magazine editor Daniel Meade on the Golden Globe-winning series "Ugly Betty." After the success of the hit ABC series, Mabius was named one of the sexiest men alive by "People" magazine. He was also a reoccuring cast member in Showtime's "The L Word."
On the big screen, Mabius starred alongside Sarah Michelle Gellar and Ryan Phillipe in
"Cruel Intentions." Overall he's starred in more than 27 films including "The Crow: Salvation," and "Welcome to the Dollhouse."
Mabius wed interior designer Ivy Sherman in January 2006. They have two sons.
Now the 41-year-old actor combines his professional and personal expriences for the television movie "How to Fall in Love" premiering July 21 on the Hallmark Channel.
GoPride.com's Jerry Nunn talks to Eric Mabius about the role and his upcoming projects.
JN:
(Jerry Nunn) Hi, Eric. Are you calling from California?
EM:
(Eric Mabius) I am in Malibu. It has been a strange day. It is cloudy and humid today.
JN:
It's definitely humid in Chicago. I watched the Hallmark movie and you did such a great job.
EM:
Thank you. I had a lot of fun making it.
JN:
At first I asked for Kathy Najimy, but her part was small so it's even better to talk to you.
EM:
She is so much fun. She did an episode or two of "Ugly Betty" and she is such a delight.
JN:
You starred on "Ugly Betty" for a while.
EM:
I did. I guess it was almost five years. It was a long time. It is strange because Mark, who was the son, just graduated from high school, everyone has grown up, it's funny.
JN:
How was it working with Brooke D'Orsay from "Drop Dead Diva" on this project?
EM:
She is a delight. I didn't really know about her before this but she is so sweet and funny and attractively quirky. There are just so many great qualities about her. We sort of balanced one another out. She is more of a worrier than I am and more laid back so we had fun together.
JN:
All kinds of audiences can relate to this movie facing the world of dating.
EM:
Yes absolutely. It made me go back a reflect quite a bit. I am glad I'm not single now.
JN:
Do they really have dating coaches out there?
EM:
They do have dating coaches. They have coaches for everything nowadays as you might imagine. There are life coaches, dating coaches, work coaches and you name it.
JN:
The dating world is difficult with all of the online aspect to it as well.
EM:
I am not in the midst of it so I don't know that whole aspect to it. It might make things easier. It certainly provides an environment for people to meet one another than just going out to a bar that is for sure. It is good and bad.
JN:
Is your character Harold similar to you?
EM:
I think that is one of the things that appealed to me about the script that people forget. I think there is a Harold in everyone. I think we all at different times in our lives feel very awkward and feel we don't belong. That was the universality of "Ugly Betty," that we all feel like a fish out of water. We all feel inept and awkward. It was especially fun to play that. It is fun to explore when we have those elements in all of us. Harold was obviously much more crippled and paralyzed in many ways. He was fun to play nonetheless.
JN:
You got to play the straight man in Showtime's "The L Word."
EM:
Yes, literally (laughs). In the fall we did the end of the series interview so I got to sit around with the shows creators and actresses and talk. It was an interesting milestone. It was a great show and provided such a wonderful outlet for so many people.
JN:
It was an important show. In "Welcome to the Dollhouse" you have the best line in the movie.
EM:
I know. I can't believe it has been that long, how old that movie is now. Every once and a while I will run into Heather Matarazzo and she is just the sweetest. I shot that movie in 1994.
JN:
Wow. Was that really your long hair?
EM:
It was.
JN:
You must have grown that out for a while.
EM:
I kid you not, I did. I was just out of college. I was going through my Chris Cornell and Jim Morrison grungy phase. I was so attached to it, too, which was just ridiculous.
JN:
I can understand. I had long hair too for a while.
EM:
You did? I look at it now and I think, "Why did I think that was cool?"
JN:
It was just that time period. It was the '90s.
EM:
I know!
JN:
Did you film the TV series "Chicago Hope" here?
EM:
No, they shot it in LA.
JN:
Of course they shot a Chicago show in LA.
EM:
Movie magic.
JN:
I thought maybe you had come in town for it.
EM:
No, they shot "Chicago Hope" on the lot where they shot most of "ER." I think it is the same set. That was a long time ago.
JN:
You have to let me know if you ever come in town.
EM:
I have never set foot in the city in my life. Isn't that strange? I just have never had cause to. There are not a lot of shoots there as you probably imagine.
JN:
What other projects do you have in the works?
EM:
I just did the season premier of TNT's "Franklin & Bash," which was a fun show. I used to be friends with the star Breckin Meyer. He asked Seth Green and I to come on and play the lawyer team where we were their nemesis.
I am really excited about "Political Animals" I have to say. It started this past Sunday. I did an episode of that in Philadelphia. Carla Gugino plays the lead in the show and I have an affair with her. The writing is so dense. There is nothing like it on television. Greg Berlanti created the show. You have to see it. It is so well done.
JN:
What network is it on?
EM:
USA. It is their cornerstone of programming. They don't have anything like it. None of the networks do. It is so good!
The world premiere of "How to Fall in Love" is Saturday, July 21 at 8:00 pm on the Hallmark Channel. Look for a live dating advice Q&A on the Hallmark Channel's Facebook page that same evening. Visit www.hallmarkchannel.com for listings and details.
Interviewed by Jerry Nunn. Jerry Nunn is a contributing writer to the GoPride Network. His work is also featured in Windy City Times, Nightspots Magazine and syndicated nationally. Follow @jerrynunn