A GoPride Interview
Chelsea Packard
Chelsea Packard: Elle Woods is a smart girl but hasn't discovered just how smart.
Elle Woods is a smart girl but hasn't discovered just how smart.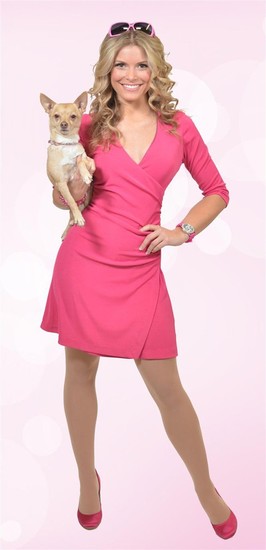 chelsea packard in legally blonde
CP interview with Chelsea Packard who is starring as Elle in Legally Blonde
Legally Blonde has been both a hit film and a mega musical with the character of Elle Woods becoming one of the popular in recent memory. The Marriott Lincolnshire kicks off its 2012 season with Legally Blonde, The Musical and in anticipation of the opening, I talked with Chelsea Packard who is putting on the pink and taking on this role of a lifetime. I asked Chelsea how she makes the role her own and how it is working in the round on the Marriott stage.
MJR:
(Michael J. Roberts) First of all congratulations on receiving the part of Elle Woods. Since you have recently been on Broadway in Promises, Promises and Wicked, how did this part come your way?
CP:
(Chelsea Packard) Well, like you said I was in New York City and the Marriott Lincolnshire came to hold auditions for the show. I had actually auditioned for a show the Marriott did previously which I got the role but was unable to take it because of a conflict. So the producers remembered me and asked if I would like to audition for the role of Elle and here I am!
MJR:
The role of Elle Woods is such an iconic part in both the film and stage version. How do you go about putting your own stamp on her?
CP:
Well, I really try as an actress to stay away from both the movie and the Broadway production. An to be honest, I never saw the Broadway version. I think that is to my advantage because I was able to read the script over, over and over and develop what I think this girl, Elle Woods, is all about. I bring a lot of my own personality to her.
MJR:
The Marriott Lincolnshire is known for their shows being staged in the round. How has it been rehearsing Legally Blonde on that stage?
CP:
Michael, I have never, ever done a show in the round before. I was nervous about it coming in but now that I have been through the rehearsal process, it has been a freeing process for me. When you do a show on a proscenium stage it can be kind of two dimensional. In the round, with people seeing you at every angle, it seems more like real life. It has been very interesting to learn.
MJR:
Elle Woods has such a following as far as characters go, much like in Wicked. What do you think makes Elle Woods so accessible?
CP:
I think it is because people can relate to the idea that you may not know your true potential. They have an idea of what they can achieve in their life. Elle Woods is a smart girl but hasn't discovered just how smart. Then she learns that she can be both attractive and smart and they do not have to be mutually exclusive ideas.
MJR:
What has been the hardest part for you in finding the character?
CP:
More than anything it is just the speed of the process. We started rehearsing less than three weeks ago and this week we are doing tech and then we are going up. So for me it is just how fast it is all happening. I did my development before we even hit the stage. Vocally it is very, very challenging. She has the personality of Glinda and sings like Elphaba! She is on stage non-stop and does not ever really leave the stage. I look it as a marathon and I am building up my stamina for it.
MJR:
What have you learned from playing Elle?
CP:
You know, it is kind of like what we talked about earlier. I have always been the kind of person who has tried to keep looks and intelligence separate. In my life I have tried to strategically play off one or the other and any given time. Elle Woods using the two in such a brilliant way that she is a powerful role model. She has all these great qualities and even more than that, she is not vindictive and doesn't hold grudges. I am still working on that! (laughing).
Legally Blonde runs through March 25th. The Marriott Theatre is located at 10 Marriott Drive in Lincolnshire, IL. For more information and tickets, call (847) 634-0200 or visit www.TicketMaster.com or www.marriotttheatre.com.
Interviewed by Michael J. Roberts. Michael J. Roberts is theatre editor for the ChicagoPride.com covering Chicago's diverse arts and entertainment scene.