A GoPride Interview
Christian Kain Blackburn
Christian Kain Blackburn interview with ChicagoPride.com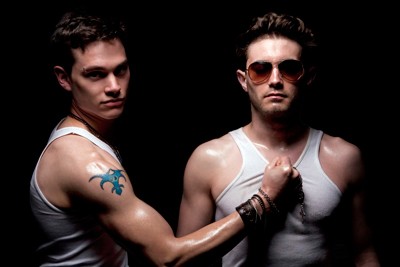 christian (left) and beau
photo credit // popiostumpf.com
Christian Kain Blackburn plays Ryan in the critically-acclaimed production of F**cking Men, which has twice been extended, will play its final performance on Sunday, Aug. 29.
His outstanding performance makes the audience believe he's a modern day gay porn star, with a sensitive side
Here is my continuing series of interviews with the talented and sexy cast.
BP:
How did you tell your family and friends you were performing in a play called F**ing Men?
CKB:
[laughs] For my family, very slowly and over the phone! My parents are pretty old fashioned folks. I told my dad first because I knew he'd be less likely to have some major reaction to it. My mom and step-dad was a bit tougher crowd, but after some reassuring they were eased into it. My friends were easy. They just laughed and said, "The adjective or the verb?" In the end everyone has been incredibly supportive in everything I do, I couldn't do it without them.
BP:
What about your character, Ryan, do you relate to?
CKB:
Oh, Ryan. Well, I think there's something in Ryan that everyone can relate to. Whether or not you've decided to live a monogamous life, I think everyone desires to find one other person; that one special person that can keep the fire burning no matter how many times you've woken up next to them, that you want, maybe need, to grow old with, that challenges you, that knows how to push your buttons, that makes you feel like no one else in the world could even come close to making you feel. Or maybe that's just me.
BP:
What did you do to psych yourself up for getting naked on stage?
CKB:
Nothing, actually. It kind of just happened the first time one day during a rehearsal. Karmann, who plays Jack in the show, and I were about to start the scene and looked at each other. The decision went something a little like this, "Are you gonna...? Cus, I'll probably..."
"Oh, yeah, I was gonna... Ok, so you are too? Ok." "Ok."
And then magic happened - we just took our clothes off and after that first time it was no longer a big deal.
BP:
What's next for you?
CKB:
I will be doing a touring show with Griffin Theatre that I am incredibly excited for. The show, LETTERS HOME, takes real letters from soldiers in Iraq and Afghanistan written to their friends and family, and puts them up on a stage.
There is no set or any other element of design besides the uniforms we will be wearing and a projection screen that shows the real soldiers who we will be portraying. The only downside is that we will not be performing in Chicago at all, so my family and friends won't be able to see what I'm sure will be a powerful show.
For more on Christian Kain Blackburn, visit www.facebook.com/people/Christian-Blackburn

Remaining performances are Fridays at 8 p.m., Saturdays at 7 p.m. and 9 p.m., and Sundays at 7 p.m. General admission tickets are $25. Special Reserved seating is available for $30. Student and Industry rush tickets will be available at the door for $15 at every Sunday performance. Group (6+) tickets are $20.00. To purchase tickets, call the Stage 773 box office at 773-327-5252, or go to www.ticketmaster.com.
Serving the Chicago gay, lesbian, bisexual and transgender communities. ©Copyright 2019 GoPride Networks. All rights reserved.