A GoPride Interview
Norm Woodel
Norm Woodel interview with ChicagoPride.com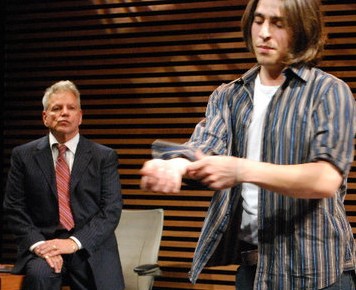 The critically-acclaimed, twice extended run, Bailiwick Chicago's hit production of Joe DiPietro's F**cking Men will play its final performance on Sunday, Aug. 29 at 7 p.m. at Stage 773, 1225 W. Belmont.
Before the final curtain, I had the opportunity talked to four of the sexy and talented cast member. Here is my conversation with Norm Woodel.
BP:
Your role proves there is something for everyone in the production. What drew you to this part?
NW:
First, my Agent, whom I trust, suggested I should take a look at the script and consider the audition. The audition centered around "Donald's" message to a closeted, Oscar winning, action hero, film star, who'd been forced to come to terms with his homosexuality... to come out, if you will, on my character's Merv Griffin/Larry King style Television show. I was taken with the power of the play's example of how diminished an individual becomes when they are not encouraged, or allowed, or denied the simple opportunity to truly be exactly who they are. There's a toxicity that, I believe, kills the soul when a human can't be genuine.
I liked the provocative nature of the questions the play poses... questions about how much an individual is willing to risk... or the price one might be willing to pay to be... free to just be. There are many, many, provocative moments throughout the play!
I like that it raises many questions and encourages further discussion. The Writer, Joe DiPietro, to me, seems to have a wonderful gift for timely provocative themes. His Tony Award winning Broadway Musical, Memphis, left me realizing how much we'd never finished the interracial conversation we'd all started asking back in the 1960's.
BP:
As a person who's won an Emmy and been in the business for a while; how would you rate your fellow cast mates?
NW:
It's an Emmy for Producing, and besides, it would never be my place, regardless of time in the business, to "rate" my fellow actors. It's a wonderful cast. It reminds me of a super supportive band of brothers back stage... each is there for the other, in an instant, and it's been that way from the first day of rehearsals. These young men are exactly where they need to be... in a fantastic state of honesty, openness, and willingness to grow and share that can only guarantee continued success to each one of them. I learn and I am reminded of previous valuable lessons as I watch each of them bring their own special magic to the stage. And, they all have a great sense of humor.
BP:
Are you and your character, Donald, anything alike?
NW:
I was a television journalist and, of course, there's much about "Donald's" struggle to be genuine and honest about who he really is that's close to the heart for me... as I think it is with most people. Don't we all go through wasting so much time trying to be like everyone else before we come to realize the gift we have to give lies within and can only shine through when we have the courage to be true to ourselves... to our genuine nature... true to that Devine dose of passion and universal purpose we were given the day we were born? "This little light of mine... la da ta da de da!"
BP:
What's next for you?
NW:
God only knows... I've always felt like I'm in the middle of one great big, blessed, f**king adventure!
For more on Norm Woodel, visit www.voxershorts.com

Remaining performances are Fridays at 8 p.m., Saturdays at 7 p.m. and 9 p.m., and Sundays at 7 p.m. General admission tickets are $25. Special Reserved seating is available for $30. Student and Industry rush tickets will be available at the door for $15 at every Sunday performance. Group (6+) tickets are $20.00. To purchase tickets, call the Stage 773 box office at 773-327-5252, or go to www.ticketmaster.com.
Serving the Chicago gay, lesbian, bisexual and transgender communities. ©Copyright 2019 GoPride Networks. All rights reserved.