A GoPride Interview
Zander Mander
Zander Mander interview with ChicagoPride.com
Wed. July 28, 2010 by Anthony Meade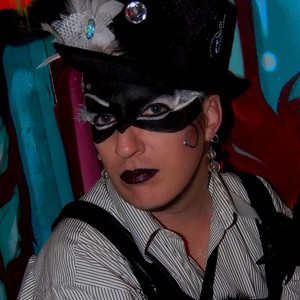 photo credit // anthony meade
Who would have thought a little dip into the shadow would lead to 30 years of eyeliner, glitter and 8 inch heels! Zander Mander, Chicago's Iconic Club Kid, hits the road in a historic anniversary tour - Guitars, Glamour & Glitter! ChicagoPride.com recently had an opportunity to visit with Zander.

AM: Congrats on your 30th anniversary tour! When you started in 1980 did you think that you would still be doing this 30 years later?

ZM: Hell no! (laughs). I've always expressed myself just being me. My look has evolved over the years, just as I have. I've been blessed to still be able to do this and have had an amazing life doing what I love to do.

AM: How did Zander Mander start?

ZM: Well Zander Mander is me. There is no difference of the person and the one that you see on stage. I've always expressed myself through dressing up. I don't have a "stage name"... I'm just being me. I remember winning my first costume contest in the 4th grade, I had dressed as a werewolf. I've always enjoyed adding a little of this and that and putting myself out there. The way I dress now, I could not have done 30 years ago. It just wasn't done. If I had the look I have now and walked down the street, I would have been beaten up, if not worse. I'm glad to see that society has changed and now we as a gay community as whole can look and be what ever we want.

AM: What has been your inspiration for your "look"?

ZM: Music. I love the metal, rock and pop. Heart, Led Zeppelin, David Bowie, The Runaways and Disco.

The thing with the 70's is that Disco music came about and it was acceptable to wear all the glam clothes and make up and not be looked down on. I graduated in 1978 and disco was in full gear by that time. I remember going to a Heart concert and seeing Ann Wilson walk out on stage with these platform boots and I said to myself "I want those boots," even more, I wanted the power of those boots.

I remember seeing Freddy Mercury, Alice Cooper and David Bowie and they were wearing the clothes I wanted to wear... but it wasn't until these musicians came about that people were not up in arms with guys wearing flamboyant clothes, hair and makeup. Music has always influenced my look.

I've always liked a dark side with my look. I want to get a reaction out of people. I want them to remember meeting and seeing Zander Mander.

AM: I noticed you were wishing Baton Club owner Jim Flint a happy birthday on Facebook. Have you worked with Jim on any Zander projects?

ZM: Jim is a very good friend and so is his partner for 34 years, Dan. Jim is very sweet man and also a powerful one at that. He led and paved the way for a lot of rights in the gay community. He stood up and made people take notice of a lot of wrong doings in our laws on the way gay people were treated. He's one of the pioneers for the gay and lesbian community in a lot of ways and I'm proud to call him a friend.

AM: Speaking of pioneers, you are credited for leading the way for the club kid scene here in Chicago.

ZM: I had heard that. I was just being me and who I was and had been. I got a job that allowed me to dress up, have different colors of hair and wear outrageous clothes. I just started making friends and somehow this whole club kid thing took off with other people.

AM: What are some of the bars back in the day that had a club kid scene?

ZM: Well, there was bar 9/20, Christopher Street, which is now Hydrate, and Crobar back in the day. Those were some of my favorite hangouts. Today I love Spin Nightclub. That is a bar that has been around 14 years and I love the way they have evolved over the years. They are always doing great shows and having all kinds of entertainment there. Spin has my support. I also love Club Crave, and a great bar in Janesville, WI called Haven.

AM: ZMQC is your production company, owned and operated by you. Tell me a little about that.

ZM: By having ZMQC productions, it lets me have control over me... plain and simple. And it also allows me to have a tax ID as a business in which it is. Zander Mander is a business, it's what I do full time and I love being able to call the shots for "him".

AM: You do a lot of things production wise, including pageants, calendars and several other projects over the years. Do you like that more than performing?

ZM: I put equal effort into both. I love to perform but I also love the idea of putting something together and seeing if I can pull it off. Last year when I did the Glamour of Boystown calendar, I had 12 of Chicago's top entertainers in that. I also did a show for it's release and got all 12 of the performers on stage for one night. I wanted to see if I could do it... I did. Each of them has their own artistic outlet to them so I enjoy both.

AM: The Glamour of Boystown calendar was done to raise money for charities. One of them was "Stop the Violence." Why is that so close to your heart?

ZM: Well. (Long pause) I grew up in very abusive home. A lot of mental and physical abuse from my family. I wanted out of that house as quickly as possible and I left when I was 18 and have never looked back.

I've made my own family now and I have a great one. Also, about six years ago, I stopped in a bar after work to have a drink on the way home. These 2 guys that I was chatting it up with, drugged me and took me to this place and I was bound, tied up and beaten for 6 days. They stole my identity, credit cards and cleaned out my apartment of every single thing I owned. They beat me again and left me in trash dumpster for dead. Finally someone found me and called for help. When I was able to return to my apartment, I walked in and looked like an apartment that was up for rent... everything was gone. They did catch one of the two people, thank god.

I just want people to be safe out there... not everyone has your best interest in mind.

AM: Who are some of your favorite performers in general?

ZM: Nina Flowers, James St.James, Acid Betty, Paula Sinclaire, JoJo Baby, Heart, Journey, Led Zeppelin & Judist Priest.

One of my biggest regrets is not getting to see Queen live. Freddy was an amazing performer.

AM: Up and Coming performers?

ZM: Torri Sass...you gotta dig this bitch... she is amazing... on a total different level of a performer. Johnny Hollywood, Carlos Torres, Sean Wild Child out of Florida, Lady Blue out of New York.

AM: Paula Sinclaire is one of your good friends. When and how did you meet?

ZM: We met like 10 years ago when Miss Foozie had her show, Miss Foozie and the Foozettes. I love Paula and we have really become close friends in the last 4-5 years. A dear and wonderful person inside and out!

AM: I know Heart, (Ann and Nancy Wilson) is your favorite band ever... what was it about them?

ZM: They offer everything! They have a whole spectrum of music. On every single album they have ballads, rock and pop. Their music just moves me. They are very talented and have continued to grow and evolve with their sound over the years.

AM: Your Guitars, Glamour & Glitter tour starts soon. Any surprises you want to let us in on?

ZM: Every city will be different. Every city I'll use the house cast and add some stuff of my own. I'm going out there and giving them Zander Mander that they have never seen before. I'm excited to do this and I'm in it for the fans and the fun.

AM: Tell me 2 things about Zander Mander that might surprise a lot of people.

ZM: I love to paint! I'm actually very good painter. I actually painted Lucille Ball's memorial portrait that's in her exhibit in Hollywood, CA! I've done art work for bands such as Journey & Led Zeppelin too.

Also I love to dance. I won the 1977 city, county and state championship in Disco dancing! (Laughs)

AM: Sum up Zander Mander's life over the last 30 years in 30 words or less.

ZM: I've been a work in progress and have evolved as a person and a performer. I love doing what I do and am so proud of what I've done. It's been great to see change in the community as well also grow as a person who loves life and has had a great time living it!

Zander Mander's Guitars, Glamour & Glitter tour coming to a city near you!
Interviewed by Anthony Meade
Serving the Chicago gay, lesbian, bisexual and transgender communities. ©Copyright 2019 GoPride Networks. All rights reserved.